As U.S. airline profitability has improved significantly over the past couple of years, we've also seen the legacy airlines invest somewhat in the customer experience, even in economy. For example, while Delta has offered free snacks in economy for a while, United and American have added free snacks in economy within the past year. Ultimately it's a small gesture, but certainly makes the economy experience more enjoyable. It's crazy to think that for years you wouldn't even get free pretzels on a six hour domestic flight.
Given that American and United have somewhat caught up with Delta on the snack front, it looks like Delta is upping their game once again.
As of December 14, 2016, Delta Air Lines branded peanuts and pretzels will be retired, in favor of brand name products. Delta will offer improved snacks, including Snyder's of Hanover pretzels, Squirrel Brand Honey Roasted peanuts, and NatureBox Apple Cinnamon Yogurt Bars, in addition to their existing Biscoff cookies.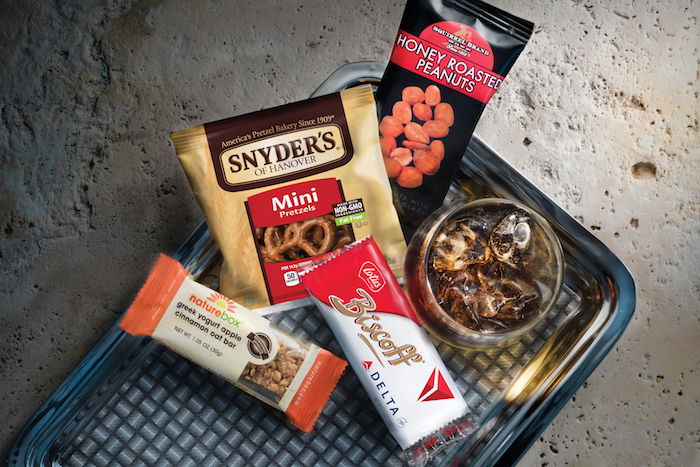 Per the press release:
The enhancement will feature larger portions and more variety for customers while supporting Delta's mission of continuing to invest in the overall on-board experience. The airline will also refresh its Main Cabin snacks more frequently in the future based on direct customer feedback. The upgraded snacks are a result of positive customer and employee feedback as the tested branded snacks and larger portions earlier this year.

The complimentary snacks will be available in the Main Cabin on flights over 250 miles. Customers on shorter flights within North America – from 251 to 599 miles – will now receive a choice of Biscoff cookies or Snyder's of Hanover® pretzels, whereas customers were only offered one choice previously. Flights over 600 miles will now offer four choices, instead of three, offering Snyder's of Hanover® pretzels, Squirrel Brand Honey Roasted peanuts, a NatureBox Apple Cinnamon Yogurt Bar or Biscoff cookies.
To celebrate the new snacks, Delta will be placing vending machines at airports in Los Angeles, Seattle, and New York, to offer customers complimentary samples.
Bottom line
I'm actually sort of surprised that Delta hasn't offered more branded snacks earlier. You'd think they could get a really good deal on them, given that it's a great way for companies to promote their products. This is something JetBlue has been doing for years, and it seems to work out great for them (I know I've purchased blue chips at the supermarket entirely due to JetBlue).
I'll be curious to see if other airlines follow. I had a 6AM American flight the other day and was offered pretzels as a snack, which I found strange.
Minor as this is, well done, Delta!