I love a good Twitter rivalry between airlines, so we can see which airline is really best at social media.
On Wednesday United announced that they're bringing back free snacks in economy beginning in February 2016.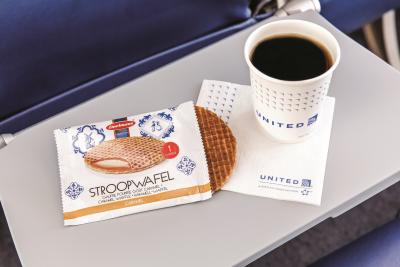 Here's what United will be offering:
Customers on flights departing before 9:45 a.m. will receive a morning stroopwafel – a Dutch, caramel-filled waffle that pairs perfectly with coffee or tea, as shown on UnitedAirtime.com.

Flights departing after 9:45 a.m. will offer packaged savory snacks, such as an Asian-style snack mix of rice crackers, sesame sticks and wasabi peas or a zesty-ranch mix of mini pretzel sticks, Cajun corn sticks and ranch soy nuts.
It's certainly a nice move on United's part, and perhaps it reflects just how low the US aviation industry had sunk for a while. Hopefully American matches, since both Delta and United now offer free snacks. Not even getting a free bag of pretzels on a transcon is pretty pathetic.
Perhaps the best part of the announcement, though, was the shade the airlines threw at one another on Twitter. They were #TalkinSnack, if you will.
It started with United Tweeting their announcement about offering snacks:
JetBlue responded with the best of the interactions, both in terms of the shade and the hashtag: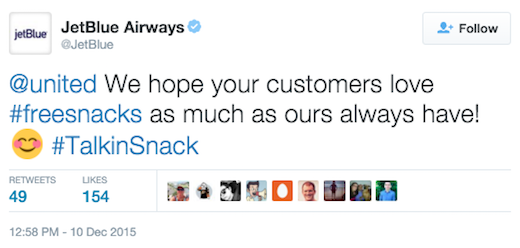 United clearly doesn't know how #TalkinSnack works, based on their response: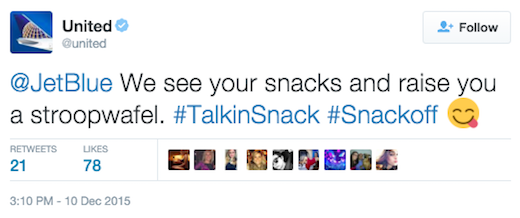 Delta decided to get in on the action: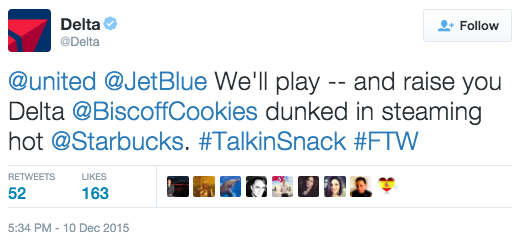 And then JetBlue established their Twitter dominance with this: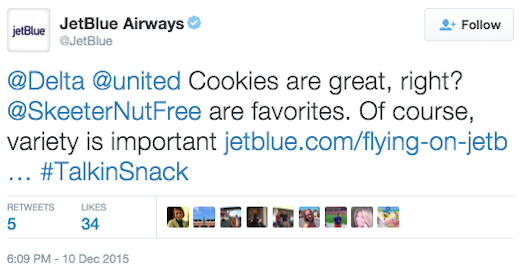 American stayed out of this discussion… wonder why. 😉
Well played, JetBlue PR team… well played!