In December United announced that they'll be bringing back complimentary snacks in domestic economy. They were so excited about it that they even made a YouTube video about how to enjoy your snack:
Now it looks like American will be following their lead, and offering free snacks in economy for the first time in over 10 years. American is making this announcement the same day that United is restoring the free snacks they announced a couple of months back (aside from just wanting to save costs, I don't really get why it takes two months to restore free snacks).
American will offer free snacks in economy, including complimentary Biscoff cookies on domestic flights departing before 9:45AM, and complimentary pretzels on flights departing after 9:45AM.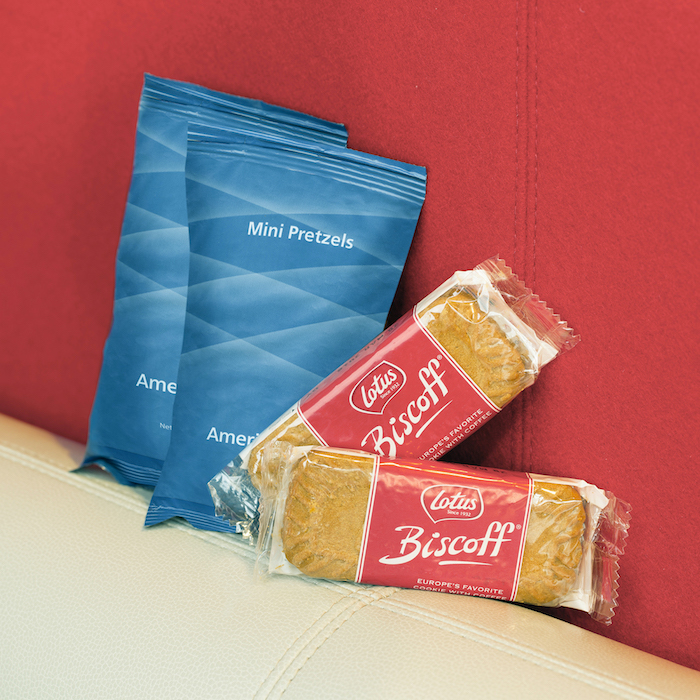 American's new free snacks
These snacks will debut as of this month on American's flights between New York and Los Angeles, New York and San Francisco, and Miami and Los Angeles. Free snacks will be available on other domestic flights as of April 2016.
Furthermore, American will be bringing back complimentary meals in economy on their flights between Dallas and Honolulu starting in May.
Per the press release:
"We want customers to choose American every time they fly," said Fernand Fernandez, American's vice president – Global Marketing.  "We are giving our customer more choices to enhance their personal flying experience by offering new service and new entertainment options in all cabins."
American's vice president of global marketing also had the following to say about this "investment," per Scott Mayerowitz at the AP:
"We know that we have customers who select our airline based on price and we're really excited to offer them a product that is superior to choosing an ultra-low cost carrier," Fernandez says to AP.
Alrighty then. Good to see they're trying to compete in such a high league. 😉
With this change, all of the "big three" US carriers now offer free snacks in economy. Even so, they're still trailing behind JetBlue, which has been been offering superior free snacks in economy since they were founded.

JetBlue's free snacks
Bottom line
It's nice to see complimentary snacks return to economy on all three global US carriers. Personally I wouldn't call it "investing in their product" as much as just undoing the over the top (mostly necessary) cost cutting of the past decade. With airlines experiencing record profitability, it's time they at least make the flying experience somewhat civilized again, and I think they're doing a good job of that.
One thing I find funny is that American chose Biscoff cookies for their morning flights, which has been Delta's most well known snack for years. You'd think they would go with something they can call their "own" instead.
Still, good news all around here!