It's no secret that US airlines are doing more than ever before to try and sell their first class seats rather than offer "free" upgrades. There are different strategies they use to accomplish this, though the main two are offering more attractive first class pricing in advance, and also offering buy-up options after people have booked their tickets.
As far as the "big three" US carriers go, Delta is in the lead when it comes to the percentage of first class seats they sell. For example, in 2011 they claim they only sold 14% of their first class seats, while by next year they hope to sell 70% of those seats. That means over the course of seven years they're selling 5x as many first class seats.
There are big implications of this for elite members — it means that the percent of seats available to those upgrading is decreasing from 86% to 30%.
So not only does Delta pretty consistently have reasonable first class fares in advance, but they're also known for their buy-up offers after booking. I was just offered a buy-up for the first time since switching some travel to Delta, and wanted to share my experience.
I find this especially interesting because I've been loyal to American for so long, and of the "big three" US airlines, they're the only one that doesn't aggressively sell first class upgrade to those who are booked more than 24 hours in advance. Typically American's buy-up offers are simply them charging you the difference between the cost of the ticket you booked and the cost of first class.
My Delta first class upgrade offer
I'm completing a Platinum Medallion challenge so wanted to earn as many miles as possible for a ticket from Los Angeles to Chicago. Delta lets you route via Seattle, which is the most elite qualifying miles you can earn between the two cities. On top of that, I also figured that gave me better upgrade odds than routing through Atlanta or Detroit.
The fare was great — I paid $141 for economy, which was $20 more than basic economy. In this case I figured paying for first class wasn't worth it, as it was ~3.5x as much.

However, a couple of days after booking I logged into my reservation and saw an option to "upgrade to first class" for $288. If I purchased the upgrade I'd be paying a total of $429 for first class, which is already ~$80 cheaper than what they were trying to sell it to me for before.

Keep in mind that if you pay to upgrade on Delta you'll earn both Medallion Qualifying Dollars and Medallion Qualifying Miles for the upgrade cost, so it's like you outright paid for first class.
But there's one other thing that made this unique. You could actually pay to upgrade just one of the segments at a reasonable cost — I could upgrade the flight from Los Angeles to Seattle for $145, upgrade the Seattle to Chicago flight for $157, or upgrade both for $288, which represents savings of $14 compared to buying the upgrades separately.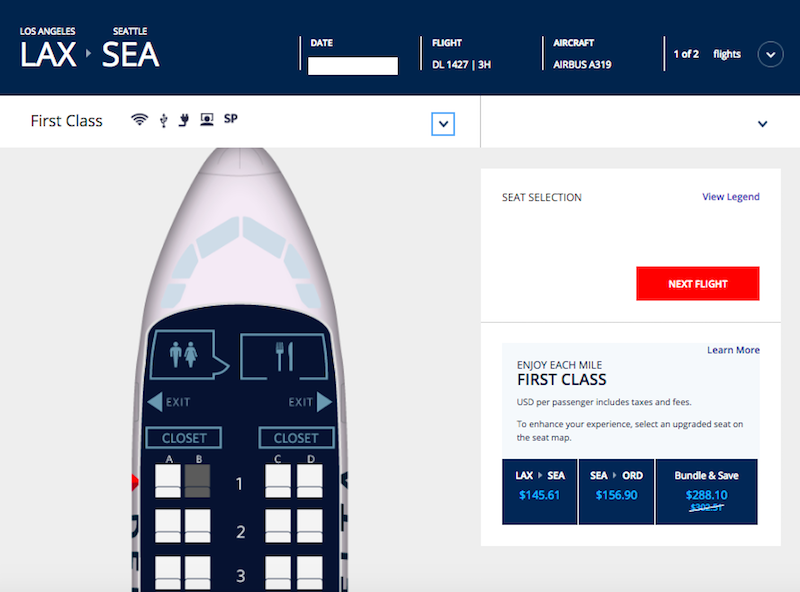 This presents an interesting option. I think the Los Angeles to Seattle flight is a slam dunk upgrade, while I'm not sure my Seattle to Chicago flight would otherwise clear. So if my prediction is right, I could basically be paying the original $140 ticket cost plus a further $157 to get first class the whole way through, which is a pretty reasonable.
I ended up paying for the upgrade, but not for that reason.
Why I purchased a Delta first class upgrade
I decided to upgrade on the Seattle to Chicago flight. While I don't think my upgrade would have cleared otherwise, I would have chanced it. But I had an ulterior motive. I'm completing a Delta Platinum status challenge, which requires earning 18,750 MQMs in 90 days. As it stands I have the following booked (or already earned) during the period:
11,890 MQMs for flying paid Xiamen Air business class from Los Angeles to Chengdu via Xiamen (you only earn MQMs based on 75% of the flown distance)
3,712 MQMs for flying paid Delta business class from New York to Los Angeles (Delta doesn't offer free upgrades in the market, and I'm curious to compare the service to other airlines, as I found a decent fare)
2,675 MQMs for flying economy from Los Angeles to Seattle to Chicago
When you add that up, that gets me to 18,277 MQMs, which is just under 500 MQMs short of completing the challenge. By paying to upgrade my Seattle to Chicago flight I'll earn an extra 860 MQMs (since I'm in paid first class rather than economy), which means I complete the challenge.
Sure, there's a chance I could have otherwise taken another Delta flight during the challenge period, but I figured it was worth it for a combination of finishing the challenge and also securing a first class seat.
Bottom line
I've gotta give Delta revenue management credit. They're smart. Not only do I find that they consistently charge the most reasonable premiums for first class over economy, but apparently they're just as good about maximizing revenue after booking. They offer actual discounted upgrades after booking, and even let you upgrade just certain segments.
To Delta flyers, what has your experience been with Delta's paid upgrade offerings?