Delta and Virgin Atlantic announced a pretty huge new joint venture earlier in the year, and as of this past Saturday reciprocal award redemptions became available. I was curious to see how Delta would handle SkyMiles redemptions for travel on Virgin Atlantic. Virgin Atlantic imposes fuel surcharges on all award redemptions on their own flights, so I was expecting Delta would do the same.
We found out on Saturday that Delta isn't imposing fuel surcharges on Virgin Atlantic redemptions (at least not yet), though instead they were severely restricting the Upper Class award space that was available to SkyMiles members. While coach award space generally looked good, it seemed on Saturday as if SkyMiles members didn't have access to any transatlantic Upper Class award space.
I'm in Europe this week dealing with really slow Wi-Fi so I can't run as many tests as I'd like to determine exactly what award space SkyMiles members have access to, though it looks like my initial conclusion wasn't quite right. Best I can tell, the more accurate statement would be that SkyMiles members don't have access to any Upper Class award space between the US and London. I do see some SkyMiles Upper Class award space between Vancouver and London, for example (which is a seasonal service).

And I also see Upper Class award space between Orlando and Manchester.


It prices out at 100,000 SkyMiles plus $255.20 in taxes (most of which is the UK air passenger duty), which I'd say is a great value.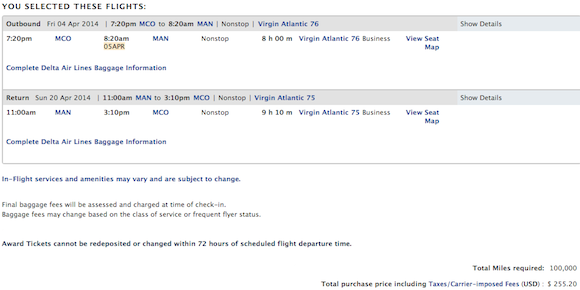 That being said, even on the above routes I can't find any rhyme or reason to which space SkyMiles members have access to. I've done award searches between Vancouver and London on Virgin Atlantic's website, and SkyMiles members still don't seem to have access to the same availability, but rather just a subset of it.
I'm hoping we can work together to figure out what's going on here. I'm dealing with Wi-Fi speeds that are approximately equal to those on Turkish Airlines over Siberia, so I've done about all the research I can. Has anyone found any routes between the US and London that have award space in Upper Class, or any other routes to North America that have award space (maybe between Las Vegas and Manchester, or between London Gatwick and Antigua, Barbados, Cancun, Grenada, Havana, Montego Bay, St. Lucia, or Tobago)?