No, this isn't a typo, so much as a "last hurrah" (or swan song) for anyone who had Delta Platinum or Diamond status in 2018. Delta's Choice Benefits program allows all Platinum and Diamond Medallion members to select from a series of "freebie" gifts.
With the 2018 Medallion year ending on January 31st, 2019, this is the last chance for 2018 Platinums and Diamonds to select their 2018 Choice Benefits. And if you have any social media presence whatsoever, Delta has probably missed no opportunity to remind you:
…probably more than once:
If this is still on your "to do" list, you can make your selections here by following the link and logging into your SkyMiles account.
What are my options?
If you're new to Choice Benefits or need a refresher, head over here for a breakdown on which Choice Benefits make the most sense. But as a reminder…
Diamond Medallion members get to choose any three of the following:
Four Global OR eight Regional OR two Global and four Regional Upgrade Certificates
Two Global Entry application vouchers
One Individual Sky Club Membership
One Executive Sky Club Membership (to be stacked with an Individual membership)
Delta Sky Club Guest Pass (allows two individuals to enter the Sky Club with you at no cost – this is exclusive to those who get Sky Club access through credit cards)
25,000 bonus miles
A $200 Delta travel voucher
A $200 Tiffany & Co. gift card
Gifting Gold Medallion status
Platinum Medallion members can choose any one of the following:
Four Regional Upgrade Certificates
One Global Entry application voucher
20,000 bonus miles
A $200 Delta travel voucher
A $200 Tiffany & Co. gift card
Gifting Silver Medallion status
Just be aware that not all options are created equal, and that the timing of your selection matters.
Huh?
What should I choose if I had Platinum or Diamond status in 2018?
If you are still hemming and hawing, the good news is that there are still some great options available.
Upgrade certificates and Delta travel vouchers are good for one year from the date of selection, miles don't expire, and the Tiffany gift card works like any other gift card. I suppose you could also go the Global Entry voucher route, although there are plenty of other ways to get there, and the $100 value for Platinums is pretty weak.
Just steer clear of gifting status or selecting anything associated with Sky Club memberships, since those Choice Benefits turn into pumpkins on January 31st.
What if I have Platinum or Diamond status in 2019?
First off, if it's your first time here, congrats and welcome! You can probably relax for a bit, given that you have until January 31st, 2020 to claim your Choice Benefits. That said, if you want to gift Medallion status or hop on a Sky Club membership, I would jump on that now, given that those options are both directly tied to your Medallion year.
Upgrade certificates and miles have always deposited into my account almost immediately, so you can take a more relaxed approach with those and wait until you actually need them. Just be aware that upgrades need to be both applied and flown within that one-year window.
I heard that Diamonds get to "double dip." What does that mean?
Glad you asked. If you hit Diamond Medallion status, it means that you hit the 75,000 mile Platinum threshold somewhere on your way to Diamond. And indeed, you get to select one Platinum Choice Benefit in addition to your Diamond Choice Benefits.
Just be sure to follow the above rules regarding when you make your selections.
Don't forget about Delta's partnerships with Hertz and CLEAR!
Speaking of double dipping, Medallion status gets you further if you link your SkyMiles account with a Hertz Gold Plus Rewards profile. Diamond and Platinum Medallions get access to Hertz's President's Circle aisle, while Gold Medallions are granted Five Star status. Both levels of status give you the option to select an upgraded car in any Hertz location that has an Ultimate Choice area.
If you don't already have a Hertz account, you can create one here, and then link it to your Delta profile here. I've heard varying reports on how long it takes to validate your account, so be sure to check back regularly if it doesn't cooperate right away.
And if expedited security lines are more your speed, Delta's partnership with CLEAR allows Diamond Medallions to receive a free annual membership, while Platinum, Gold, and Silver Medallion members can pay $79 for one year of access (general members can enroll for an annual fee of $99).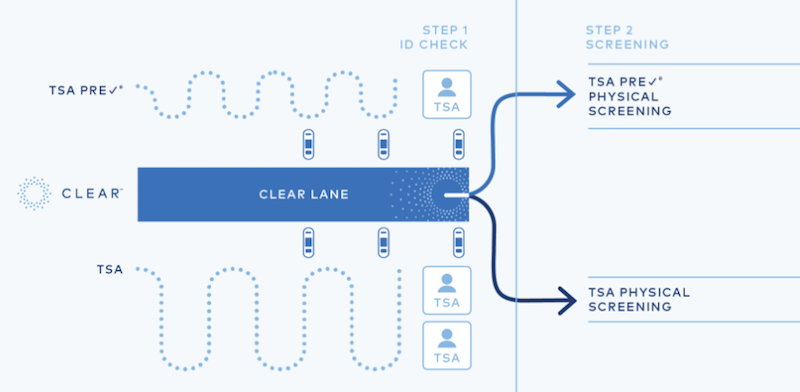 Membership is good for one year from the date that you sign up, so you may want to wait until a day when you are actually traveling to enroll. It takes all of five minutes, and you can even sign up at some Sky Clubs.
And yes, both of these options are in addition to Choice Benefits, and they are often forgotten so I'd be remiss not to remind you here.
Bottom line
Like any other loyalty program perks, your literal and figurative mileage will vary, but the worst thing you can do is forget to make your selections before the deadline. Even if you go a more conservative route and select vouchers and gift cards, you'd be leaving a minimum of $200 on the table for Platinum Medallions and $800 on the table for Diamond Medallions if you didn't make a selection.
Oh, and if you're curious, here are my selections:
Four Regional Upgrade Certificates (2018 Platinum Choice Benefit, selected last fall when I booked an economy ticket on a premium transcontinental route)
Four Global Upgrade Certificates (2018 Diamond Choice Benefit, selecting this week to maximize my one-year window)
2 X 25,000 SkyMiles (2018 Diamond Choice Benefit x2 – at a minimum, I can redeem these via Pay with Miles for one cent apiece for a total value of $500, but there are far better values out there)
So if you're still hemming and hawing, set yourself a reminder, and don't forget to make your selection by January 31st!
What are your favorite Choice Benefit options?