In late October, Delta inaugurated commercial service with their A350. The airline has 25 Airbus A350s on order, which they'll be taking delivery of through 2022. So far Delta has announced six longhaul routes with this plane, two of which are already operating.
As of now, Delta operates the following two routes using the A350:
Detroit to Tokyo Narita
Detroit to Seoul Incheon
Delta has also already announced that the following four routes will be served by the A350 over the coming months:
Detroit to Beijing as of January 17, 2018
Atlanta to Seoul Incheon as of March 24, 2018
Detroit to Amsterdam as of March 31, 2018
Detroit to Shanghai as of April 19, 2018
As Delta continues to take delivery of these planes, they've now announced their seventh A350 route. As of July 2, 2018, Delta will begin flying the Airbus A350 daily between Los Angeles and Shanghai. The flight operates with the following schedule, per @airlineroute:
Delta 89 Los Angeles to Shanghai departing 1:25PM arriving 5:50PM
Delta 88 Shanghai to Los Angeles departing 8:15PM arriving 5:35PM
Presently this route is operated by a 777-200LR featuring herringbone seats, so this represents a very nice improvement in terms of the onboard product. What I find interesting here is that with the current rotation, the plane is scheduled to be on the ground in LA for about 21 hours every day. There's no way they'll actually leave the plane sitting on the ground for that many hours, so presumably they'll launch another A350 route out of LAX to complement it.
We'll have to wait and see as to whether they launch some domestic A350 flights, or instead launch another longhaul flight using the plane. My guess would be that they'll also switch the Los Angeles to Sydney flight to an A350, as that's the only other LAX international route operated by a 777-200LR, so that would be logical enough. That flight operates with the following schedule:
Delta 41 Los Angeles to Sydney departing 10:25PM arriving 6:20AM (+2 days)
Delta 40 Sydney to Los Angeles departing 11:00AM arriving 7:45AM
As you can see, if they swap planes between the routes, that would lead to a lot less downtime, as the plane would instead only have about 4-6 hours between flights.
As far as the A350 onboard experience goes, there are a couple of things that make it unique. First of all, the A350 is the first plane with the new Delta One Suite, which features a configuration with doors at every seat.
The Delta One Suite is based on the Vantage XL seat, which is a slightly above average business class hard product. So while the added privacy of the door is nice, it doesn't actually look that spacious to me. I guess I'll find out soon, as I'm booked to fly it to Beijing in February.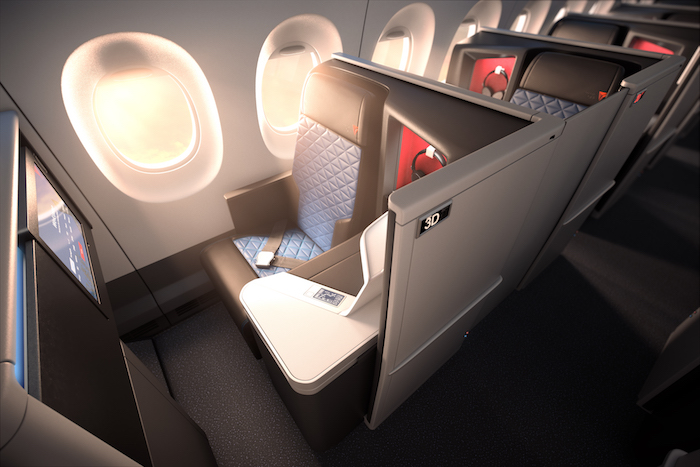 On top of that, the A350 features Delta Premium, which is the name of their new premium economy product. This will eventually be offered on other longhaul aircraft as well.
The one thing to be aware of with the A350 is that Delta added a special surcharge for those booking their A350 Delta One Suites. Those on discounted business class tickets have to pay an additional $500 one-way for this product over other products, while those on more expensive fares have to pay an additional $250. So even if you find a good business class fare to begin with, you'll end up paying an additional $1,000 roundtrip if the ticket is on an A350.
On top of that, Delta also seems to charge more miles for business class tickets booked on the A350. Previously Los Angeles to Shanghai was one of the easier routes for scoring award tickets at the lowest level, though that's no more. It looks like the cheapest business class award cost for the route is now 170,000 miles one-way. Ouch.
Here's the map of all the A350 routes that Delta has announced: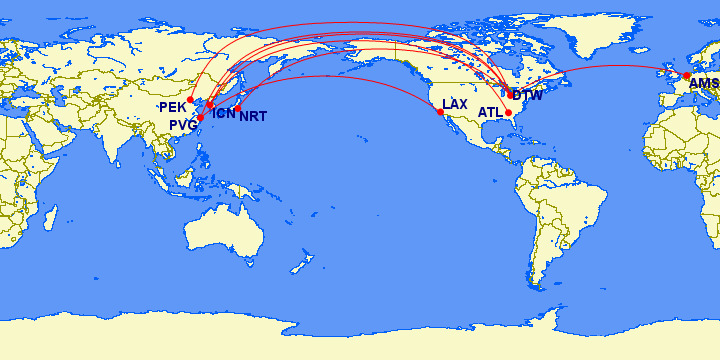 Anyone have plans to fly Delta's A350 between Los Angeles and Shanghai?