There's an interesting rumor floating around regarding the future of Delta's 717s, of which they have nearly 100. Initially I thought this was more of a sure thing, though I'd note that Delta issued the following statement:
"While we're always evaluating how we can enhance the experience for our customers and employees across our fleet, no decisions have been made about adding 717 aircraft in-flight entertainment seatback screens nor extending or shortening the length of time they will remain in operation in our fleet."
So I'll keep the post below intact, though note that these are rumors, and Delta claims no final decision has been made.
Delta Keeping 717s Until 2030
Other airlines love to brag about how new their fleet is, though Delta takes a different approach. They have no problem keeping planes for a lot longer than other airlines, but they maintain them well.
For example, while American just retired their last MD-80, Delta still has 93 MD-88/90 aircraft. They do plan on retiring these in the coming years, though.
Delta's fleet also consists of 91 Boeing 717s, which are basically updated and smaller versions of the MD-80s. They got virtually all of these 717s from AirTran. While the airline was taken over by Southwest, the planes weren't, so Delta saw an opportunity there.
Well, Delta may keep their 717s all the way through 2030. AirTran initially started taking delivery of the 717s around the late 90s, so by the time these planes retire they would partly be 30+ years old.
Delta Installing Personal Televisions On 717s
As mentioned above, while Delta may have some old planes, they know how to maintain them. When flying Delta I constantly see passengers walk on 20+ year old planes and comment on how nice they are, while you'll never see anyone say that about one of American's new narrow body planes.
Delta has a big focus on offering personal televisions at every seat. As part of their plans to keep 717s through 2030, Delta may install personal televisions on these planes, which would be a $70 million investment.
Talk about an airline going for product consistency. If they complete this project and retire their MD-88/90 aircraft, all of Delta's mainline planes would have personal televisions.
What Does Keeping The 717 Mean For The A220?
What makes Delta's decision to keep the 717 for longer so interesting is that the airline sort of has a direct replacement for the plane — the A220.
Delta has a total of 95 A220s on order, split between 45 A220-100s and 50 A220-300s. The former have a capacity of 109 seats, while the latter have a capacity of 130 seats. As a point of comparison, the 717 has a total of 110 seats.
So what does this tell us?
The 717s must be really cheap to keep, given Delta has decided to keep those rather than ordering more A220s, which have significantly lower operating costs
Delta sees big demand in the next decade for small mainline jets — 110 seats is significantly lower capacity than the 737 and A320 family aircraft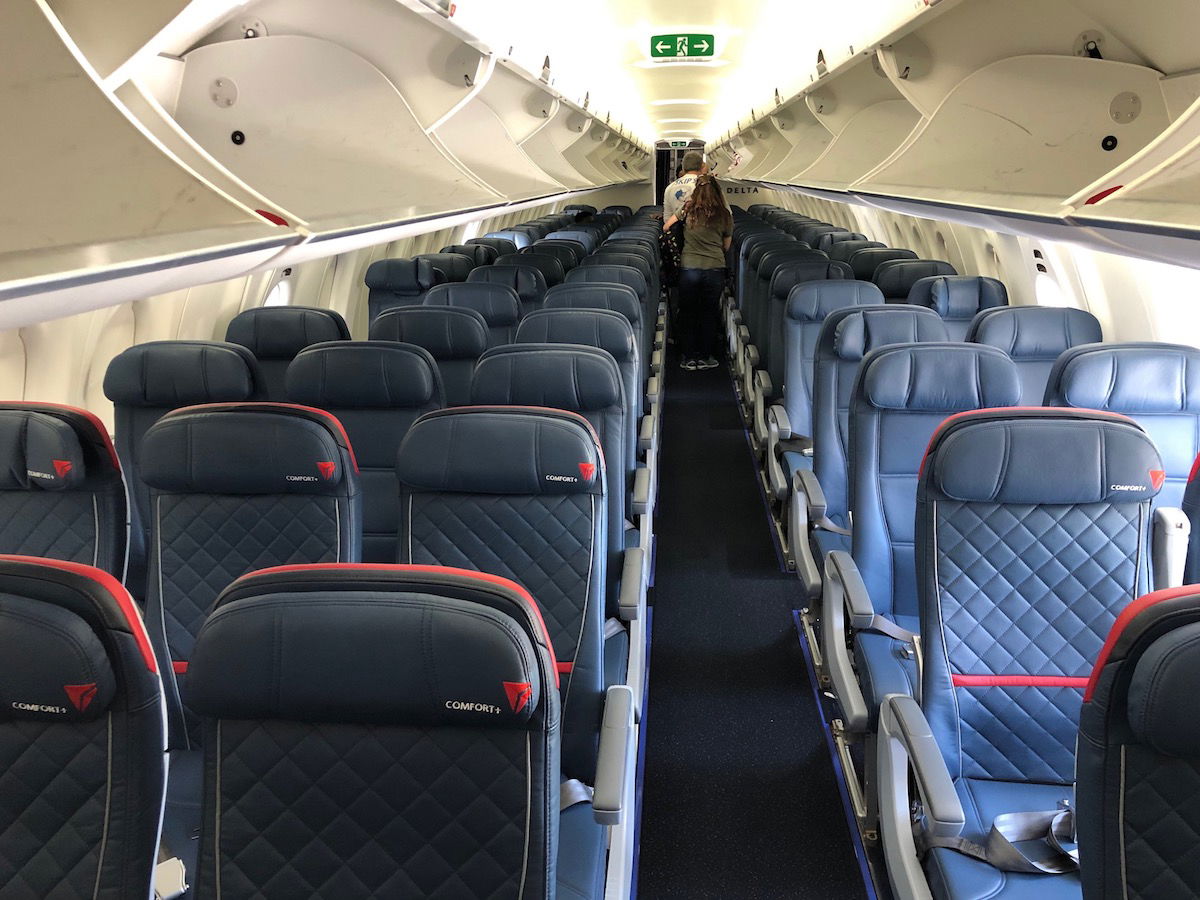 Delta A220-100 cabin
Delta 717 Summary
I'll be curious to see if this rumor turns out to be true.
In general, Delta sure has a strategy and sticks to it — they don't really care about their average fleet age, and would rather invest some of that money to making the interiors of their planes look new. Personally I think this is a great approach to take.
On one hand it's a bit surprising if Delta keeps their 717s for more than another decade, especially with so many A220s joining the fleet. Then again, I guess Delta has nearly 200 717s and MD-88/90s, so that's a lot of planes they'd need to replace
Do you think Delta will keep their 717s around through 2030?