As you've probably already heard, and as Tiffany reported yesterday, it's a rough weather week out there. For those of us traveling around the East Coast, the biggest news is undoubtedly Hurricane Florence, which is currently slated as a Category Four hurricane and is now likely to hit land on Thursday.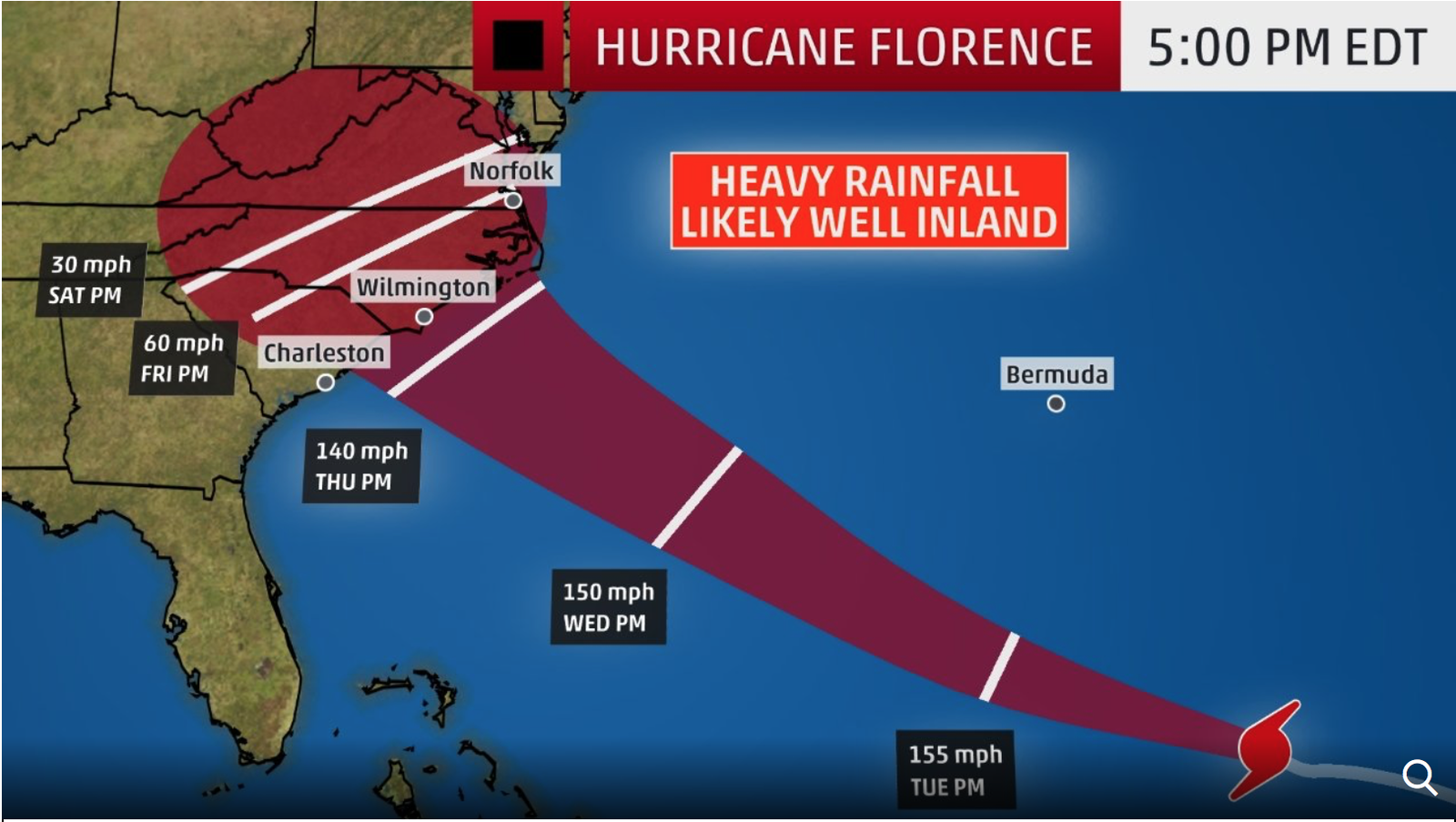 Of course, this is always subject to change, but it's not looking good for the Carolinas, the East Coast, or the numerous major airports in the hurricane's path.
Travel Ramifications
As I'm writing this, travel waivers are starting to roll in, although these will probably continue to expand as the week goes on. Below is a list of airlines' direct links to their travel advisories, in case you're trying to figure out where your flight stands:
We'll be updating regularly as best we can, but your best is always to check with the airline that you're planning on traveling with at one of the links above.
And in case you're wondering, I'm right in the thick of it myself, with six East Coast-based itineraries in six days. Let's just say that this was already a stressful week before the threat of a hurricane.
In the meantime, here are a few precautionary measures that I would recommend taking, if you're worried that your inbox might soon look like this:

Reach out to the airlines proactively
Regardless of whether a travel waiver has been issued, if you have mid-level elite status with any of the major domestic airlines, you should be able to change your flight within 24 hours of departure with no fee. I've found that their flexibility tends to increase when there's potential for weather delays, so it may be worth calling 30-40 hours out, regardless of whether a waiver has been issued.
Even without status, if you're concerned, it may be worth a phone call. I've had luck changing flights on both United and American prior to a travel wavier this year, and my status has lapsed on both of those airlines.
When and if travel waivers do show up, the phone line queues are likely to show up right alongside them. You can also check out this post on how to get around the phone wait times, if you're already dreading hold music and disappearing itineraries.
Consider other means of transportation
Renting a car and driving for ten hours is almost certainly not as pleasant as kicking back at an airport lounge with a choice beverage, but if you need to get to your destination ASAP and you're traveling a shorter distance, it may be worth looking at other options. Most rental car companies don't require a credit card at the time of booking, so you may want to proactively book a one-way rental if you're anticipating that disaster will strike.
Just be sure to cancel the reservation if you don't use it, so that the next person in line for a car isn't stranded overnight.
And if podcasts and I-95 rest stops aren't your thing, Amtrak may provide some solid alternatives. Certain fare classes even allow for refunds, if you're looking to book a backup option.
Pack accordingly
If you're anticipating that you'll be stuck somewhere longer than expected or you'll have to travel directly to that next client site, consider packing an extra outfit, just in case.
In theory, I should be ending my week with a flight to California, where I'm slated to spend all of the following week. While it would be nice to travel with a lighter suitcase and re-pack during my two-hour "layover" at home later this week, you can bet your SPG Free Night Certificate that I left home on Monday morning with enough clothes to get me through the next two weeks.
(Now is as good a time as any to thank the kind gentlemen who helped me lift my suitcase into the overhead bin yesterday).
In the end, there's no checked bag fee or dry cleaning bill in the world that costs more than the "I need a suit at 9 PM the night before a big meeting" fee. Don't ask me how I know.
Don't forget to invoke trip delay coverage
If you do find yourself stuck overnight, sans cosmetics and sans hotel, keep in mind that many travel credit cards offer some form of travel reimbursement. If you need a crash course on trip delay coverage, you can read about it here.
It's probably a little too late to change which credit card your flight was booked on, but as a general rule of thumb, most mid-to-high-end Chase and Citi cards offer some version of this benefit, while most American Express cards do not. The process for reimbursement can be a bit cumbersome, so be sure to hang onto your receipts and get a statement of delay or cancelation from the airline.
Consider booking multiple flights
Let's be clear – this should not be your first go-to option. But I can imagine some cases – important client meetings, major life events, multiple clients on either end offering to reimburse flights – where this option could be viable. Heck, I've even had the rare occasion where a company has offered to do this, depending on how badly they needed me and how tenuous my flights were.
Keep in mind that if your flight flat-out cancels and you choose not to be rebooked, the airline should refund you, although you may need to proactively request reimbursement.
Or don't book multiple flights
I'll admit that I'm writing this last one for myself as much as anyone else. I'll do whatever it takes to make it to a speaking engagement or client event in spite of whatever delays the airline world throws at me – and I have many colleagues who pride themselves on doing the same.
But at the end of the day, it's important to remember that most of us out there are reasonable, understanding people. There is a massive difference between "I can't come to work because I'm feeling under the weather" and "I can't come to work because of the natural disaster."
I'm not saying that this will always work – or that I'll throw in the towel that easily. But if you know that your travel will be impacted, it might be worth having a conversation with your boss/client/cousin before you book five flights, two rental cars and pack ten suits.
Bottom line
Above all, I hope that everyone stays safe this week. If you do know that you'll be flying through Hurricane Florence's path later this week, hopefully you can take some steps to get in front of potential issues.
I'll do my best to update the status of travel waivers (in between flights) but your best bet is probably to check with your carrier at one of the links above.
And hopefully, none of us run into each other sleeping on airport cots later this week.
Is anyone anticipating being impacted by Hurricane Florence? What do you do to proactively avoid weather-related delays and cancelations?