I'll soon be flying to Montreal on Tunisair, and am planning on flying back across the Atlantic after that to review a couple more airlines. My plan was to hop down to New York after Montreal to start a transatlantic trip on either Meridiana, Aer Lingus, or Uzbekistan Airways.
However, since I'm in Montreal already, I'm sort of intrigued by Corsair. Reader yyc left the following comment on my recent post asking which other two airlines I should fly across the Atlantic:
Lucky, would you be interested trying Corsair? It's a french airline and it might be available on your dates. They fly from YUL-CDG and back for ~$1,100. Not quite a premium airline but I think it's comparable to Meridiana based on the video posted on Youtube.
Here's the referenced video:
https://www.youtube.com/watch?v=Q5izJhyuusM
I'm always interested in airlines I previously knew almost nothing about. In this case all I previously knew about Corsair is that they're a low cost carrier based in France with nine abreast seating on their A330s. Oh, and I also knew they had a 747 with the registration F-HSEX that had big red lips painted on it (seriously). But that's about it…
I didn't realize they had a premium product, and for that matter it doesn't look especially good. It looks more like premium economy on some other airlines. However, it's reasonably priced and available directly out of Montreal to Paris, and indeed, doesn't look much worse than Meridiana's business class. The seats apparently recline 126 degrees, and have roughly 46″ of pitch.
Corsair calls it "Grand Large Class" (well, at least in English), and it comes with lounge access, meals, amenity kits, etc.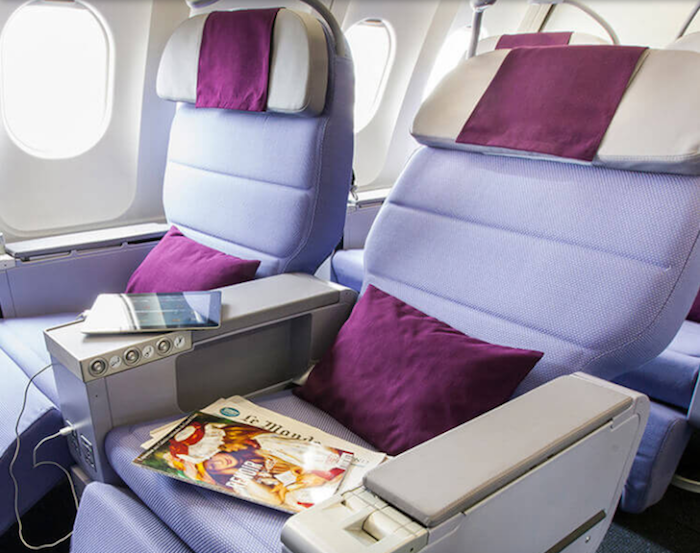 On one hand, Corsair has a small fleet and their only flight to North America is to Montreal, so I'm not sure how useful it would be to most. At the same time, there's almost nothing out there about the product, and I do have a thing for seemingly random airlines.
Has anyone flown Corsair? Should I fly them from Montreal to Paris?