The information and associated card details on this page for the Club Carlson, and Club Carlson Biz have been collected independently by OMAAT and has not been reviewed or provided by the card issuer.
There have been several opportunities to purchase Club Carlson points this week, between Daily Getaways and their Flash Sale.
In the comments, reader Andyandy mentioned another feature of the Club Carlson program that is worth exploring:
Lucky, You may want to note that Club Carlson points are freely transferable for elite members and if you have the CC card, you're a Gold member. That means a couple could easily do the deal twice and combine points into one account.
Transferring Club Carlson Gold Points
One of the great perks of the Club Carlson program is that household members can combine points for no fee.
This can be done by calling Club Carlson Member Services at 888-288-8889, and unlike Starwood Preferred Guest transfers (which can take up to a week), it seems that in most cases the points transfer is near-instant.
On top of that, elite members of the Club Carlson program can transfer points to anyone, and if you have either the Club Carlson Premier Rewards Visa Signature® Card or Club Carlson Business Rewards Visa Card then you have automatic Gold status with the program.
Per the Club Carlson Terms and Conditions:
Can I transfer my Gold Points to another Club Carlson account?
Elite members may transfer Points from their account to another Program member account upon request. All other members (non-Elite) may transfer Points to another Program member residing in the same household provided that both individuals have been a Program member for at least one year and the addresses for either account involved in the transfer have not been up updated within thirty (30) days prior to the transfer request. All members can request a transfer by contacting Member Services. Club Carlson reserves the right to require proof of eligibility or residency and, in its sole discretion, deny a Point transfer request.
Maximizing Club Carlson Points Transfers
The biggest benefit to being able to combine accounts is in taking advantage of promotions and deals. You could accrue Club Carlson points in multiple accounts, for example, and then combine them into a single account in order to redeem at a more expensive property, or for a premium room or suite.
On top of that, this makes it easier to take advantage of the last-night-free benefit of the Club Carlson credit cards by "staggering" award stays between travel companions.
Since you can freely transfer between accounts, one person can book the first two nights of a stay, and the second person can book the subsequent two nights, and so on.
This would also work for say, a five night stay if only one person had a Club Carlson card – the cardholder could book the first, second, fourth, and fifth nights, while the other person could book the third.
Best Options For Redeeming Club Carlson Points
Although they have a fairly extensive footprint, in my opinion the best value from Club Carlson points is by using Gold Points for multi-night stays in Europe.
Not only do they have some high-end boutique properties in expensive hotel cities like London and Paris, but Club Carlson has great coverage in some of the more "off the beaten track" cities that can otherwise be difficult to redeem points for.
These typically aren't luxury properties, at least compared to what you'd find in larger cities, but in many cases are among the top properties in a given area, particularly in Northern Europe.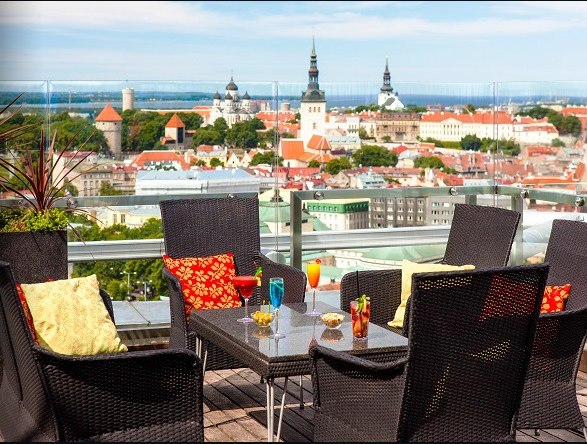 The Radisson Blu Sky Hotel in Tallinn, Estonia is just 38,000 points per night
Given the exchange rate and taxes at many European properties, Club Carlson points can be a phenomenal value proposition, especially if you're able to structure your stay in such a way as to take advantage of the second night free benefit that comes with the Club Carlson Premier Rewards Visa Signature® Card and Club Carlson Business Rewards Visa Card.
All Club Carlson members receive complimentary Wi-Fi as well, which can be outrageously expensive in Europe, so that's another nice perk.
Bottom Line
Regardless of whether you're accruing Club Carlson points through credit card bonuses, hotel promotions, or straight up purchases, the ability to combine points from multiple accounts can be incredibly valuable.
(In the interest of full disclosure, I earn a referral bonus for anyone approved through the above links for the Club Carlson Premier Rewards Visa Signature Card, while I don't earn a referral bonus for anyone approved for the Club Carlson Business Rewards Visa Card)