Earlier I shared the details of the trip I planned yesterday, or at least the parts I already ticketed. This includes flights from Los Angeles to Shanghai to Colombo on China Eastern, and then flights from Colombo to Doha to Casablanca to Doha to Casablanca on Qatar Airways and Royal Air Maroc.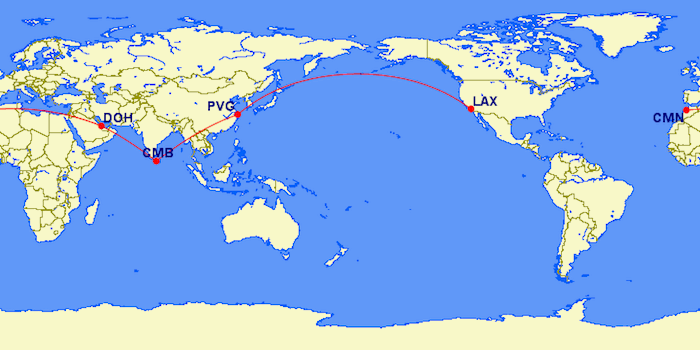 I'm doing this trip with my friend Matthew from Live and Let's Fly. Before we started ticketing the first two parts of the trip we had already agreed on the return as well (which is option 1 below), but then we got a bit more creative. Now we're down to three options, and it would be great to hear which one you guys would most like to read about.
Option 1: Kuwait Airways all the way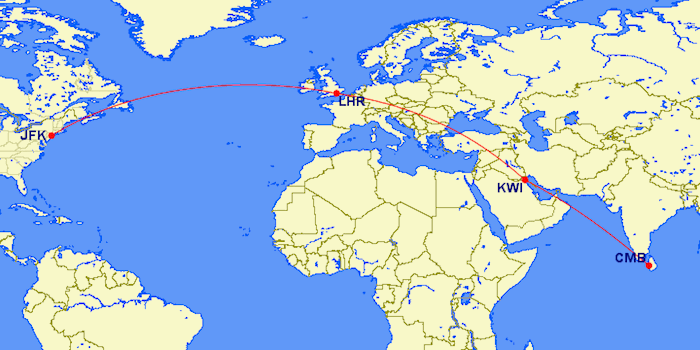 When we were first planning the return, this was the option we had settled on. Kuwait Airways has sub-$1,000 one-way business class fares between Colombo and New York, which includes flights from Colombo to Kuwait on an A340, and then from Kuwait to London to New York on a 777. All of these flights are on their planes featuring a very outdated product.

The fare is unbeatable, and I've long been promising to review Kuwait Airways, so this seems like a great opportunity.
As we were getting ready to ticket, however, Matthew stopped me and said "I'd really like to fly EgyptAir as well." I was going to finish his sentence with "said no one ever," but we decided to take a look at what else was available.
Option 2: Saudia and EgyptAir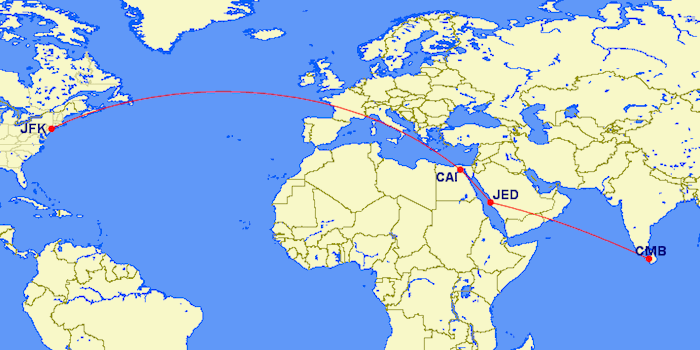 EgyptAir had award space for our preferred dates from Cairo to New York, so that part seemed easy enough.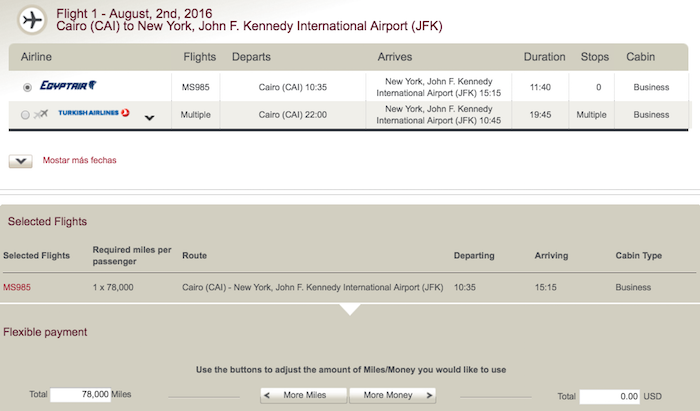 The catch is that in order to get to Cairo in time for that flight we couldn't take Kuwait Airways to Cairo, since they operate a limited schedule out of Colombo. Instead we'd have to fly Saudia, which is an airline I've also been wanting to review. They had the following flights available:

Okay, so now we're completely leaving out Kuwait Airways, which I've been wanting to review all along, but at least we'd get to try two other cool airlines.
Option 3: Kuwait Airways and Royal Jordanian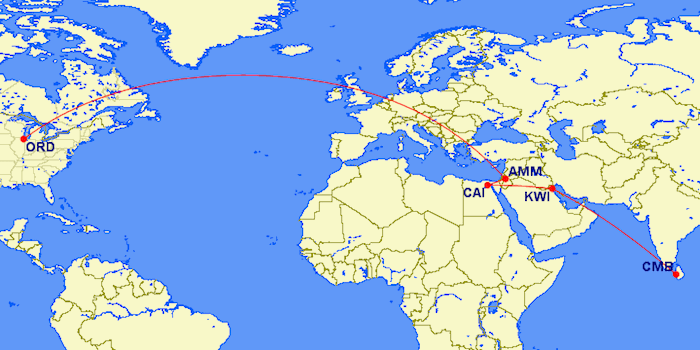 That brings us to the third option. The thing is, Kuwait Airways has super cheap fares between Colombo and Cairo, which are $200+ less than on Saudia:

The problem is that the flight wouldn't get to Cairo in time for the EgyptAir flight to New York, so that seemed a bit pointless.
After looking at some revenue fares out of Cairo, I noticed that Royal Jordanian has very good business class fares from Cairo to Chicago, via Amman:

With this we'd earn American AAdvantage miles, and it would also be my first flight on Royal Jordanian since the scariest flight of my life. Trying their 787 seems like a cool opportunity as well.
Which routing should we select?
At first Kuwait Airways the whole way seemed like a no brainer, as much as flying a dry airline with crappy seats for nearly 24 hours sounds extremely unpleasant. But hey, if we can get two unique airlines out of the experience, maybe that's even more interesting?
Vote in the below poll to let us know which itinerary you'd most like to read a review of, and if you have further thoughts, let us know in the comments section below! We'll be booking the return flights in the coming days, and I'll of course report back on what we ticket.
[poll id="84″]