If there's one common theme of hotel loyalty programs in 2013 it's devaluations. We've seen them from Hilton, Marriott, Priority Club, and Starwood. So when I see a headline about hotel loyalty program changes I immediately assume the worst.
That was the case when I saw the Club Carlson headline of their 2013 hotel category changes. They're not actually changing the number of points required for a stay at a given category, but rather are switching around the categories of many of their hotels.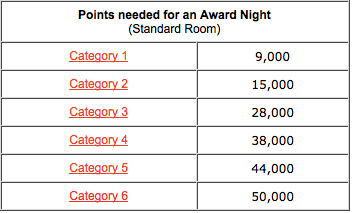 Club Carlson's award rates
Except this time around it's not actually bad for most people. About 100 hotels are going up in cost, while about 150 hotels are going down in cost. Only two hotels remain in the same category.
The bad news is that the change kicks in on May 1, 2013, so you literally have less than 48 hours to lock in redemptions at the old rates. For some people this change will be negative. If a hotel you frequent is going up in category of course you won't like this change. Also keep in mind that you can get the difference in points starting May 1 for any booking you make now that goes down in cost.