China Southern has just launched a new 3x weekly flight between Guangzhou and Vienna. What makes this route so interesting is that it operates via Ürümqi in both directions. Ürümqi is the city in China I'd be most interested in eventually visiting (though the current political situation is horrible), which is why I find this to be such an interesting link.
I'm surprised this route has already launched, because I didn't even have a clue that this was on the horizon. The flight is operated with a Boeing 787-8 (featuring flat beds) with the following schedule on Tuesdays, Thursdays, and Saturdays:
CZ6022 Vienna to Urumqi departing 7:25PM arriving 7:55AM (+1 day)
CZ6021 Urumqi to Vienna departing 4:15PM arriving 5:25PM
The flight between Vienna and Ürümqi covers a distance of ~3,300 miles, and is blocked at about seven hours in each direction.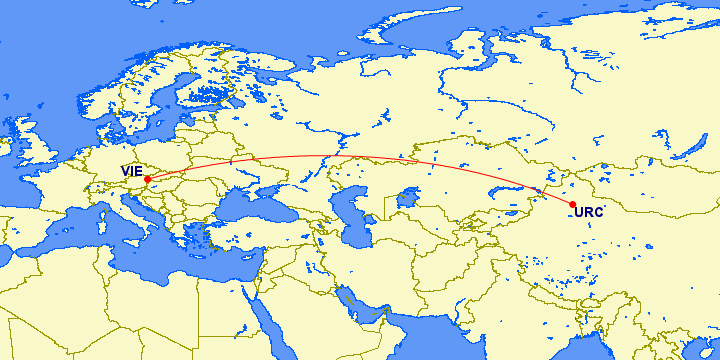 I actually don't know all that much about Ürümqi, other than how it's geographically and culturally different than everywhere else I've been in China (which is way further East).
In general I'm fascinated by the region, and as far as I'm concerned any city that has service from Air Astana, Uzbekistan Airways, and Somon Air must be pretty interesting. 😉
If this route seems random, it sort of is… but not totally. China Southern has a focus city in Ürümqi, and has service to quite a few cities from there. However, very few of those flights are to Europe — the only other one I know of is to Moscow.
China Southern is no longer in SkyTeam, so unfortunately it's not possible to redeem SkyTeam miles for this flight. However, China Southern does now partner with American, so you can redeem AAdvantage miles. The catch is that:
There's virtually no business class award availability on the flight, best I can tell
This is a fairly costly award given that they charge the same number of miles you'd usually pay between Europe and Asia, even though this flight is much shorter — a one-way business class award from Vienna to Ürümqi would cost 75,000 AAdvantage miles
Bottom line
This is such an interesting new route from China Southern, and I'd really like to eventually fly it. While Ürümqi is a focus city for China Southern, I find the selection of Vienna as one of the first destinations in Europe to be a surprising one.
I suspect this route will still largely be about connecting Guangzhou and Vienna, though I'm much more interested getting off at the intermediate stop.
Anyone else as interested in Ürümqi as I am? If you've been, please share your experience!
(Tip of the hat to @simply_aviation, featured image courtesy of G B_NZ)