Last October I shared the news that China Southern was planning on launching service to New York using one of their newly delivered 777-300ER aircraft.
Then in January the new 4x weekly service became official, and will launch on August 6, 2014.
Earlier this week China Southern took delivery of their first Boeing 777-300ER aircraft, and all things considered it looks like a sexy plane.
The new 777-300ER will be in a four class configuration. The layout will be as follows:
Four first class suites in a 1-2-1 configuration
34 business class seats in a 1-2-1 configuration
44 premium economy seats in a 2-4-2 configuration
227 economy seats in a 3-3-3 configuration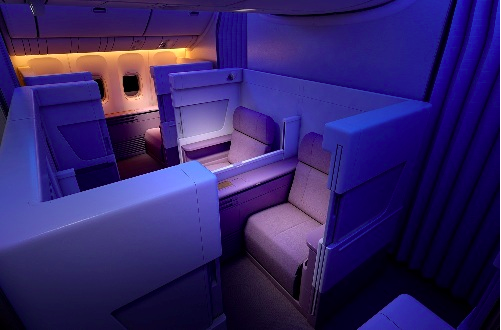 It's worth noting that this will be China Southern's first plane with a premium economy cabin — not even their A380s or new delivery 787s have a premium economy cabin. Also, it's nice that they're only doing nine seats per row in coach, while many carriers install ten seats per row.
That's a fairly roomy plane with just 309 seats (some other airlines have over 400 seats on their 777-300ERs).
Per airchive.com, it appears as if China Southern also plans on installing Wi-Fi fleet wide, which is great news. Unfortunately there's no timeline for that project, and the 777-300ERs aren't being delivered with Wi-Fi.
Now, admittedly I have a hard time getting excited over flying China Southern after my experience in their A380 first class from Los Angeles to Guangzhou. That being said, they're generally great about releasing award space, so are probably still a good option for redeeming Delta SkyMiles or Korean Air SkyPass miles, assuming the route makes sense for me. Their hard products are highly competitive, so as long as you board exhausted and stop by Chipotle and Vino Volo prior to boarding the flight in New York, you should be good to go. 😀
Hopefully the Boeing and China Southern executives had plenty of Duc de Paris sparkling wine to celebrate this momentous occasion. 😉
(Tip of the hat to Peter)