Last May I wrote about Taipei-based China Airlines' new business class product, which is available on their newly delivered Boeing 777-300ER aircraft.
China Airlines is known as the second rate Taiwan-based airline (after EVA Air), and doesn't have the best reputation (historically both in terms of safety and passenger comfort), though they're trying to turn that around.
Their new 777-300ERs feature a fantastic business class hard product, consisting of reverse herringbone seats and onboard wifi. Their business class cabin consists of a total of 40 seats, spread across 10 rows in a 1-2-1 configuration.
China Airlines is great about releasing award space, though the catch is that it's really tough to search their award space online. So historically you were best off just calling Delta SkyMiles to try and book an award on China Airlines metal using SkyMiles.
Well, the good news is that China Airlines award space now shows up on delta.com. So you can redeem your SkyMiles for travel on China Airlines directly through Delta's website.
Award availability is excellent, as expected. By the end of the year China Airlines will be flying their 777-300ERs to Los Angeles, New York, and San Francisco, and availability is excellent across the board, with two business class award seats on many flights.
For example, picking a random five week period in October/November, every single day has nonstop award availability between Los Angeles and Taipei:
And in many cases you even have your pick between their three daily frequencies: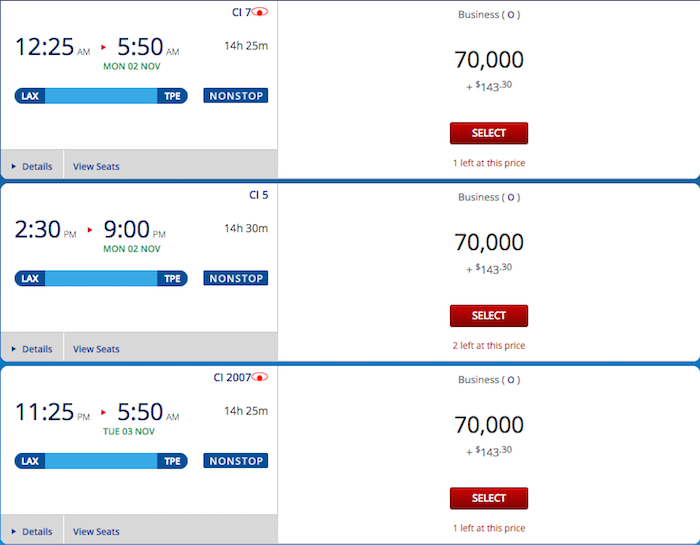 Award availability is equally excellent on their flight between San Francisco and Taipei:
And the same is true between New York and Taipei, though that flight is just operated 3x per week.
It's worth noting that the major exception to the excellent China Airlines award availability are their blackout dates. The remaining ones for 2015 are as follows:
June 1 through August 31, 2015
December 10 through December 31, 2015
Also keep in mind that China Airlines imposes fuel surcharges, though they're quite mild — about $130 in each direction for a transpacific flight.
Bottom line
It's impressive how much SkyTeam options to Asia are improving. Not only is China Airlines massively overhauling their longhaul product, but China Eastern is as well.
China Airlines is a great option for nonstop travel from the US to Taipei and beyond, especially from the east coast, from which it's otherwise quite difficult to find saver level SkyMiles award availability.
I'll have to give China Airlines a try at some point.
Do you have any interest in trying China Airlines' new 777-300ER business class?
(Tip of the hat to Mac)