One major frustration for many US citizens visiting South America are the visa reciprocity fees charged by many countries. The idea is that the US charges citizens of those countries a similar fee for visas, so they'll do the same to US citizens. I mean, I get their reasoning and it frustrates me that the US seems to be so anti-tourism in many ways, so really it's just a tit for tat policy.
In fairness, the visa reciprocity fees are usually valid for multiple entries over many years, so for the frequent traveler they're not a huge expense. In the case of Chile, the visa reciprocity fee is valid for the life of the passport, and you can stay in Chile for up to 90 days per visit.
But if you're a family traveling to South America as a one time thing, it sure is damn expensive. Check out this about.com article for full details on the South American countries that charge US citizens visa reciprocity fees or actually require visas for entries.
I've always been fortunate to be exempt from these, given that I have a German passport I've used for entering South America. Between visits to Argentina, Brazil, and Chile, it sure has saved me a lot of money and hassle (especially since Brazil actually requires visas in advance, which I was able to completely bypass).
Well, finally there's some good news for US citizens on the visa reciprocity front. Chile has recently been added as a country eligible for the US Visa Waiver Program, so as a result Chile is no longer charging US citizens the visa reciprocity fee.
Now you can go to Chile without having to queue on arrival to pay your reciprocity fee, and more importantly, can spend that $160 on seafood and empanadas.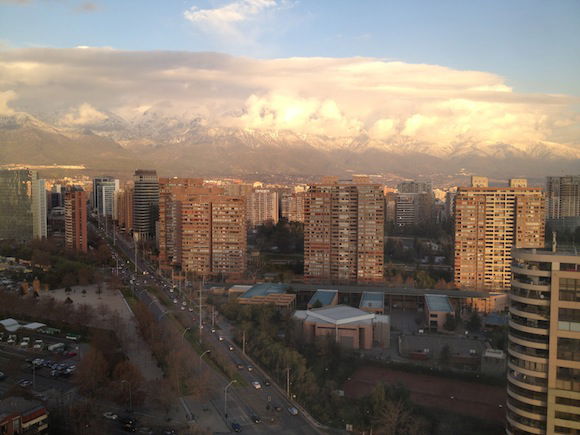 Gorgeous Santiago from the Grand Hyatt