Have you ever stayed at a hotel that for whatever reason you had low expectations of, but it blew you away? For me the Grand Hyatt Santiago was one of those hotels. I loved it, and I'm not sure why my expectations were low going in.
I booked two nights at the Grand Hyatt Santiago. I used points for one night, as this hotel is only a category 2 Hyatt, making it only 8,000 points per night, which is an absolute bargain. It's worth noting that you can redeem 12,000 points per night for a suite, though you do have to book a minimum of three nights in order to redeem for a suite.
Then I booked the second night through American Express Fine Hotels & Resorts for $235. I booked a revenue rate instead of using points because the amenity for booking with them was a complimentary 50 minute massage for two, which is an awesome value for just a one night stay. You also get a room upgrade, lounge access, and guaranteed 4PM late check-out for booking through them, though I get all those things anyway for being a Diamond member.
My flight from Dallas to Santiago was about an hour late, so I made it to the hotel at around 10AM after a 30 minute cab ride. The lobby of the hotel was elegant and featured an impressive atrium that reminded me a bit of the Grand Hyatt Shanghai.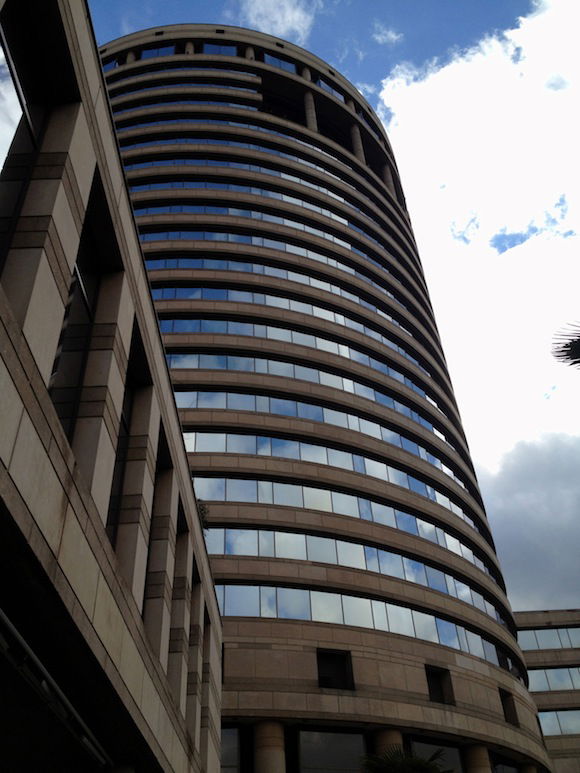 Grand Hyatt exterior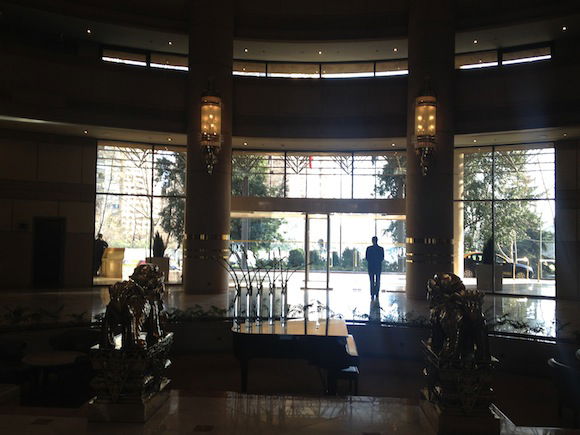 Lobby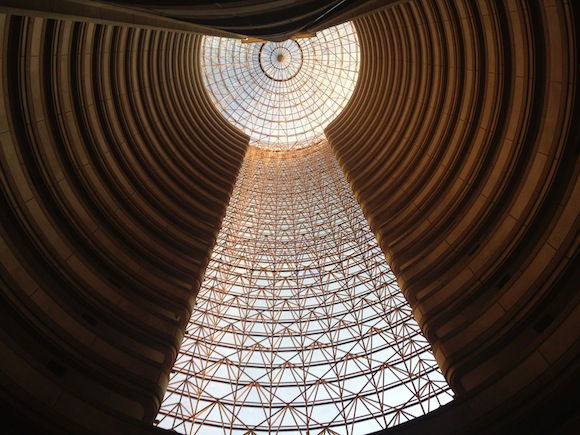 Atrium
Check-in was efficient, and the friendly agent offered to merge my two reservations (since I had one night booked on points and one night booked through American Express). He informed me my room wasn't quite ready, though offered to escort me to the club lounge so I could relax there until my room was ready. Awesome gesture.
I'll have more on the club lounge later, though I was approached by the club lounge attendant Andre, and his accent sounded all too familiar. As it turned out he was German, so we had a lot to talk about. Even though breakfast was over he asked if I wanted anything to eat. I wasn't hungry, though I certainly appreciated the gesture.
I connected to the Wi-Fi and caught up on work for 30 minutes, at which point the manager on duty approached me in the club lounge and handed me the keys to my room, wishing me a pleasant stay. My room was on the 18th floor, two levels up from the club lounge.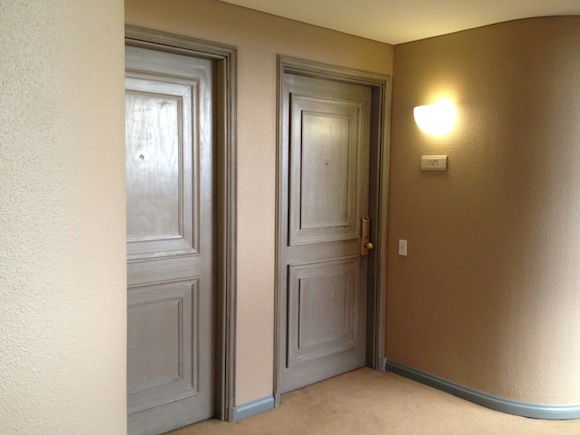 Room entrance
The room featured an entryway with the bathroom to the right.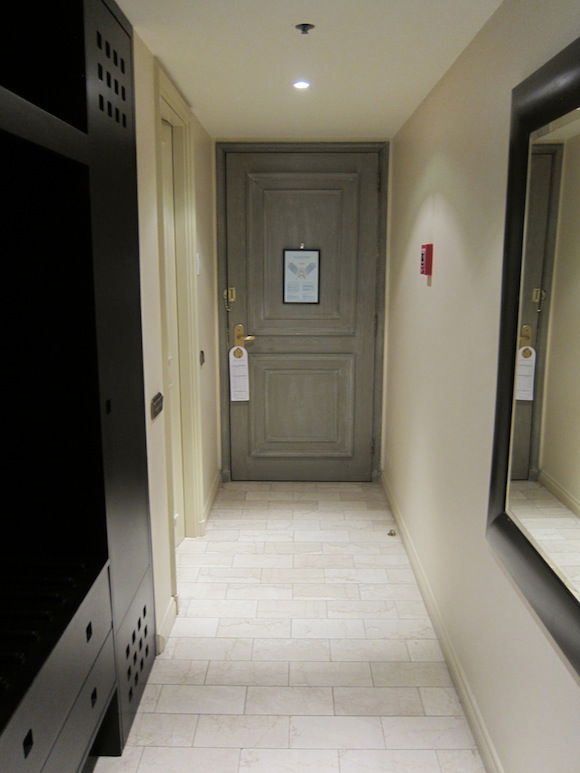 Entryway
The room itself was simplistic yet elegant, and reminded me of a Park Hyatt. There was a king sized bed and flat screen TV on a stand in the main part of the room.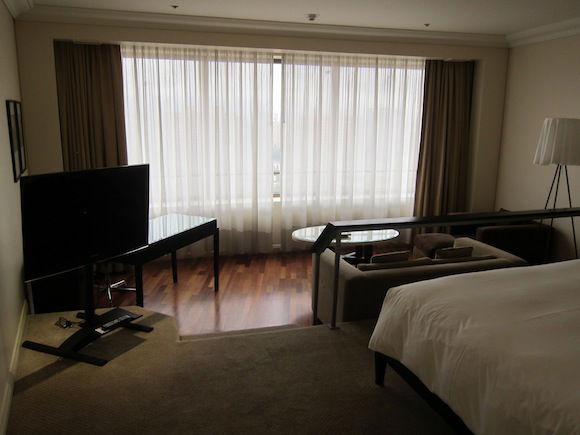 Room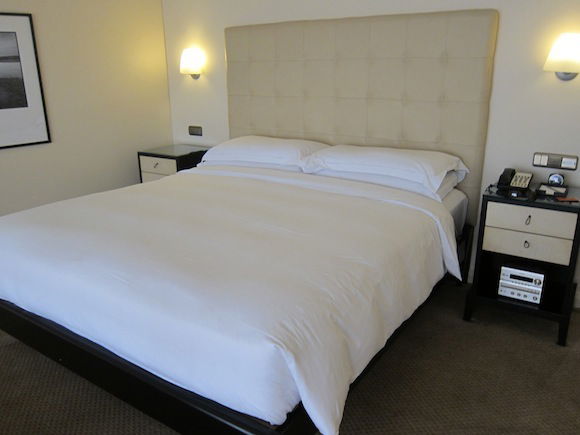 Bed
What I really loved about the room was that the seating area was two steps down from the rest of the room, which made the room feel a lot more spacious.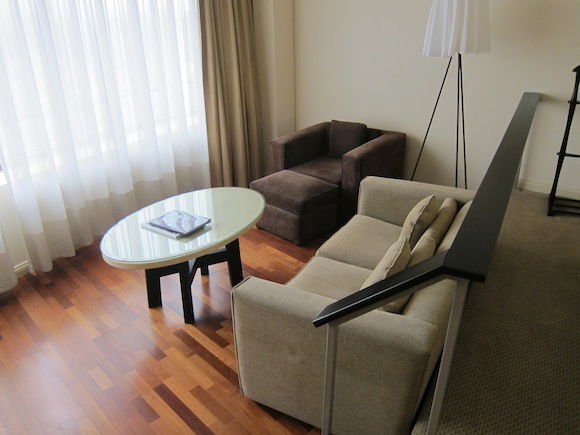 Couch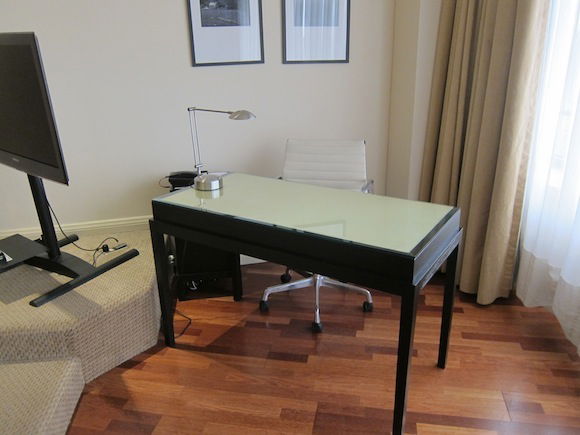 Desk
But the most stunning part of the room had to be views of the Andes Mountains.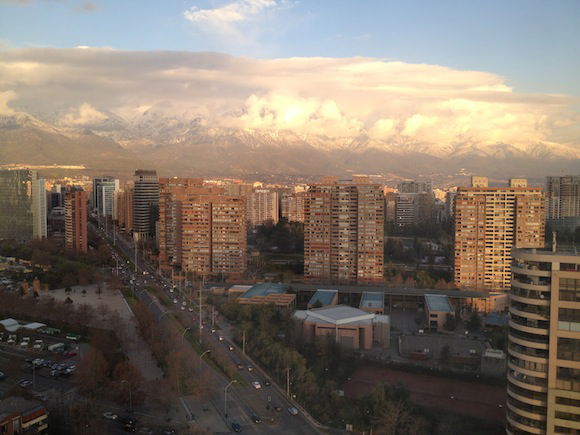 View of the Andes
Anyway, back to the bathroom. It was in three sections — the sink area, the shower to the left, and the toilet to the right.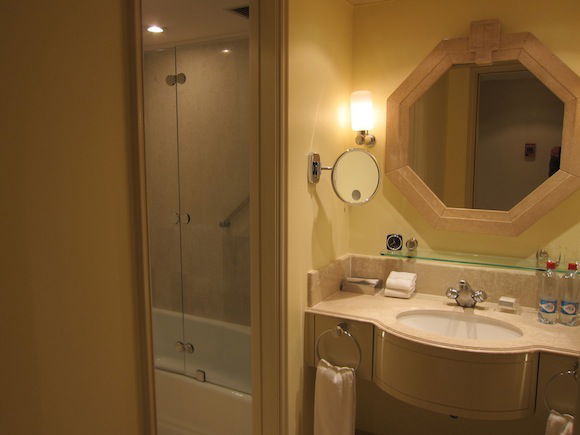 Bathroom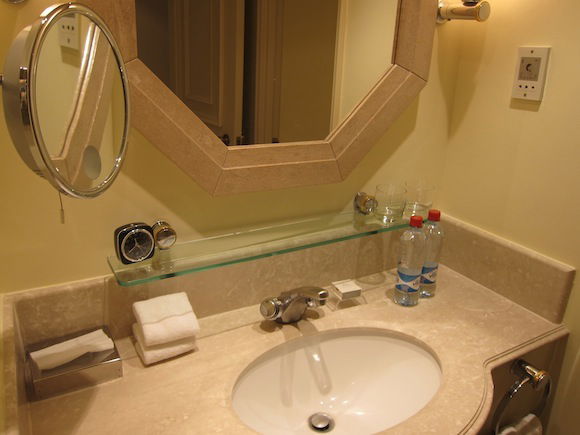 Sink area
Now, the shower frustrated me a bit since the controls were tough to use and temperature control wasn't great, which I ranted about here, so check that out. I'll spare you all from having to read about it again.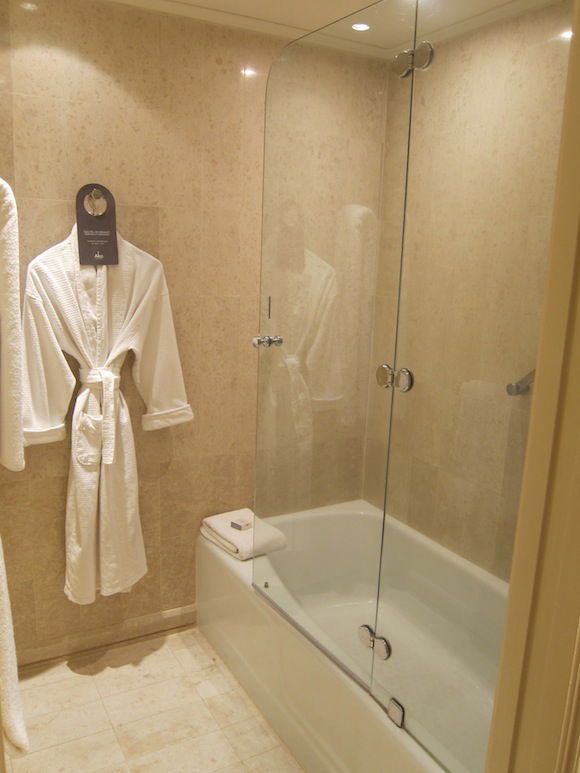 Shower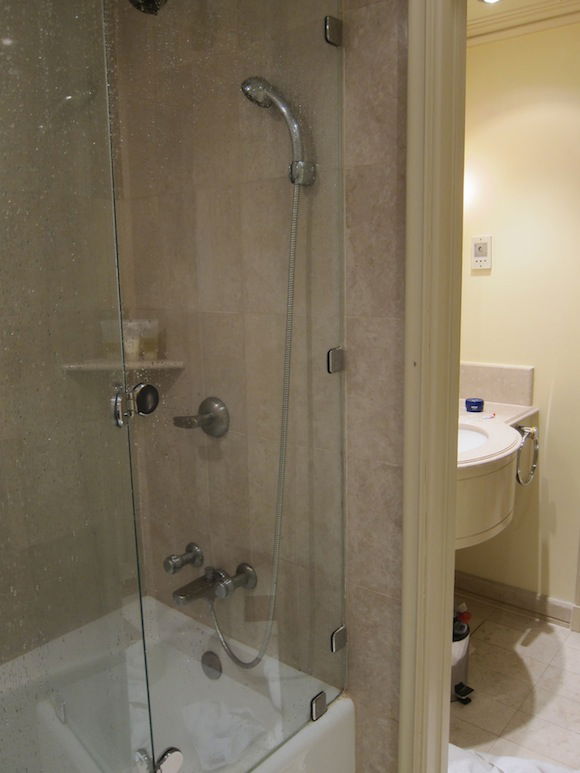 Shower
The shower featured AKO Spa amenities.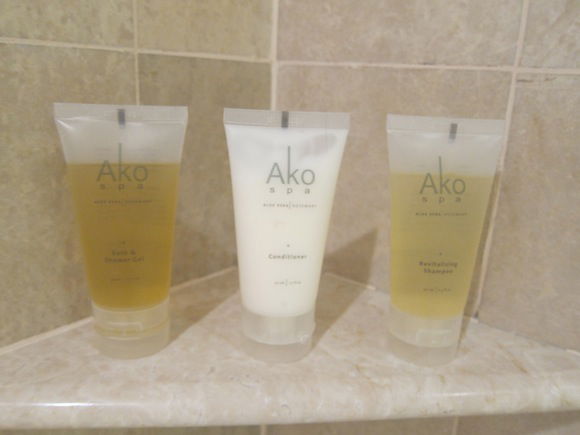 Amenities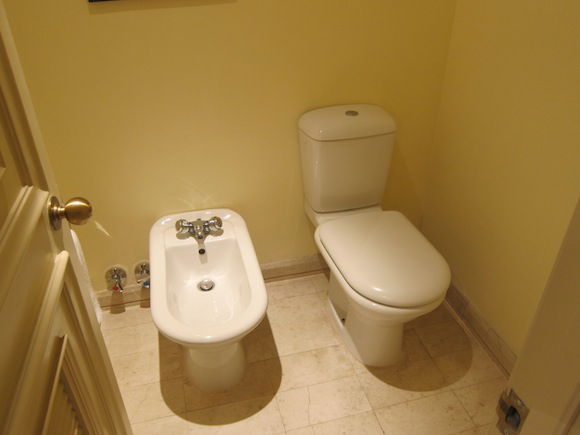 Toilet
My Diamond amenity was delivered the afternoon of my arrival, consisting of a couple of apples and a bottle of wine.

Diamond welcome amenity
The club lounge is located on the 16th floor and an absolutely beautiful space. It features windows that span three floors overlooking the Andes Mountains. Then on each side of the main seating area was a room with several tables.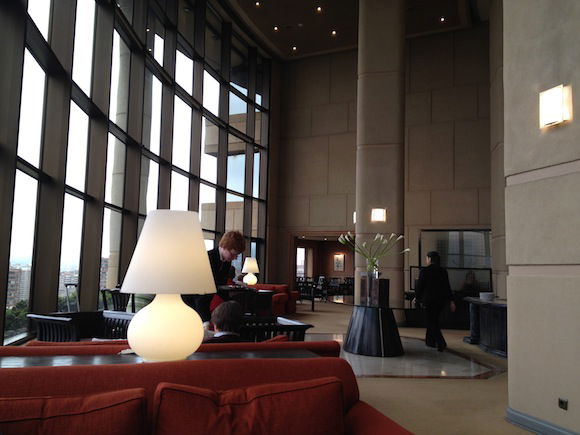 Club lounge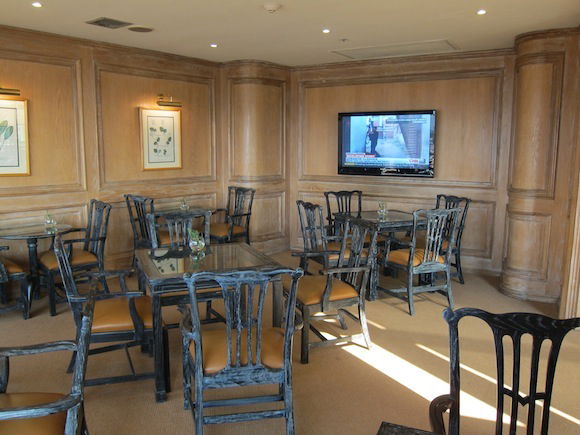 Club lounge
The breakfast spread was quite nice though didn't feature any hot items. That being said it had every "continental" item imaginable, so was more than sufficient, especially since I'm on a diet.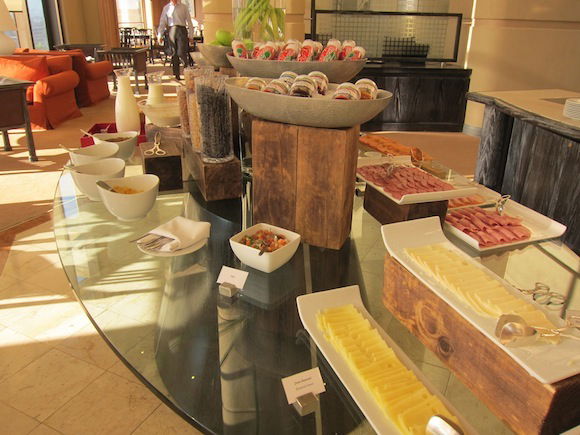 Breakfast spread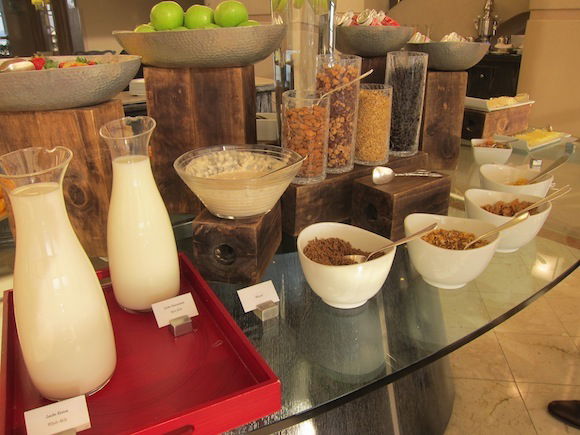 Breakfast spread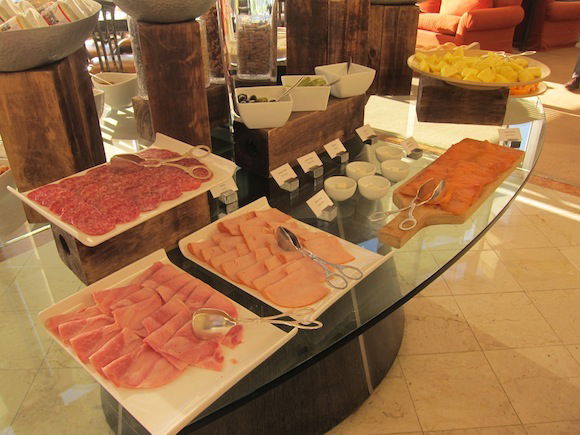 Breakfast spread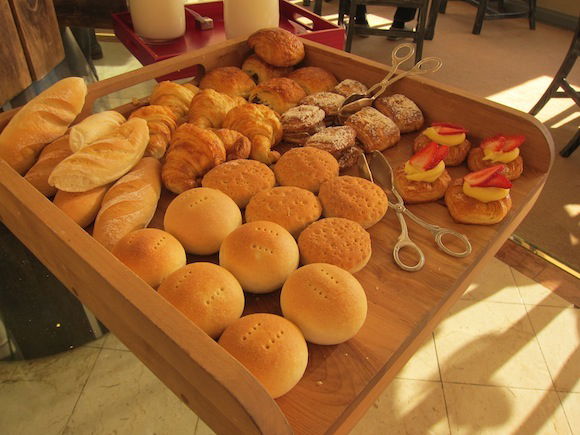 Breakfast spread
In the afternoon they served tea along with sweets. While I may have been on a diet, that didn't stop me from having a bite or ten of the amazing chocolate cake (though I spent a few extra minutes at the gym to burn it off).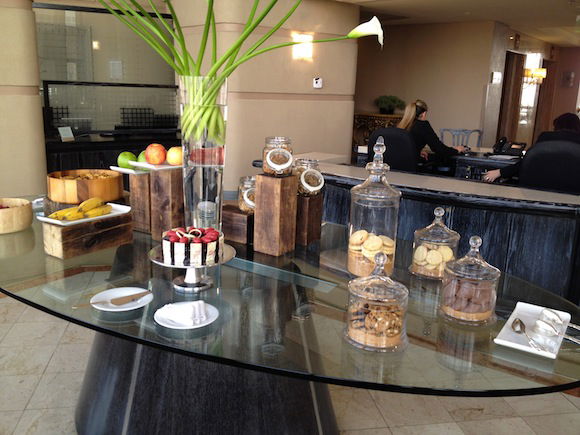 Afternoon spread
The evening spread was tasty though basic, and consisted of salmon, sushi, olives, cheese, tomato bread (which was amazing), etc.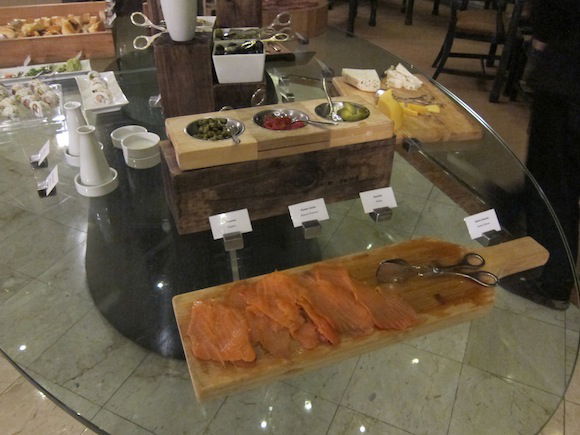 Evening spread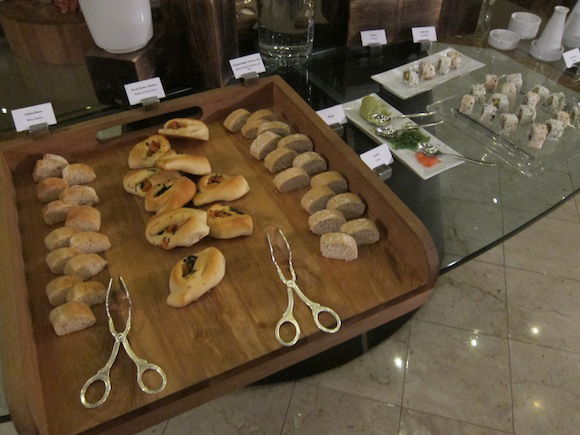 Evening spread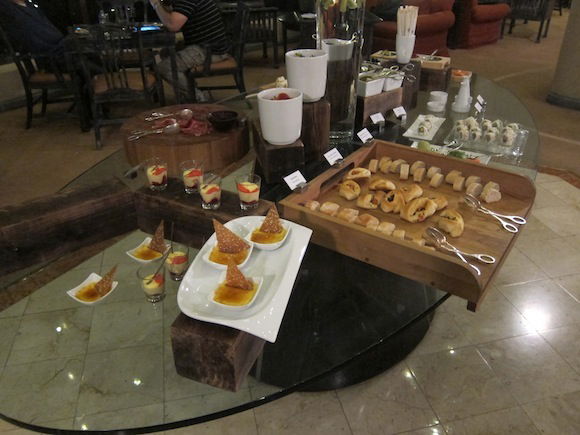 Evening spread
While the spread was by no means phenomenal, the physical space more than made up for it, since I find a club lounge to be a great place to get some work done in the mornings and evenings. My one minor complaint is that they didn't mix up the spread much either day we were there. And while it's not a complaint, what I found odd is that they have a chef (or someone wearing white with a chef's hat on) just standing and watching the buffet whenever food is out.
As far as the hotel's facilities go, there was a nice outdoor pool, though it was freezing outside, so it wasn't especially useful.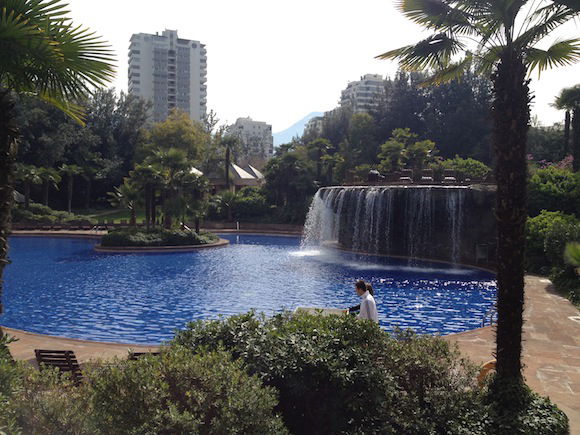 Pool
The spa and gym are disconnected from the hotel and require walking down a path along the side of the hotel. Not really a big deal, though when it's freezing outside it can be a bit unpleasant, especially after a sweaty workout.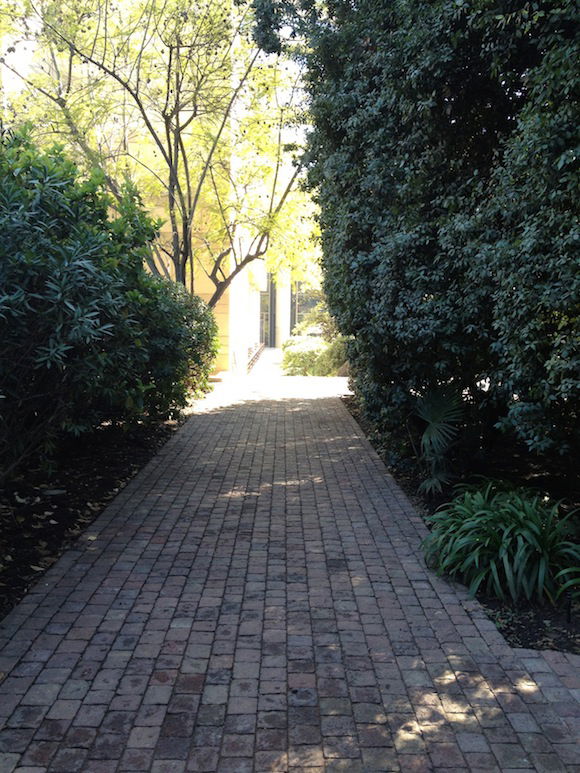 Walkway to gym
The gym is housed in the AKO Wellness & Spa building.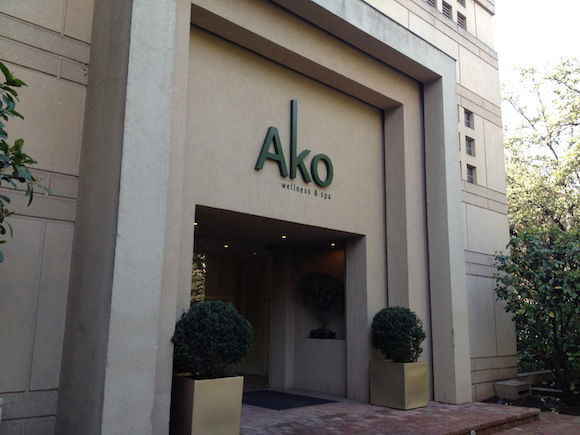 Exterior
It had modern equipment and was never full, so you really can't ask for more.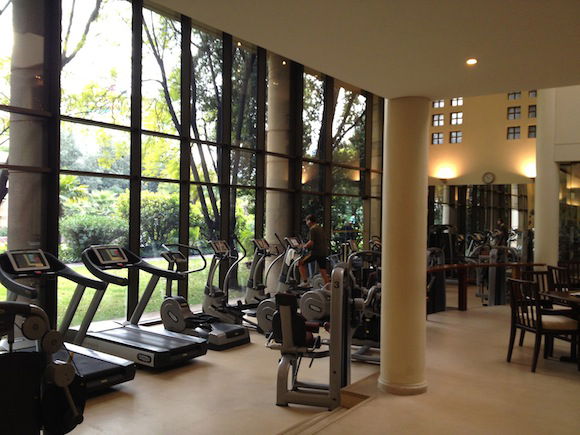 Gym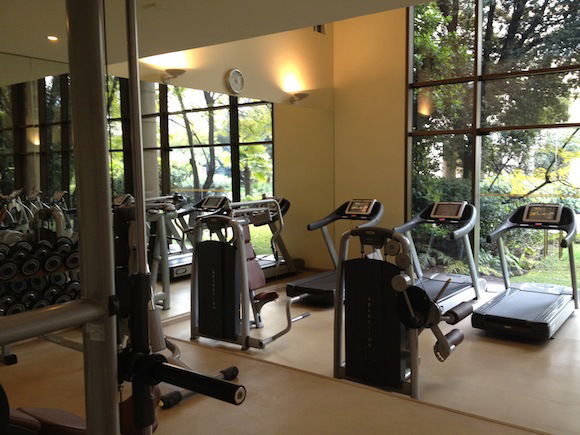 Gym
Thanks to American Express Fine Hotels & Resorts I also had a free massage. Now, never in my life have I or will I complain about a massage, though it did feel a bit repetitive and amateur-ish. I give better massages… just don't ask me to prove it.
Anyway, I loved basically everything about this hotel and would highly recommend it. The employees were all phenomenal, easily up to Park Hyatt standards. And I thought the rooms and public areas were all up to Park Hyatt standards as well. So if this hotel were just a bit smaller I'd say it should be a Park Hyatt, though it certainly fits the name of "Grand" Hyatt (unlike 90% of their US properties).
It's worth noting that the location of the hotel isn't great for sightseeing in Santiago. It's a five minute walk from a huge shopping mall with all kinds of dining options, though it's about a 15 minute walk to the nearest subway, so be prepared for that. But after staying at the more conveniently located W hotel I quickly realized that the location is a small price to pay for a great hotel.