Airline pricing can be highly variable depending on the market in which you're originating, as I've talked about many times before. Some of the cheapest markets include "the four Cs" — Cairo, Cape Town, Casablanca, and Colombo. There are plenty of other markets as well, but those are among the most common for great fares.
I've booked plenty of business class fares out of these markets, in particular out of Cairo and Colombo. Qatar Airways is probably the airline which publishes the best business class fares out of these markets, making it a great opportunity to rack up American AAdvantage miles. That's especially true now that American is going revenue based, given that on Qatar you'll still be able to earn AAdvantage miles based on the distance flown rather than amount spent.
Which brings us to the latest super cheap fare on which you can earn miles, between Colombo and Casablanca. The roundtrip distance of that journey is 11,600 "butt-in-seat" miles.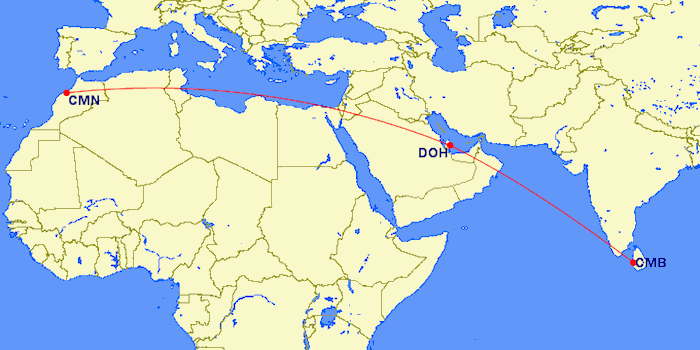 Just how low is the fare? Qatar Airways has a fare of just ~$600 roundtrip all-in. That's insane.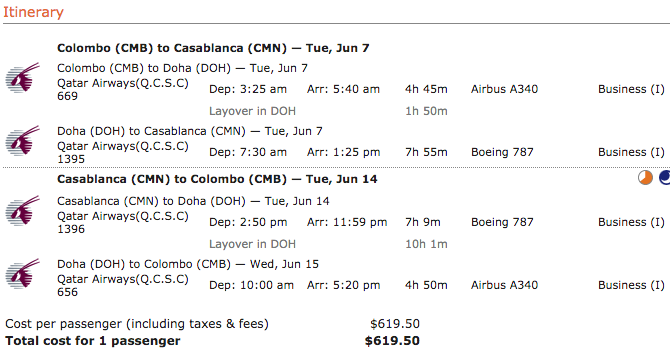 Best of all, Qatar Airways' flights between Doha and Casablanca are operated by the 787, featuring their excellent reverse herringbone business class product. Not only is it an excellent hard product, but Qatar Airways has among the best business class soft products in the world as well.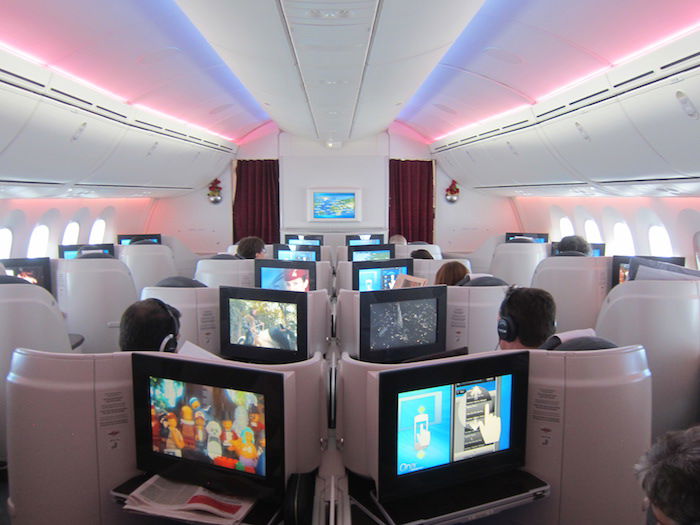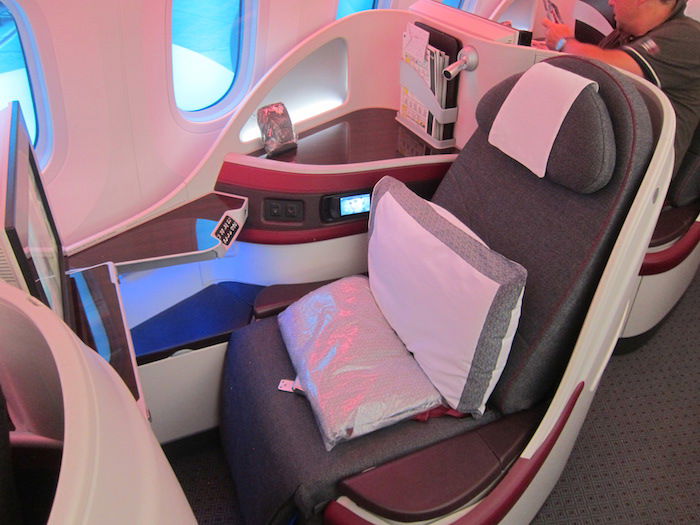 To crunch the numbers on that, through American AAdvantage you'd earn 17,400 elite qualifying miles, and even more redeemable miles than that, depending on your status. That's ~3.5 cents per elite qualifying mile, which is incredible. That would be a great cent per mile ratio for economy, let alone business class.
Qatar Airways codeshares with Royal Air Maroc between Doha and Casablanca, so what I'm actually even more tempted by is the ability to try Royal Air Maroc between Doha and Casablanca, since it's an airline I'd really like to review. That's available for the same fare.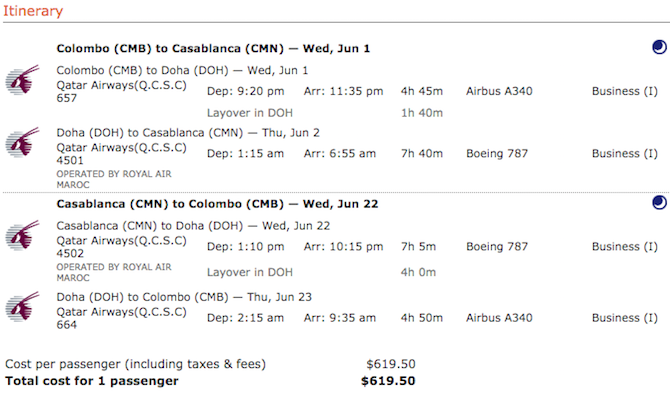 I could book an award ticket from the US to Colombo…
And then on the return flight I could finally fly Kuwait Airways from Colombo to New York for under $1,000.

Bottom line
I've seen a lot of low Qatar Airways business class fares, but this fare between Colombo and Casablanca has to be among the lowest ever. I realize it's not practical for everyone, but I think it's fun to sometimes look at just how low business class fares can get. It's like the sub-$1,300 business class fare Qatar Airways published a while back between Cairo and Miami.
When planning your travel always check those business class fares, because you might be surprised by just how low they can get.
(Tip of the hat to RabbitohRob on FlyerTalk)