Airline pricing is incredibly complex, as the airlines have put a lot of effort into ensuring that they're maximizing the revenue they earn from each seat.
While it makes sense to maximize revenue as much as possible, at times it just seems laughable. For example, it can be cheaper to fly from New York to Los Angeles to San Diego than just from Los Angeles to San Diego. Try rationalizing that!
Along those lines, airlines do publish different fares depending on where you're originating. This is especially true in international markets. For example, an airline might charge a lot less to fly from Cairo to London than to fly from London to Cairo (the assumption being that someone originating in London is more willing to pay a higher fare than someone originating in Cairo).
Cheap first class fares departing Cairo
I just flew the Qatar Airways A380 inaugural flight in first class from Doha to London, and I actually booked it using an ex-Cairo fare.
Cairo to Doha to London costs ~$1,800:

Meanwhile just that same Doha to London flight costs ~$3,800, which is more than twice as much:

Lastly, booking London to Doha to Cairo costs ~$6,100, which is more than three times as much as the same ticket in reverse:

Cheap first class fares departing Colombo
As you can see, where you originate really does make a difference. But perhaps even more lucrative than Cairo, Egypt is Colombo, Sri Lanka, which has long been the airport with the most reasonably priced premium cabin fares.
For years there was a first class fare published by American between Colombo and many points in the US, for a little bit over $2,000 one-way. Early last year I took advantage of it, when I flew from Colombo to Singapore in Cathay Pacific business class, Singapore to Dubai in Emirates first class, Dubai to London in Emirates first class, and London to Seattle in British Airways first class.
Unfortunately as of last March that fare was finally pulled — it had been around for a long time and I had written about it for years, though I guess it just got too popular at some point.
I've received a lot of questions about whether there's a comparable first class fare from Colombo still available.
The answer is yes, sort of. Assuming you're willing to fly roundtrip.
This fare is published by British Airways, and is $3,500++ roundtrip (so that doesn't include taxes, fees, and fuel surcharges).

For example, you can fly from Colombo to Abu Dhabi (either on Etihad or SriLankan), then Abu Dhabi to London on the Etihad A380, and then from London to Los Angeles on the British Airways A380. The routing is the same on the way back.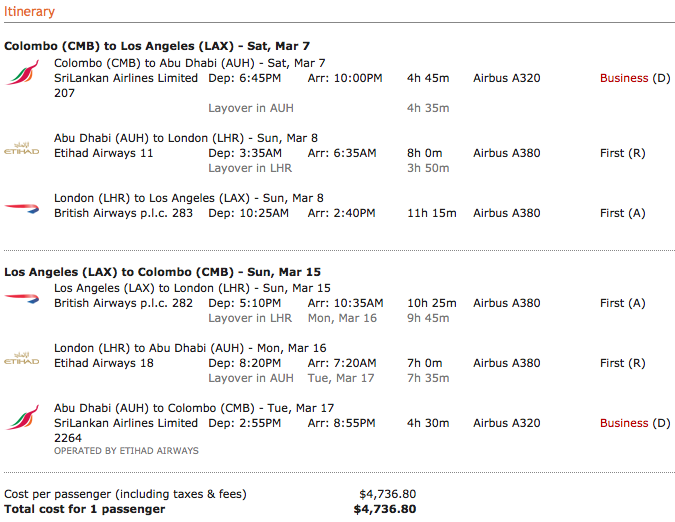 The fare is ~$4,700 roundtrip, so ~$2,350 each way. That's the same as the fare that used to be available, except in this case a roundtrip is required. A similar fare is available to many other markets in the US, many of which are a bit cheaper (though I prefer the British Airways flight to LAX since it's operated by an A380).
~$4,700 is still a lot of money, though let's look at the same routing in the other direction, originating in Los Angeles and terminating in Colombo. That fare is ~$23,000, which is nearly five times as much.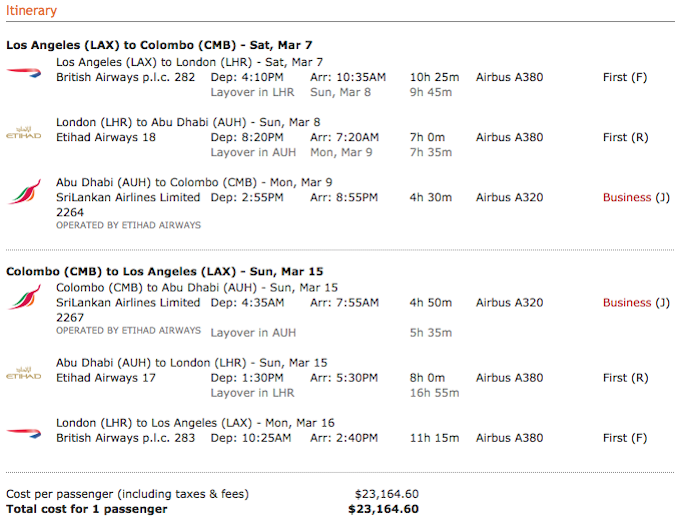 Bottom line
I do what I can to redeem miles for my international premium cabin flights. Fortunately a vast majority of the world's best products are attainable on miles, from ANA to Asiana to Cathay Pacific to Emirates to Etihad to Lufthansa.
However, when a product isn't realistically available on miles (as is presently the case with the Qatar and Etihad A380s), these fares originating in "cheap markets" can be a great way to try new products while picking up some miles along the way.
Have you ever booked a cheap paid premium fare out of one of these markets?