In the interest of full disclosure, OMAAT earns a referral bonus for anyone that's approved through some of the below links. These are the best publicly available offers (terms apply) that we have found for each product or service. Opinions expressed here are the author's alone, not those of the bank, credit card issuer, airline, hotel chain, or product manufacturer/service provider, and have not been reviewed, approved or otherwise endorsed by any of these entities. Please check out
our advertiser policy
for further details about our partners, and thanks for your support!
Major changes were recently made to the Chase Sapphire Reserve® Card. The card's annual fee has increased by $100, from $450 to $550, and the card has also received some new benefits, with both DoorDash and Lyft.
In this post I wanted to take an in-depth look at the new Chase Sapphire Reserve Lyft benefits, especially as these perks are now live.
Chase Sapphire Reserve Lyft Benefits
As of January 12, 2020, the Chase Sapphire Reserve has received two Lyft benefits — cardmembers earn 10x points on Lyft rides, and cardmembers receive a one-year Lyft Pink membership.
We've known that Chase has been struggling to make money with the Sapphire Reserve, so they clearly felt an annual fee hike was necessary. Then they wanted to add some benefits, though I think it's safe to say that they're probably paying very little for this.
After all, Chase has access to a lucrative customer base, so it's logical that other companies would want to provide benefits to those members and pick up a majority of the cost.
So, how do the Chase Lyft benefits work?
Earn 10x points with Lyft
The Sapphire Reserve now offers 10x Ultimate Rewards points on all Lyft rides. As of now the 10x points on Lyft rides is marketed as being valid through March 2022, though personally I wouldn't be surprised to see that extended (that's purely speculation on my part).
That's an incredible return on your rideshare spending, as I value Ultimate Rewards points at 1.7 cents each, meaning that's a 17% return.
You'll just have to pay with your card to automatically earn the 10x points. As a point of comparison, ordinarily the card earns 3x points on travel (which includes rideshares), so that means you're earning more than 3x the usual points.
The ability to earn 10x points is completely independent of the Lyft Pink membership I'll talk about below, so you can earn 10x points even if you don't have Lyft Pink.
Receive a one year Lyft Pink membership
The Sapphire Reserve now offers a complimentary one year Lyft Pink membership. This is a one time benefit for each cardmember, so you can't take advantage of it multiple times.
Lyft Pink ordinarily costs $19.99 per month, so that's potentially up to a ~$240 value.
What are the perks of Lyft Pink?
Lyft Pink offers the following exclusive perks:
15% off unlimited car rides — this includes all types of rides in the US, including Shared, Standard Lyft, Lyft XL, Lux Black XL, Lux, and Lux Black
Priority airport pickups — be matched to the closest driver at the airport
Relaxed cancellations — don't pay fees for up to three cancelations made within 15 minutes each month
Waived lost and found fees — get the lost and found fee waived an unlimited number of times
Bikes and scooters — three 30 minute bike or scooter rides per month in select markets
Surprise offers — these can include seasonal discounts, premium mode discounts, and partnership offers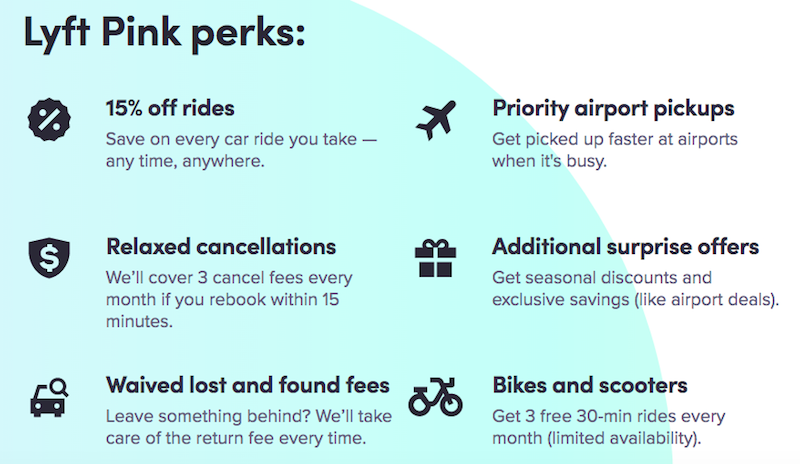 On the most basic level, if you spend at least ~$134 per month with Lyft then you'd breakeven on the Lyft Pink membership based on the 15% discount, compared to the retail cost (~$134 x 15% = ~$20).
How do you sign up for the Sapphire Reserve Lyft Pink benefit?
First you'll want to make sure that you have a Lyft account, and set your Sapphire Reserve as your default payment card on the account.
Once that's complete, sign up for your Chase Sapphire Reserve Lyft Pink membership at this link. You'll be asked to verify some basic details, and then you'll be brought to a page inviting you to activate your membership.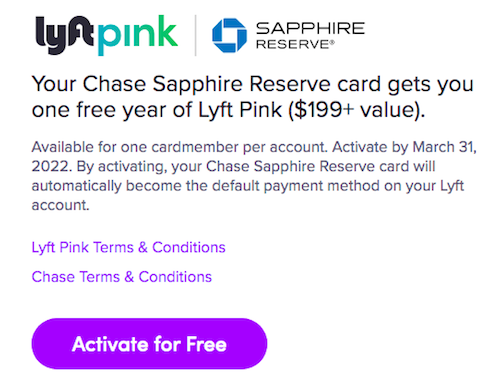 Once you click the "Activate for Free" link, your membership will be activated for a period of one year.

The reason you have to manually opt into this is so that you can delay taking advantage of the benefit if you'd like. It makes sense to be strategic about this, if you think you'll get more value out of Lyft Pink at a later date.
Stack benefits for 30% off with Lyft
It's pretty remarkable just how much of a "rebate" (in terms of cash and points) you can get between these two benefits. If you spend $100 with Lyft you'd receive:
15% off with Lyft Pink, bringing the cost down to $85 (you only get Lyft Pink for a year, though)
10x Ultimate Rewards points, which would get you 850 Ultimate Rewards points on that $85 of spending (I value those points at 1.7 cents each, so that's a further ~$15 off)
Between those two opportunities, you're looking at roughly 30% off Lyft rides, according to my points valuation.
Personally I used to use Uber, not because I have a reason for choosing Uber over Lyft, but rather out of habit. You can bet that this partnership has caused me to switch to Lyft, since 30% is huge savings.
Tip: earn Delta SkyMiles & Hilton Honors points as well
It gets even better than the above ~30% return on Lyft spending:
Hilton and Lyft have a partnership offering 3x Hilton Honors points per dollar spent on US Lyft private rides, and 2x Hilton Honors points per dollar spent on US Lyft shared rides, on up to $10,000 of spending per year
Delta and Lyft have a partnership offering 2x Delta SkyMiles per dollar spent on US airport rides and 1x Delta SkyMiles per dollar spent on all other US Lyft rides
You can take advantage of both of those partnerships in addition to all of the above. So if you're earning an extra 3x Hilton points and an extra 1x Delta miles, I'd value that at an incremental 2.5-3% return. That's even better!
What Lyft benefits do authorized users get?
It can be a good value to add authorized users to the Sapphire Reserve. The cost to do so is $75 per authorized user, and then you'll earn 3x points for their dining and travel spending, and they can also receive a Priority Pass membership.
So, which of these new Lyft benefits apply to authorized users?
The primary cardmember will earn 10x points for Lyft rides charged to the cards of authorize users
Authorized users won't get an additional Lyft Pink one year membership, but rather that's limited to one time per primary account
Is the Chase Sapphire Reserve still worth it?
The Sapphire Reserve was almost universally considered to be worthwhile before the annual fee increase. The card offers:
A $300 annual travel credit
3x points on dining and travel
A Priority Pass lounge membership
Car rental coverage, as well as valuable travel protection
The ability to redeem Ultimate Rewards points for 1.5 cents each towards travel purchases
But how does the math change with the annual fee having been increased by $100? That depends on how much you value the new DoorDash and Lyft benefits.
Personally I'll definitely be coming out ahead in the next year, and I think that's also the case for anyone who uses DoorDash and/or Lyft with any frequency. The big question is what benefits will be added long term for cardmembers.
I do believe the Sapphire Reserve is still one of the all around best travel rewards cards, assuming you live in a market where you can benefit from these new perks.
Read a full, updated review of the Chase Sapphire Reserve.
Bottom line
Hopefully the above is a useful rundown of the new Lyft perks being offered with the Sapphire Reserve. While the annual fee hike is a negative, I'll definitely come out ahead in the first year.
Earning the equivalent of 30% back in rewards on Lyft rides is pretty incredible, between the 10x points and the Lyft Pink membership. And I think it's a win-win, because Lyft will be poaching an Uber customer.
The much bigger challenge will be crunching the numbers on the value proposition of this card once the first year's Lyft Pink membership is up, and crunching the numbers after March 2022 if the 10x points earning on Lyft ends.
How much value do you think you'll get out of the Sapphire Reserve Lyft perks?