If you're going to act stupid at an airport, don't do it in Singapore! When will people learn that?!
As I wrote about last month, so far this year 59 people have been arrested at Changi Airport for misusing boarding passes. While it's a technique people use across the world for various reasons, in Singapore it's a crime.
But even more importantly, if you're going to be a drunk idiot at an airport, Singapore is a bad place to do that. About a week ago I wrote about a drunk New Zealander who was jailed for three weeks for grabbing a police officer's collar.
Well if you thought that was bad, this is next level. An Australian man will be spending six months and two weeks in jail in Singapore for how he acted at the airport, and later how he acted while on bail. This story is just cringeworthy.
The 44 year old man was traveling from Perth to Cebu on April 19, 2017, to visit his girlfriend, and had a long connection in Singapore.
Due to his long layover he had some drinks at the airport, then went to Clarke Quay to continue drinking, and then went back to the airport. Then this happened, per The Straits Times:
Intoxicated, he returned to the airport later that night to catch his flight but could not locate the check-in counter in his drunken state. Shortly after midnight, he asked a passer-by – Mr Teh Gim Tuck, 48 – for directions.

Deputy Public Prosecutor Jason Nim said: "Suddenly, the accused became agitated and began to hurl vulgarities at Teh. Teh ignored the accused and as he was walking away, the accused suddenly snatched Teh's mobile phone from his back pocket and threw it on the ground before walking away."
At this point the police got involved, and this is where the story starts to get crazy. The officers approach him, but he ignores them, puts on headphones, and taunts them. He then threatens to break the police officer's face if he comes near him.
This is where the video footage picks up:
https://www.youtube.com/watch?v=ZwhQWo60Myo
Am I the only one who gets #DancingHotDog vibes from him at the beginning of the video?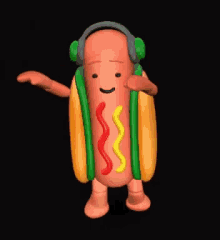 As you can see, he resists arrest, and my gosh, the officers show a lot of restraint. In the US, at best you would have had a dozen officers pointing their guns at him trying to get him to comply, and at worst he would have been shot. He acts like a total moron, and these officers are saints for how they act, despite his violence towards them.
Eventually six police officers show up, and they manage to arrest him, which is shown in this video:
https://www.youtube.com/watch?v=kSHROFMzgsY
Unfortunately that's not the end of the story. When he gets out on bail, he manages to cause even more trouble, on multiple occasions:
On April 25, he was rearrested while out on bail, for being drunk and incapable at Orchard Towers.

He was taken to Tan Tock Seng Hospital because of an injured leg but there he abused Sergeant Ali Kamaruzaman, 28, using vulgar language.

Five days later, he was drunk yet again and annoyed a 29-year-old woman by touching his crotch in public in Tan Tye Place near Clarke Quay at around 5am.
So yeah, in the end he was sentenced to six months and two weeks in jail, which is well deserved, in my opinion.
(Tip of the hat to SINJim)