Tipping is one of the things I struggle most with when traveling. The more places I travel to, the more confused I am. There are places where you tip varying amounts, places where you just "round up" the bill, and then places where you don't tip at all. And similarly, the expectations of tipping for different kinds of services vary greatly as well.
What makes tipping especially confusing for me is that it's something I feel passionately about. I don't tip for the purpose of "bribing" people, but rather for recognizing good service and making sure people can make a living. People in the service industry work hard, and deserve to be recognized for that, both in kind words and pay, in my opinion. That being said, I recognize that lots of people are opposed to the concept of tipping, which I can appreciate.
For me it comes down to a simple question — does the person providing me with service rely on tips to make a "fair" living? If the answer is yes, I tip.
I've written a few posts about tipping at airports and in hotels, including the following:
Anyway, Cathay Pacific has prepared a fantastic Southeast Asia tipping guide. In the infographic they compare the tipping policies in different countries when it comes to porters, taxis, and restaurants. It's broken down into three categories — tipping is customary (5-10%), tipping is optional (5-10% or small change), and tipping is unnecessary or prohibited.
Here's the awesome guide: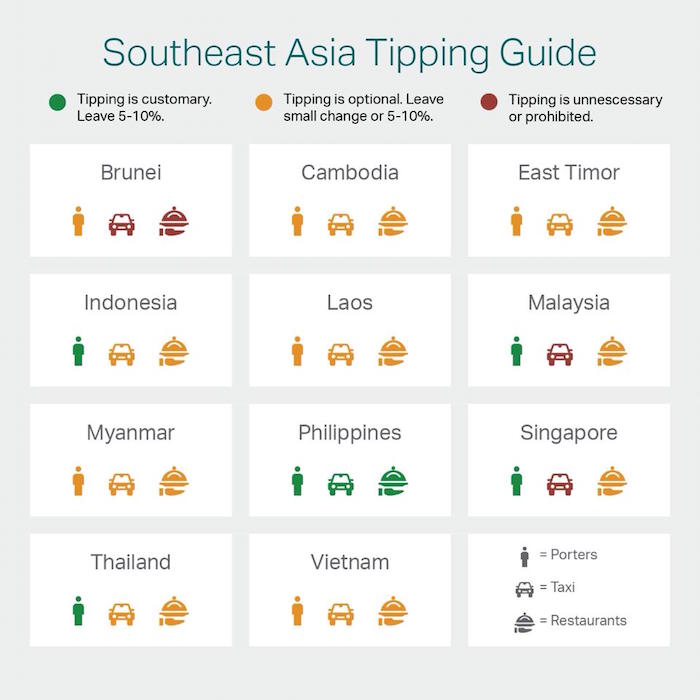 I guess there's a further "layer" to this which gets even trickier. Presumably expectations of tipping vary not just based on what country you're in, but also what nationality you are. For example, the infographic suggests that tipping porters, taxis, and in restaurants is optional in Vietnam.
But over time my guess is that the expectations from service staff do vary based on who you are. In other words, they might not expect a tip from a Japanese customer, for example, while if they have an American customer they're much more likely to expect a tip, even if it's not otherwise customary.
Bottom line
For me tipping is about doing what "feels right." Will I tip in Japan? No way, because it's not only not expected, but also sort of rude. Aside from that I tend to overtip rather than undertip. Regardless, the above chart certainly helps me to better "calibrate" my tipping going forward.
What's your general approach to tipping internationally, and how does it compare to the above infographic?