Yesterday evening I wrote about how Cathay Pacific published some insanely low first and business class fares for travel originating in Vietnam. For example, from Vietnam to the US, you could fly roundtrip in business class for under $700, or roundtrip in first class for under $1,000.
It goes without saying that these fares were incredibly popular, and proved to be a nice new year surprise for many.
I've already gotten a ton of questions from people about these fares, so wanted to share my general thoughts on this fare, now that it has been pulled.
The drastic measures Cathay Pacific took to "kill" this fare
Around midnight eastern time, Cathay Pacific took some really drastic measures to "kill" this fare. The airline zeroed out all first and business class inventory for several minutes. That's a pretty extreme measure for a global airline to take.
@OneMileataTime @garyleff Looks like CX "fixed" the mistake. No first/biz fares bookable at any price, any date, any route… just a random example, same for rest of schedule: pic.twitter.com/m8WmX1CQuv

— Darin Soler (@dsolnyc) January 1, 2019
Will Cathay Pacific honor these fares?
We don't know yet, as I haven't seen an official statement from the airline. People are always super pessimistic and say "there's no way they'll honor them." However, I'll note that:
Over a year ago Qatar Airways had insanely low business class fares from Vietnam to just about anywhere in the world (similar prices to what Cathay Pacific charged), and they honored, in spite of being an airline that doesn't usually honor these types of fares
Just recently Hong Kong Airlines had a huge mistake fare for travel originating in the US in business class, and they honored it
So while not all super cheap fares are honored, they do get honored more often than you'd think.
In this particular case I'd say there are things both for and against Cathay Pacific honoring these fares.
On one hand, the airline recently had a huge data breach, and there was a lot of negative publicity surrounding it. They'd get bad publicity if they didn't honor, so I guess the question is how much they're trying to be on their best behavior.
On the other hand, it seems like a lot of people booked a lot of seats. It's one thing if the fare were just for business class, but first class was impacted as well.
For example, looking at Hong Kong to New York tickets for Labor Day weekend, three of the four flights are completely sold out in first class. That's right, eight months in advance 21 of 24 first class seats are sold out (when ordinarily I'd expect that maybe one seat per flight is sold at this point). Wow.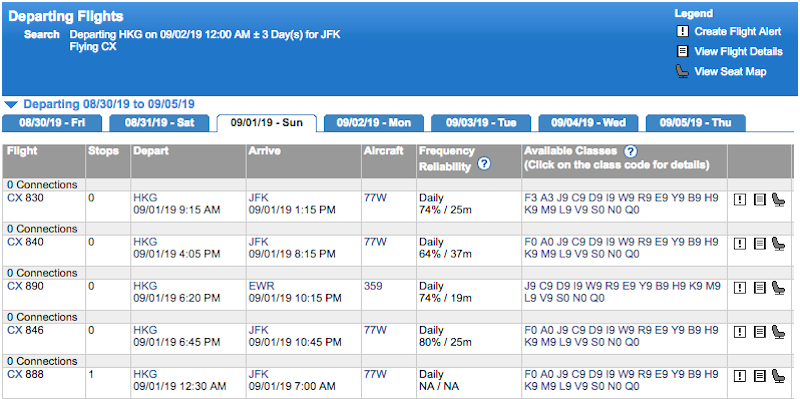 While airlines generally take an "all or nothing" approach, I could also see Cathay Pacific taking an inbetween approach. Maybe they'll honor all the fares booked, but only in business class and not first class, or something like that. We'll see.
Does Cathay Pacific have to honor these fares?
Back in the day, the US DOT required airlines to honor "mistake" fares, regardless of the circumstances. That rule changed in 2015.
Now here's what airlines have to do:
As a matter of prosecutorial discretion, the Enforcement Office will not enforce the requirement of section 399.88 with regard to mistaken fares occurring on or after the date of this notice so long as the airline or seller of air transportation: (1) demonstrates that the fare was a mistake fare; and (2) reimburses all consumers who purchased a mistaken fare ticket for any reasonable, actual, and verifiable out-of-pocket expenses that were made in reliance upon the ticket purchase, in addition to refunding the purchase price of the ticket.
So as you can see, the current rule is that airlines don't have to honor mistake fares, but they do have to "reimburses all consumers who purchased a mistaken fare ticket for any reasonable, actual, and verifiable out-of-pocket expenses that were made in reliance upon the ticket purchase."
How does that work in practice? We don't really know. In other words, if you make an expensive non-refundable hotel booking, I would think based on my reading of the rules that they'd have to reimburse you for that. The problem is:
How are "reasonable, actual, and verifiable out-of-pocket" expenses defined?
Just because the rules technically say something, doesn't mean it will be easy to recover these costs; in other words, is it worth going to court over something like this?
Random musings…
Maybe this is a good reminder to not be "that person" when a mistake fare happens:
Called CX to complain as not showing when I look. They seemed perplexed and would be looking in to it.
No, no, no, just no.
Also, to the people yelling at me for posting these fares, I've been doing this for well over 10 years and I won't be changing my approach, no matter what you call me: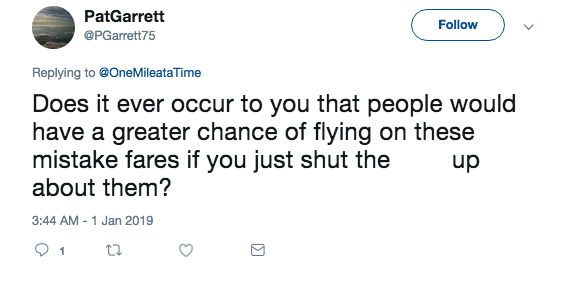 Are there maybe one or two other people who would have randomly stumbled upon this fare before it was pulled? Maybe.
My approach to mistake fares is to maximize the greatest good for the greatest number of people. We win some, and we lose some. I got yelled at when I wrote about the Qatar Airways "sale" out of Vietnam a couple of years ago, and I got yelled at when I wrote about the Hong Kong Airlines sale a few months ago.
People were complaining at the time, but were they complaining after? Nope.
I'd say collectively we did a good job maximizing the greatest good for the greatest number of people with those fares.
Bottom line
I'm really curious to see how Cathay Pacific handles this situation. This fare was live for quite a while, and a lot of people booked.
I don't even want to predict one way or another what will happen here. If I say I think it will be honored, people will get their hopes up and I'll be yelled at if it's not honored. If I say I think it won't be honored, people will yell at me for suggesting it's okay for the airline to cancel these fares.
So I'm just sitting here on the sidelines watching. This sure made for an eventful New Year's Eve, which otherwise consisted of me having Domino's for the first time in years, and going to bed at 9PM. A perfect night, if you ask me!
What do you make of this Cathay Pacific fare out of Vietnam?