Cathay Pacific offers a reverse herringbone seat in their longhaul business class cabin, which is my favorite business class product out there. Even though they've had it for years now, it's still a cutting edge product, in my opinion.
The great thing about reverse herringbone seats is that they're in a 1-2-1 configuration, so each seat has direct aisle access and a lot of privacy. In a way, it's very similar to the "last generation" first class suites offered by many airlines.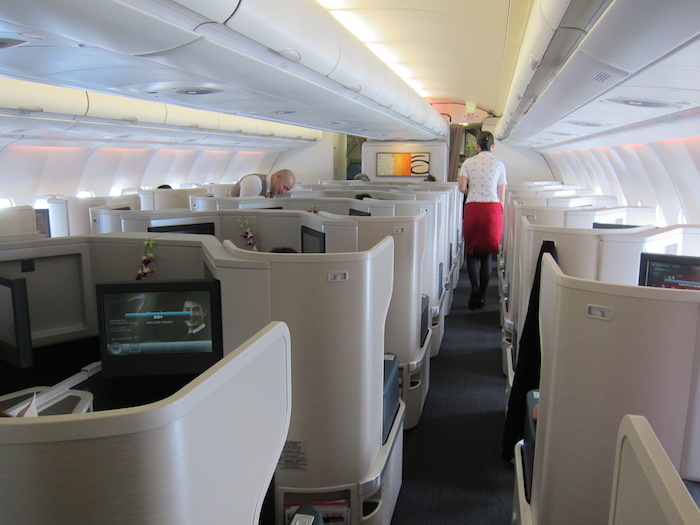 Cathay Pacific will be among the first airlines to take delivery of the Airbus A350, as they have a total of 46 on order, including 20 A350-900s and 26 A350-1000s (what happened to the days where they started numbering aircraft series with -100?!).
Cathay Pacific should be taking delivery of their first Airbus A350 in February 2016, and I've been curious to find out whether they'll put the same business class product on the plane as they have on the A330 and 777s, or if they plan on introducing a new product.
Per AusBT, it looks like Cathay Pacific will be refreshing their business class product on the A350:
Cathay Pacific will launch its new business class seat in February 2016 on board its flagship Airbus A350 fleet, with a mid-life refresh for the current Boeing 777 and Airbus A330 business class to follow.

The seat will come from Zodiac Aerospace and belong to the same Cirrus family as Cathay's existing business class, although CX product exec Toby Smith describes the platform to Australian Business Traveller as "an enhanced Cirrus."

Little more is known about the new business class seat, except that it won't be radically different to the airline's current design.

"It will will be very much an evolution of our current seat rather than a brand new seat" Smith confirms.

"But we've listened very closely to areas that people said could be improved, and we've focussed on this. So while it should be very familiar to our passengers when it comes out, we hope to have some new touches that they will appreciate" Smith says.
And that makes perfect sense. The reverse herringbone seat offered by Cathay Pacific is still as good as business class products get, and I'm not really sure where they can go from there.
Cathay Pacific did recently refresh their first class cabins, whereby the "bones" of the seat stayed the same, though they updated the upholstery and finishes.

Cathay Pacific's "old" first class product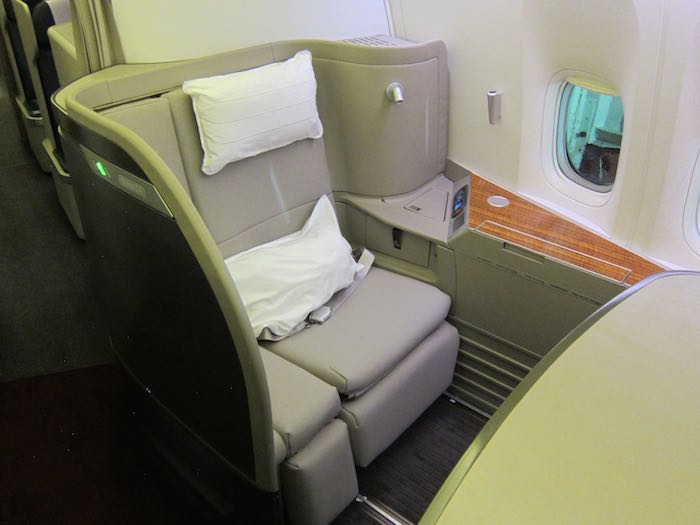 Cathay Pacific's "refreshed" first class product
The difference between the new and old product is ever-so-minor.
Bottom line
My guess is that the changes in the business class product will be a bit more substantial than the first class refresh, though not by much. I can't wait to fly the Cathay Pacific A350 in business class (it won't have a first class cabin).
Anyone care to guess as to what the changes to Cathay Pacific's business class seat will be?