Last October I wrote about how Cathay Pacific's CEO said that the airline was planning to move towards a 3-4-3 layout in economy on their 777s, as many other airlines have done. However, no timeline was given, and it sounded more like an idea than something that was finalized.
When the 777 was first introduced, a vast majority of airlines had nine seats per row in economy. However, over the years we've seen airlines try to cram more seats into the back of the plane (while making first and business class more spacious), and one by one airlines began to install 10 seats per row in economy on the 777.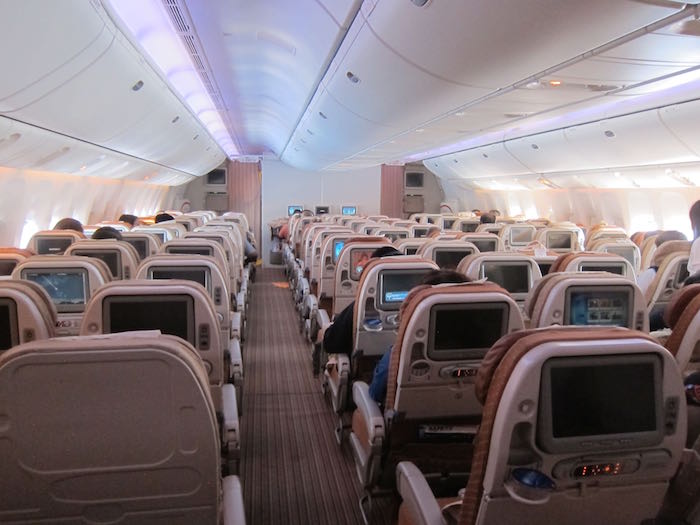 Singapore Airlines has just nine seats per row in 777 economy
Now having nine seats per row is the exception rather than the norm. Well, Cathay Pacific had horrible financial results last year — they lost 575 million HKD (~74 million USD), so they're looking for ways to cut costs and improve their revenue per seat.
It's now being officially reported that Cathay Pacific will be going to 10 abreast seating on the 777. Cathay Pacific will overhaul their 777s with more seats as part of a three year project, which will kick off around the middle of next year.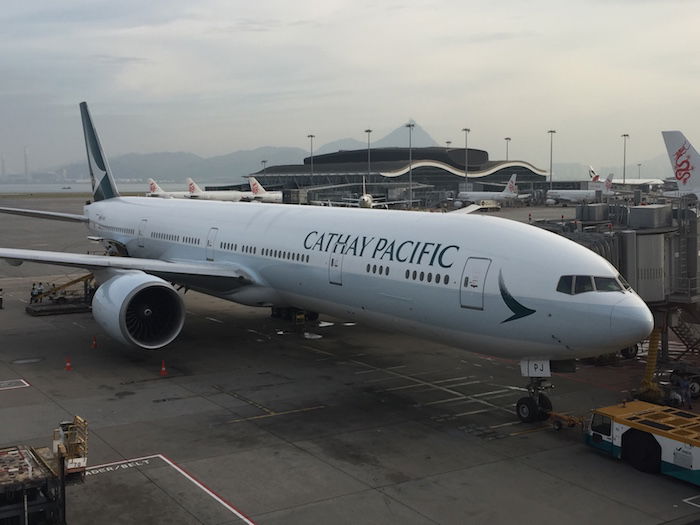 Cathay Pacific 777
Per the South China Morning Post:
Leg room will remain at 32 inches, but passengers with bigger frames will want to note that the width of each seat will shrink by 1.3 inches to 17.2 inches.

New seats will have a bigger 12 inch in-flight entertainment (IFE) screen – with the IFE box hidden inside chairs and not taking up legroom, plus more personal storage and Wi-Fi is also set to be added to planes.

On the comfort side, the newly designed seats would be smaller but have more comfort and better padding, plus have supporting headrests to benefit sleeping passengers.
In total, Cathay Pacific will be reconfiguring a total of 48 longhaul aircraft, and they'll be adding anywhere between 19 and 28 seats, depending on the configuration. Meanwhile Cathay Pacific's 17 short-haul 777s will be reconfigured with an additional 40 seats. These denser cabins are expected to give Cathay Pacific an additional 1.4 million seats per year.
Now, of course adding additional seats is mostly bad news, though I do think there's something to be said for the improved technology that seats have. IFE screens will be bigger, IFE boxes will be hidden inside the seats rather than obstruct legroom, etc. So while it's ultimately bad to lose 1.3 inches of seat width, at least the seat should otherwise be better than before.
The other consideration is that Cathay Pacific is finally getting Wi-Fi on their 777s as part of this project, which is great news. So over the next 1-4 years you can expect to see Wi-Fi progressively installed throughout Cathay Pacific's 777 fleet. As it stands, only the A350s have Wi-Fi, which Cathay Pacific recently started taking delivery of.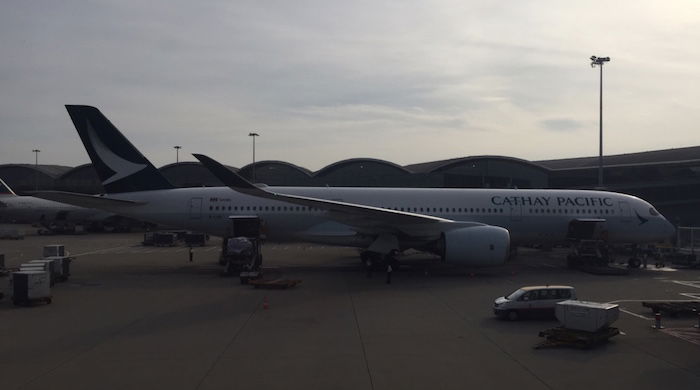 Cathay Pacific A350
Bottom line
Tighter economy seats are ultimately bad news, though at least we can expect the seats to otherwise be more comfortable. Furthermore, I'm at least excited that the planes will be getting Wi-Fi at the same time, which is long overdue.
Now the real question is whether Singapore Airlines will finally switch to 10 seats per row in 777 economy. They're one of the few major airlines remaining with only nine seats per row.