Several days ago I wrote about a strange trend with Cathay Pacific business class award availability. Historically Cathay Pacific has been pretty good about making business class award seats available, both far in advance and also close to departure. However, over the past several weeks that has changed.
Some significant changes were made to the Cathay Pacific Asia Miles program as of June 22, 2018, so based on the timing I had wondered if there was any connection between the lack of award availability and the new program. It's one thing if the airline stopped releasing as many award seats in advance, but I found it especially strange that even last minute they weren't releasing award seats when there were lots of unsold seats.
What's also strange is that they started using married segment logic for awards. In other words, awards were available if you wanted to book a seat from Taipei to Hong Kong to New York, but not if booking the same flight just from Hong Kong to New York. They use this type of logic for revenue tickets (as do many airlines), though I was surprised to see Cathay Pacific implement this for award tickets as well.
I reached out to Cathay Pacific to see if they could investigate and they said they were looking into it, though as of now I haven't heard back. There's some good news on that front.
It looks like Cathay Pacific is once again releasing business class award seats as usual (without married segment logic), which is fantastic news. Cathay Pacific isn't limiting this award space to members of their own program, but partner airline members should have access to it as well, so you can use miles from Alaska Mileage Plan, American AAdvantage, British Airways Executive Club, etc.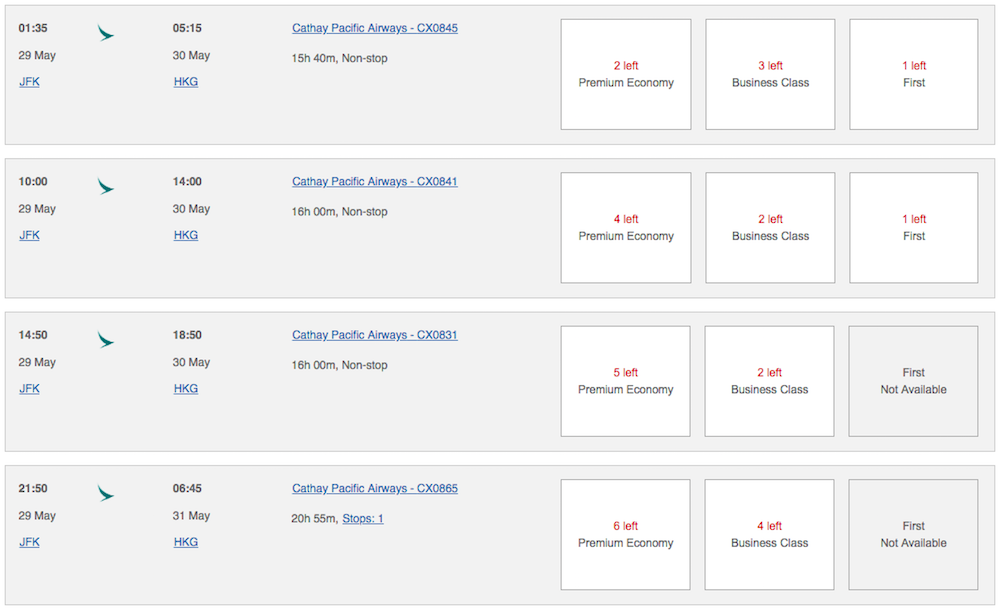 Cathay Pacific isn't quite as generous as they were back in the day, when they'd typically release five business class seats per flight when the schedule opened, but overall I'd say availability is once again solid.
Yay!
(Tip of the hat to View from the Wing)