Cathay Pacific announced today that they'll be launching daily service between Hong Kong and Doha, Qatar as of March 30, 2014. The new service will be operated by an Airbus A330-300, featuring, business class, premium economy, and economy class. The schedule for the new flight will be as follows:
CX645 Hong Kong to Doha departing 6:40PM arriving 10:50PM
CX640 Doha to Hong Kong departing 1:45AM arriving 2:40PM
This route actually also comes with the announcement of a new reciprocal codeshare agreement with Qatar Airways. Qatar Airways presently operates the route twice daily, though will be giving up one of the frequencies to Cathay Pacific. That probably explains why the route is being announced with only about six weeks of advance notice. Since it's replacing an existing frequency it doesn't represent a huge change in capacity.
The only remaining Qatar Airways frequency is well timed to give travelers options as to which time of day they want to travel:
QR815 Hong Kong to Doha departing 1:30AM arriving 5:30AM
QR816 Doha to Hong Kong departing 7:45AM arriving 8:45PM
This is a nice example of two airlines working together in a mutually beneficial way. It seems lately we've seen lots of "foul" play in the airline industry. There's no better example than what's going on between Alaska and Delta.
So Qatar Airways giving up a frequency and offering a reciprocal codeshare (without a joint venture, meaning it's not full revenue sharing) is cool.
Ultimately Cathay Pacific offers a much better product on the route, in my opinion. All of Cathay Pacific's longhaul Airbus A330 aircraft feature their new reverse herringbone business class, as pictured below.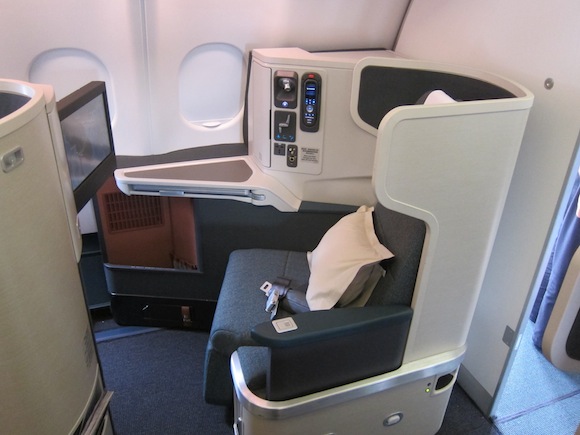 Cathay Pacific A330 business class
Meanwhile Qatar Airways A330 business class is angled flat and in a 2-2-2 configuration. Qatar Airways is actually in the process of reconfiguring some of their A330s with reverse herringbone seats, though to date only a small number of planes have been reconfigured.
One of the best things about Qatar Airways joining OneWorld is the value they add to American AAdvantage Oneworld distance based awards. Having a strong Middle Eastern partner opens up a lot of new destinations, which is especially useful with a distance based award chart that allows unlimited stopovers, given the close proximity of many popular destinations in the Middle East. So being able to fly Cathay Pacific rather than Qatar Airways between Doha and Asia is a nice option to have.
Sadly it doesn't look like they've fully loaded the flight into the GDS or loaded award availability, for that matter.