Yesterday I flew Cathay Pacific's regional business class for the 4hr20min flight from Bali to Hong Kong. I won't be writing a full review of the flight, though figured I'd share my brief thoughts on the experience.
The flight was operated by Cathay's regional 777-300, which unfortunately doesn't feature the same excellent first class and business class products found on their longhaul 777-300s.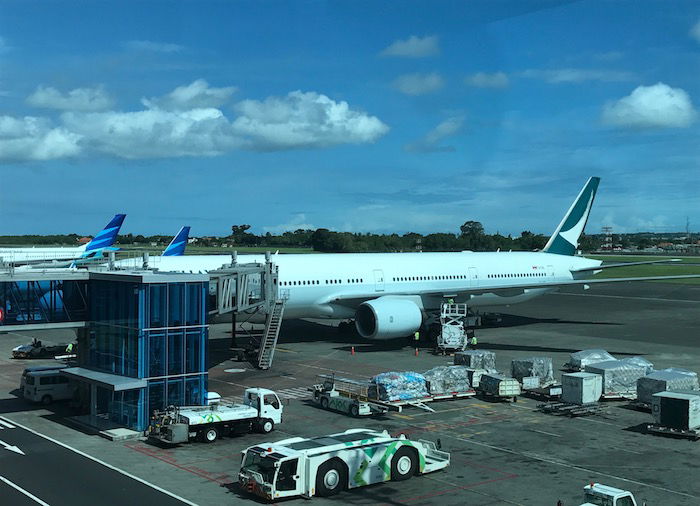 The 777-300 has a total of 42 business class seats. These are spread across six rows in a 2-3-2 configuration. These seats are fairly new, so at least the cabin looks modern. It's unfortunate when premium cabins have middle seats, though I suppose for a fairly short flight that's not too big of a deal.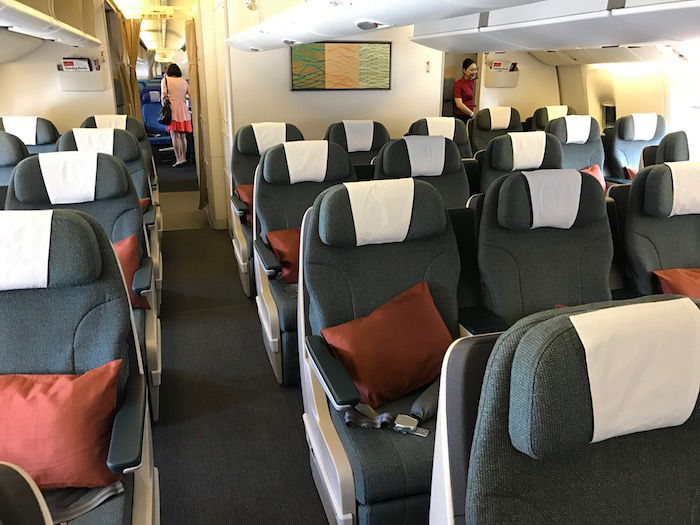 Seat pitch is advertised as being 45 inches. That's probably true, though these are "shell" seats, so you really don't get the full benefit of the spaciousness of the seats. That means that when you recline the seat you're not taking away any room from those seated behind you.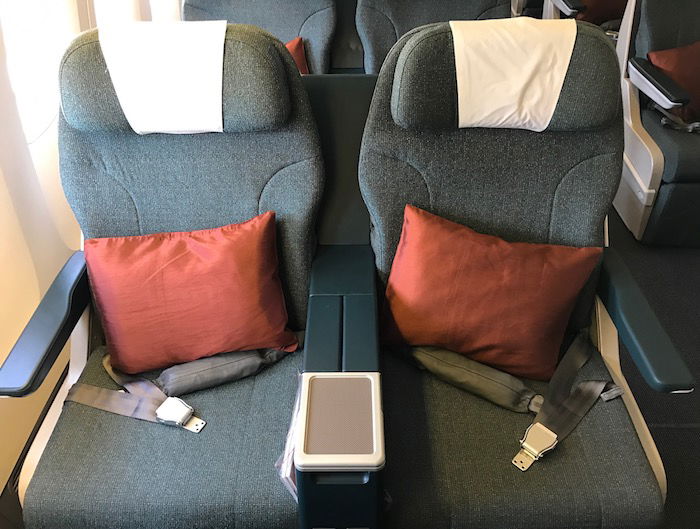 The seats have personal entertainment systems, as well as storage in the center section for glasses, a phone, etc.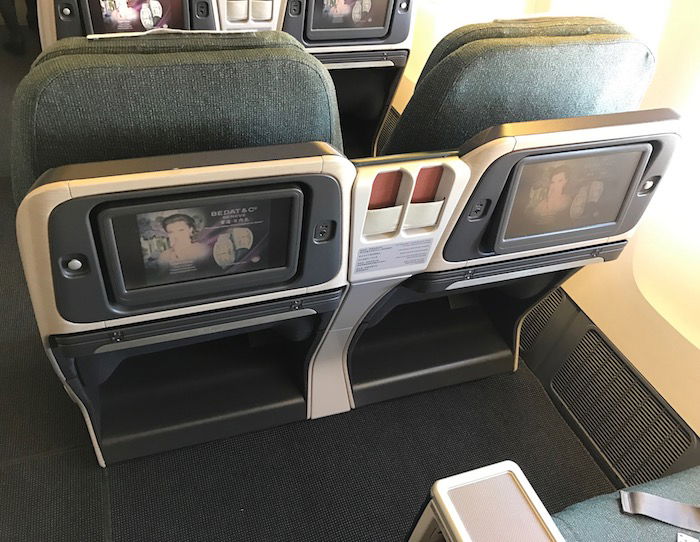 Before takeoff there was a choice of pre-departure beverages, all served in proper glassware. The choice was between water, orange juice, and champagne. For anyone wondering, Cathay Pacific serves Billecart-Salmon champagne in regional business class.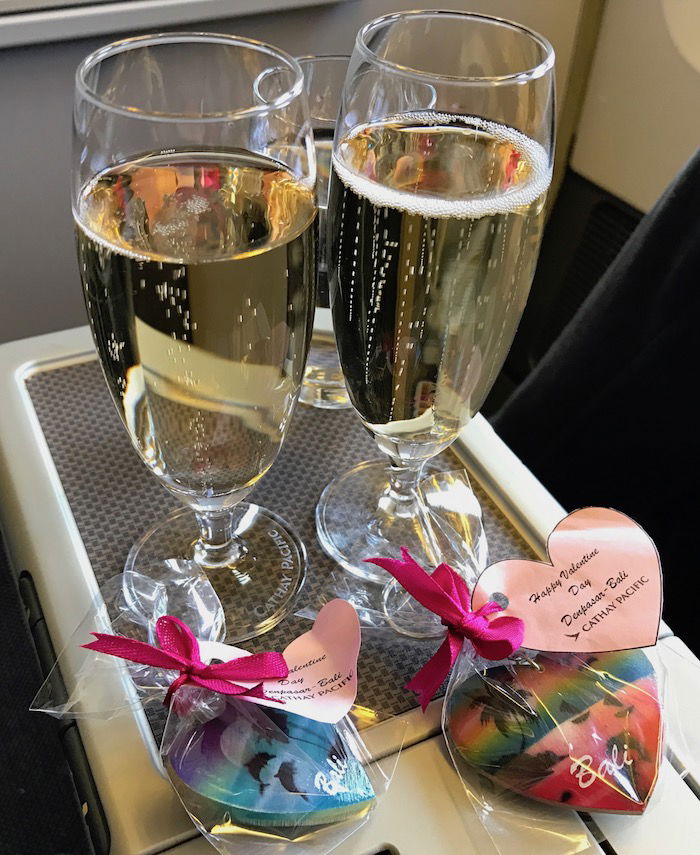 Menus and landing cards for Hong Kong were distributed after takeoff, and the inflight service manager came around to greet oneworld Emerald members (at least that's what I believe was happening).
Then the dinner service began, starting with warm mixed nuts.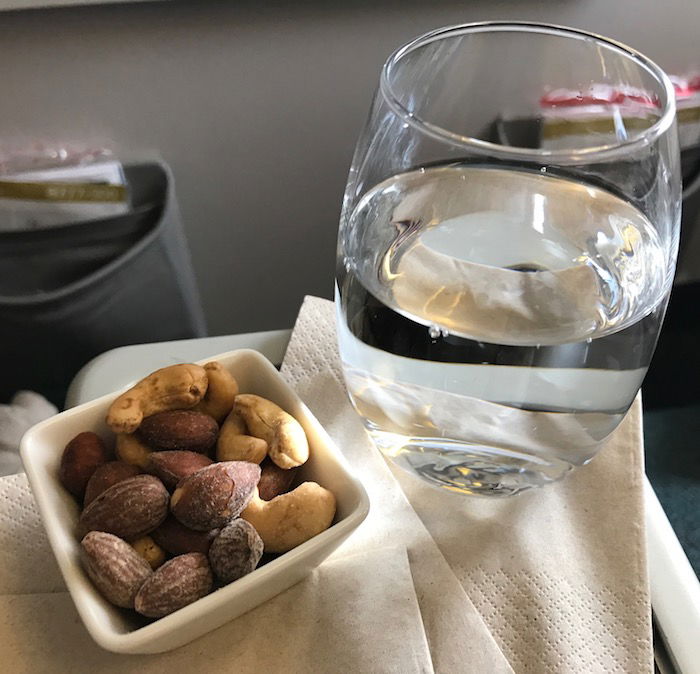 The appetizer consisted of cajun spiced prawns with green mango salad. Then there was a salad with cucumbers and tomatoes, as well as a selection of bread from the breadbasket (Cathay's garlic bread is always excellent).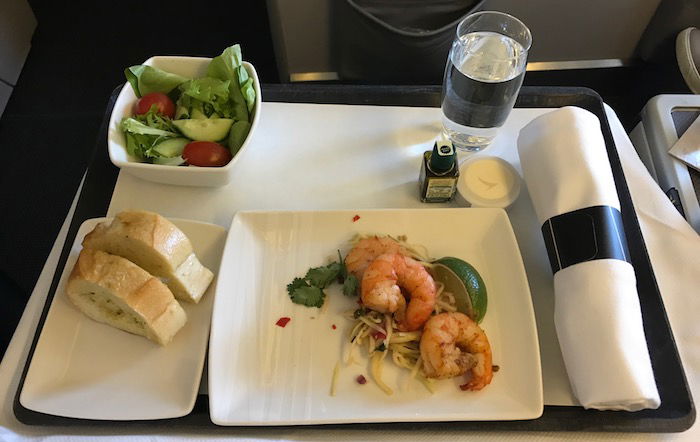 As usual in Cathay Pacific business class, main courses were rolled down the aisle on a cart, so you could visually choose what you wanted. I had the yellow curry halibut, with spicy green beans and steamed rice. The dish was excellent, though on the small side (at least if you don't want to eat all the rice).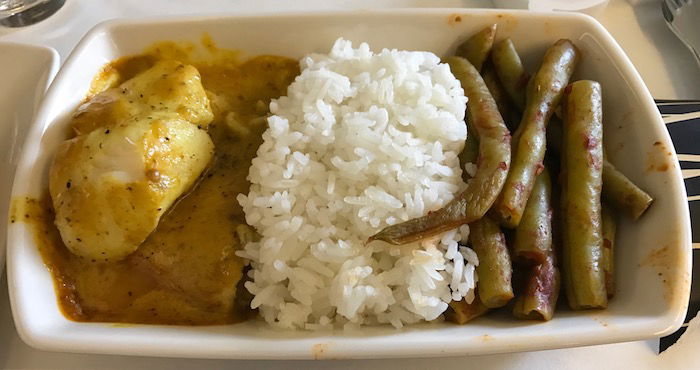 After that the crew rolled a cart down the aisle with a selection of fruit and cheese. I just asked for a selection of fruit. It's nice that they plate this right in front of you.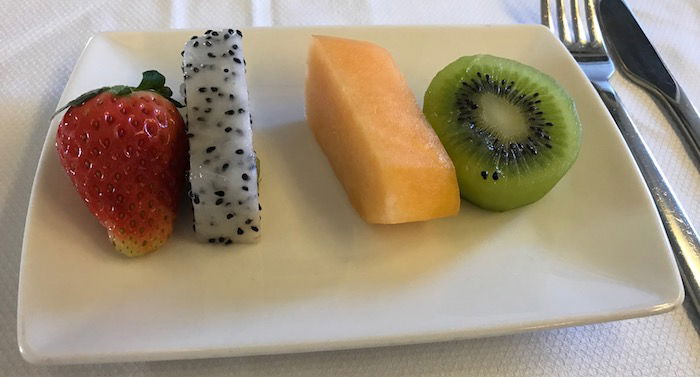 Lastly the crew served dessert along with coffee and tea. The dessert consisted of chestnut mousse cake, which had a unique flavor. I'm not sure I've ever had a chestnut cake before.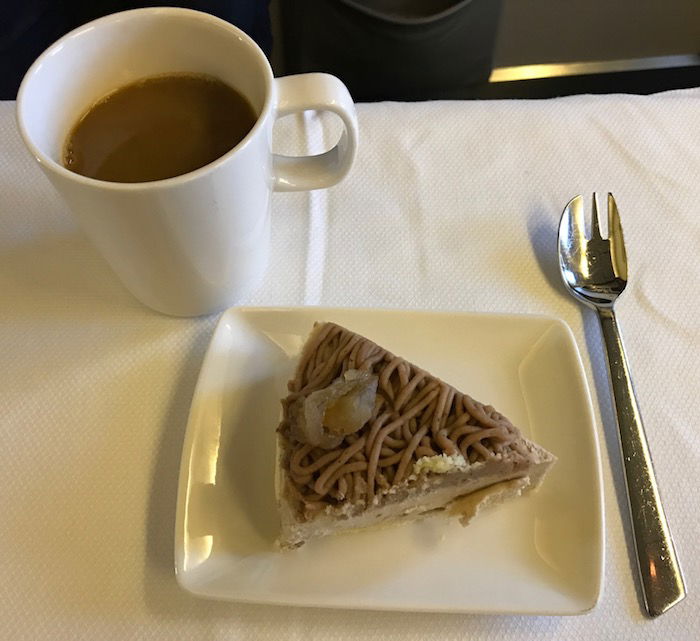 The meal service was done about 90 minutes into the flight, so we had about three hours to go.
The crew on this sector was excellent. All of the flight attendants were charming, friendly, and attentive. That's despite the fact that they had a really long day, as they were flying from Hong Kong to Bali and back.
This flight felt really long. Perhaps it's because of the lack of Wi-Fi, as well as the evening departure, which meant I was tired and ready to sleep.
Overall Cathay Pacific's regional business class is perfectly fine. The soft product was good, while I don't love the seats in this configuration, as I find it's tough to get comfortable in them. Fortunately Cathay Pacific operates longhaul configured aircraft on many routes within Asia, so often these seats can be avoided.
If you've flown Cathay Pacific's regional business class, what was your experience like?