Let me start by saying that some of the videos below contain bad language, so if you're sensitive to that, I'd recommend skipping this post and the videos.
Someone named Danielle Bregoli has made a bit of a name for herself after recently appearing on the Dr. Phil Show. She's perhaps most well known for her "cash me ousside, how bow dah?" catchphrase. Here's the Dr. Phil segment, for those of you who have no clue what I'm talking about:
The phrase has gained so much popularity that you can even make Bitmojis with the phrase.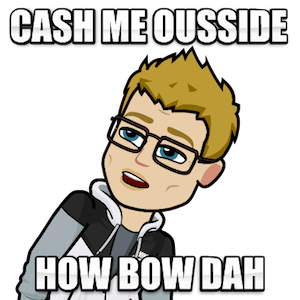 You'd think she's an A-list celebrity based on how the paparazzi photographed her as she was recently leaving an LA restaurant:
I guess it shouldn't come as much of a surprise, but Danielle Bregoli and her mother were kicked off a Spirit Airlines flight last night departing LAX, after they got in a confrontation with another passenger. Here's the video:
Here's Danielle's version of what happened:
Here's what went down, according to TMZ:
We've learned Danielle Bregoli and her mom were boarding a Spirit Airlines flight out of LAX last night … when Mom got into a dispute with a female passenger. We're told Danielle's mother was struggling to put her carry-on bag in the overhead, because she's wearing a walking cast for an injured foot … and the wait wasn't sitting well with the third party.

Danielle says the other woman put her hands on her mom's throat, and that's why she had to "cold-cock" the impatient passenger.

After Danielle uncorked the punch, the woman made a citizen's arrest. A short time later police arrived and took all 3 off the plane. We're told no one wanted to press charges so there were no arrests, and everyone involved decided their lawyers would handle it from here.
Danielle, her mom, and the other passenger have all been banned from Spirit for life, which is sort of sad, because it means they'll soon be flying other airlines as well.