Radisson Rewards has just launched its latest bonus on purchased points, and it's an excellent offer.
Buy Radisson Rewards points for 0.35 cents each
Through Thursday, March 18, 2021, Radisson Rewards is offering a 100% bonus on purchased points. With this promotion you earn a 100% bonus no matter how many points you buy.
Radisson Rewards members can purchase at most 80,000 points per account per calendar year (pre-bonus). Note that you have to log into your account to see the offer, so it's possible not everyone will see the same promotion.
Factoring in the 100% bonus, you can buy a maximum of 160,000 points through this promotion. The 160,000 points would cost you $560, meaning that you're paying 0.35 cents per point.
Radisson Rewards doesn't sell points very often, at least compared to other programs. When Radisson Rewards does offer a bonus, it's typically in the range of 50-100%.
So a 100% bonus is the best offer we see from the program, and this is also one of the best 100% bonuses we've seen. That's because with this promo the 100% bonus kicks in even if you buy just 1,000 points, as there's not some huge minimum purchase required.

Radisson Blu Polar Hotel in Longyearbyen, Norway
Which credit card should you buy Radisson points with?
The purchase of Radisson Rewards points is processed by points.com, so wouldn't qualify as hotel spending for the purposes of your credit card.
Therefore I'd recommend using a card on which you're trying to reach minimum spending, or otherwise, a credit card that maximizes your return on everyday spending. See this post for more on which credit cards are best for buying points.
Should you buy Radisson Rewards points?
Personally, I value Radisson Rewards points at ~0.3 cents each, though that's a conservative valuation and you should be able to get more value out of points if redeeming at the right places.
Here's the Radisson Rewards award chart:
As you can see, the top properties go for 70,000 points per night. If you're buying points for 0.35 cents each, that's like paying $245 per night for a stay at a top hotel. There are few properties where that would represent a good value.
Radisson has an increasing number of nice properties. For example, we recently saw the opening of the Radisson Blu Maldives, which represents a great use of points. A stay here costs 70,000 points per night, and that gets you an overwater villa with breakfast included.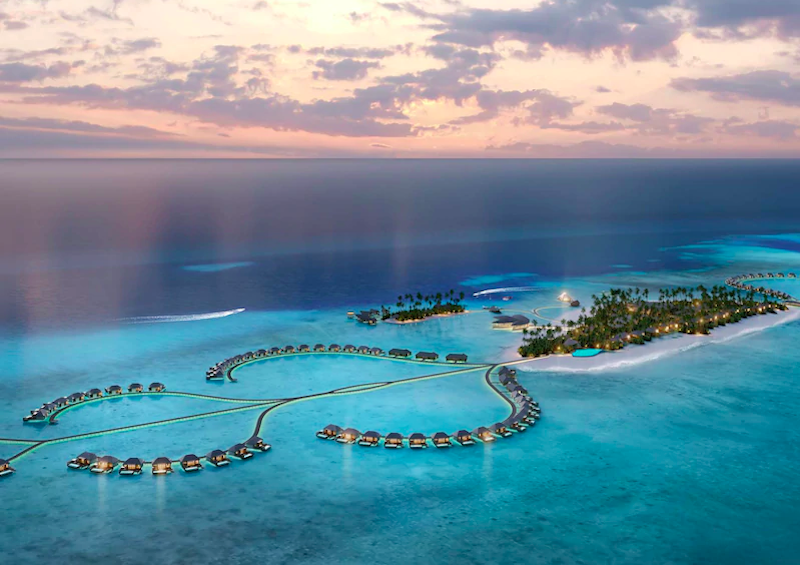 The beautiful new Radisson Blu Maldives
Bottom Line
Radisson Rewards has just introduced a 100% bonus on purchased points. This is as good as promotions from Radisson get, as the program doesn't often sell points. If you're into the Radisson Rewards program and could use more points, this is a promotion to consider.
Do you plan on buying Radisson Rewards points with a 100% bonus?