The new Radisson Rewards Americas program is currently offering a promotion on purchased points, and for some it could be worth considering.
Buy Radisson Rewards points for 0.35 cents each
Through Wednesday, October 13, 2021, Radisson Rewards Americas is offering a 100% bonus on purchased points. With this promotion you earn a 100% bonus as long as you purchase at least 3,000 points in one transaction.

Radisson Rewards Americas members can purchase at most 80,000 points per account per calendar year (pre-bonus). Factoring in the 100% bonus, you can buy a maximum of 160,000 points through this promotion. The 160,000 points would cost you $560, meaning that you're paying 0.35 cents per point.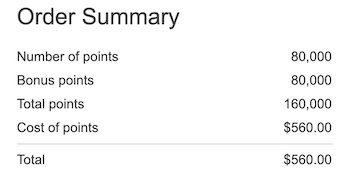 Radisson Rewards Americas doesn't sell points very often, at least compared to other programs, and a 100% bonus is as good as it gets.
Which credit card should you buy Radisson points with?
The purchase of Radisson Rewards points is processed by points.com, so wouldn't qualify as hotel spending for the purposes of your credit card.
Therefore I'd recommend using a card on which you're trying to reach minimum spending, or otherwise, a credit card that maximizes your return on everyday spending. See this post for more on which credit cards are best for buying points.
Best cards for non-bonused spending:
Should you buy Radisson Rewards points?
The new Radisson Rewards Americas program was launched in June 2021, and with this, Radisson essentially split up its loyalty program into two. You can earn and redeem points in the Americas region with one program, and earn and redeem points in the rest of the world with the other program. Fortunately you can transfer points between the two programs at no cost, but still, it's not a very seamless experience.
Personally, I value Radisson Rewards points at ~0.3 cents each, though some may get more value out of the points than that. For context, here's the Radisson Rewards Americas award chart:

As you can see, the cheapest properties go for 15,000 points per night, while the most expensive properties go for 75,000 points per night. Generally speaking there probably aren't many properties where purchasing points for a redemption represents a good value. That being said, with Radisson Rewards Americas' current promotion on points redemptions, there's definitely more value than usual to be had.
Bottom Line
Radisson Rewards Americas has just introduced a 100% bonus on purchased points. This is as good as promotions from Radisson get, as the program historically doesn't often sell points. If you're into the Radisson Rewards program and could use more points, this is a promotion to consider.
Do you plan on buying Radisson Rewards points with a 100% bonus?