I've recently shared how you can save money by buying Spirit or Allegiant tickets at the airport. That's because these airlines effectively tack on a surcharge for using their website. They don't call it that of course, but that's what it is.
The reason they do this is because airlines have to pay a 7.5% federal excise tax on ticket revenue. They only pay this on the actual fare basis, however, not the ancillary fees. So they have a very real incentive to make their money through fees, rather than the actual fare.
The trick is, for something to be a fee — not a fare — it has to be optional. If you think about it, you don't have to check a bag. You don't have to select a seat. You don't have to eat some food. Those are obviously all fees.
Well, Spirit and Allegiant have become very creative with their accounting over the years such that they even have what amounts to a convenience fee for using their website. The amount can vary, but is typically $18.99 on Spirit and $13 on Allegiant. That's per passenger and per segment.
But since they need to convince the government that it's an optional fee, they have to give you a way to not pay it. That's why they don't charge it if you buy your tickets at the airport.
I actually tested this out recently by buying my mother-in-law a one-way ticket on Spirit at the airport. Sure enough, the ticket cost $24.10, a savings of $18.99 versus the website. I didn't quite believe it, but this stuff is real.
Given that Frontier is an ultra low cost carrier similar to Spirit and Allegiant, I was curious as to whether they have a Ticketmaster-style convenience charge as well.
And sure enough, they do.

Frontier ticket counter at the Denver International Airport
Taxes versus carrier imposed surcharges
Frontier calls their website convenience fee the carrier interface charge, or CIC. And it seems to be about $19.00, at least for the few routes I searched. I suppose that should be no surprise given that Frontier competes head-to-head with Spirit, which has a website fee of $18.99. So they are pretty much the same in that regard.
Frontier conceals the carrier interface charge really well. The first screen shows the price of the ticket, with all fees included. They give you the option to show details, however, which is what you'll need to do.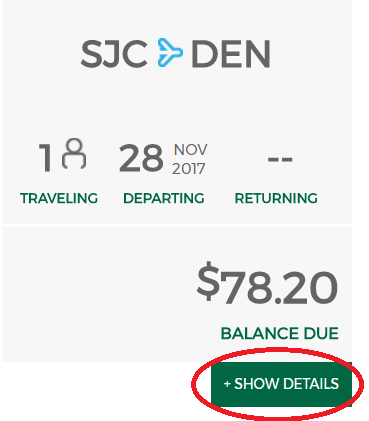 The total price of the Frontier ticket is $78.20
Clicking on show details takes you to the next screen, which breaks the ticket cost into airfare and taxes and carrier imposed fees. But it still doesn't show the CIC explicitly.
I'd say it's pretty clear that Frontier doesn't want us to keep snooping around, because this time they don't advise us that we can click for more details. But the taxes and carrier imposed fees is actually a link. You'll want to click it.

Taxes and carrier imposed fees is actually a link
Begrudgingly, Frontier finally tells us about this carrier interface charge.
It just so happens to be making up the majority of these other charges. You'll notice that three of the other charges are federal taxes, while one is an airport charge. The carrier interface charge stands alone for its obscureness.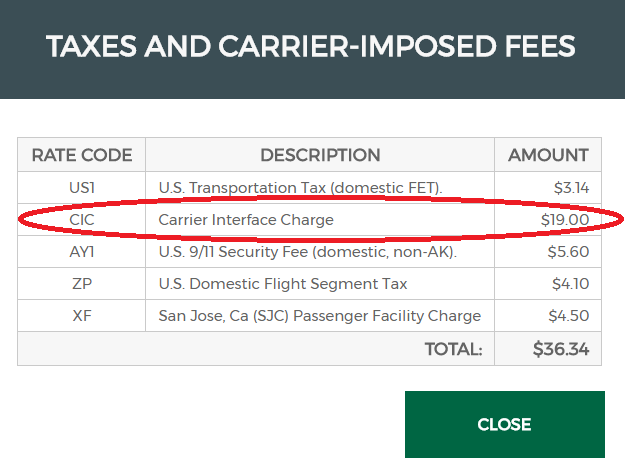 Frontier's carrier interface charge is generally $19
If there's going to be a tax-exempt fee, there has to be a way to avoid it. And my guess is that you can get cheaper Frontier tickets if you pay at the airport.
These fees represent a significant portion of the cost of a ticket on Frontier, particularly when they're offering sale fares, and the carrier interface charge is more than half the total taxes and fees on most tickets.
Bottom line
Frontier, like Spirit and Allegiant, categorizes part of the cost of their tickets as a convenience fee for using their website. That allows them to avoid paying the federal excise tax on that component of the ticket price. But in order for it to be exempt from this tax, it has to be an optional fee, which based on how other ultra low cost carriers handle ticketing, suggests Frontier tickets purchased at the airport may not be subject to the fee.
That means you could save $19 per passenger and per segment by buying your Frontier tickets at the airport. If you have a family like me, those savings add up fast and could probably justify a special trip to the airport.
Although I've flown Frontier four times in my life, I only recently learned about this. So I haven't had a chance to test it out yet. But I'm curious.
Have you ever bought a Frontier ticket at the airport to avoid paying the carrier interface charge?