Note: In light of Thursday's events, all of this doesn't really matter. That being said, I wrote the post on Thursday while still on the plane, so will publish it as is. Again, my thoughts with the families and friends of those on MH17….
Hello from Chicago! on Wednesday I shared my conundrum of whether (and how) to book KLM business class from Amsterdam to Chicago. I ended up redeeming 62,500 Alaska Mileage Plan miles for the one-way ticket. Yes, it hurt to think how many bottles of Krug and tins of caviar I was giving up by redeeming Mileage Plan miles that way, but it was well worth it to be able to review a new product.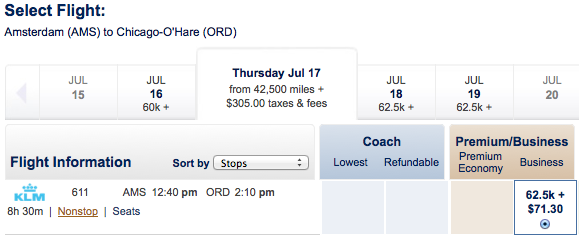 While I'll have a full trip report soon, I figured I'd share my initial thoughts of the experience: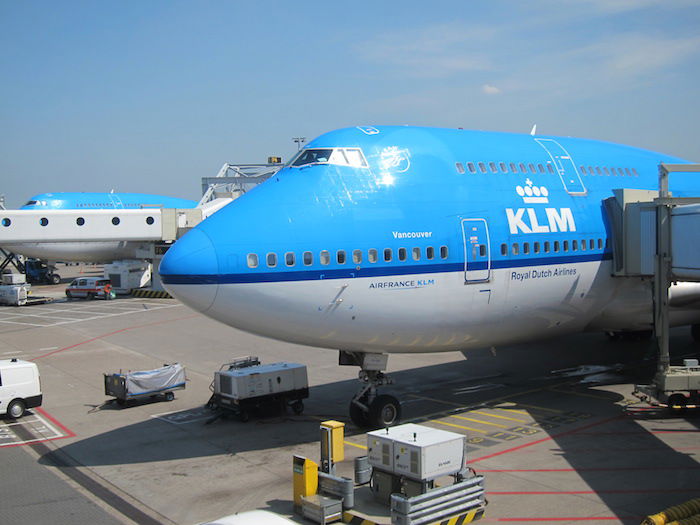 KLM 747 Combi
KLM new business class seat
My flight was operated by one of KLM's "Combi" 747s, whereby the back third of the plane is a cargo hold. This plane featured the new business class product, which I was excited to try.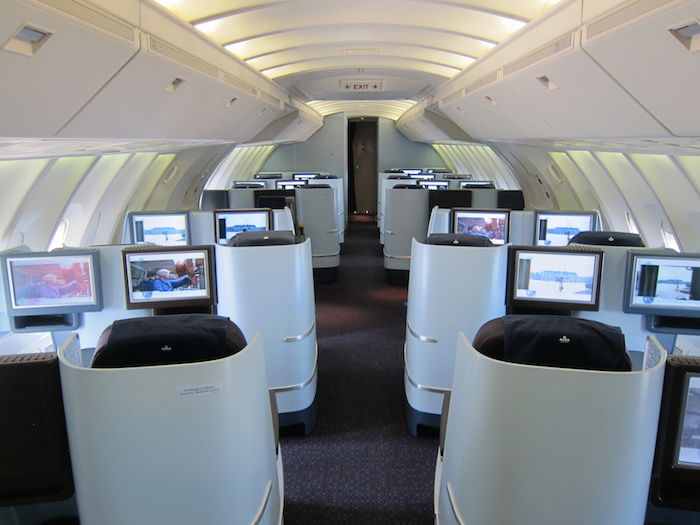 KLM 747 upper deck business class
I assigned myself seat 73J, and the window seat next to me stayed open. KLM's hard product is basically the same as Air China's new 777 product, and the product United has on their ex-Continental planes.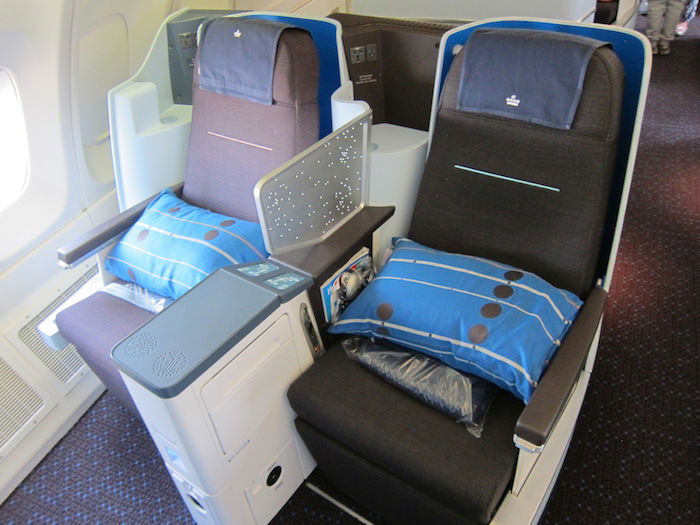 KLM new business class
It's basically a fully flat product with seats angled slightly away from the aisle. The seats do have "foot cubbies," and the ones at the window are more spacious. That's because they're only "enclosed" on one side, so you have some extra room for your feet by the window.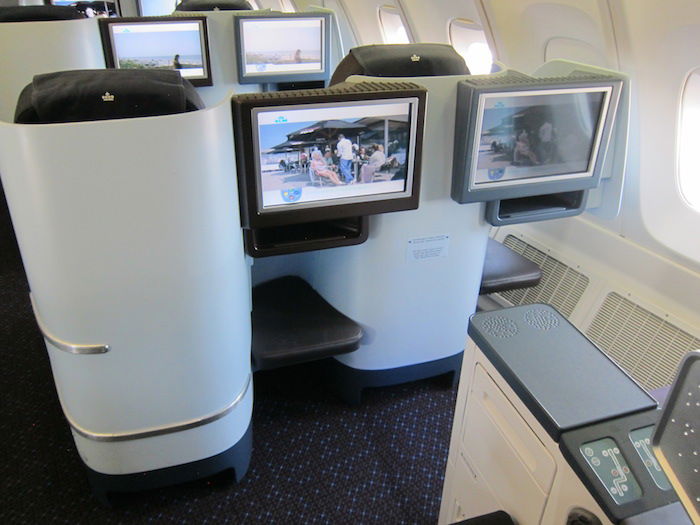 KLM new business class
This isn't the best hard product in the world – I still prefer reverse herringbone and Solstys style staggered seats – but it's really solid, especially with an empty seat next to me.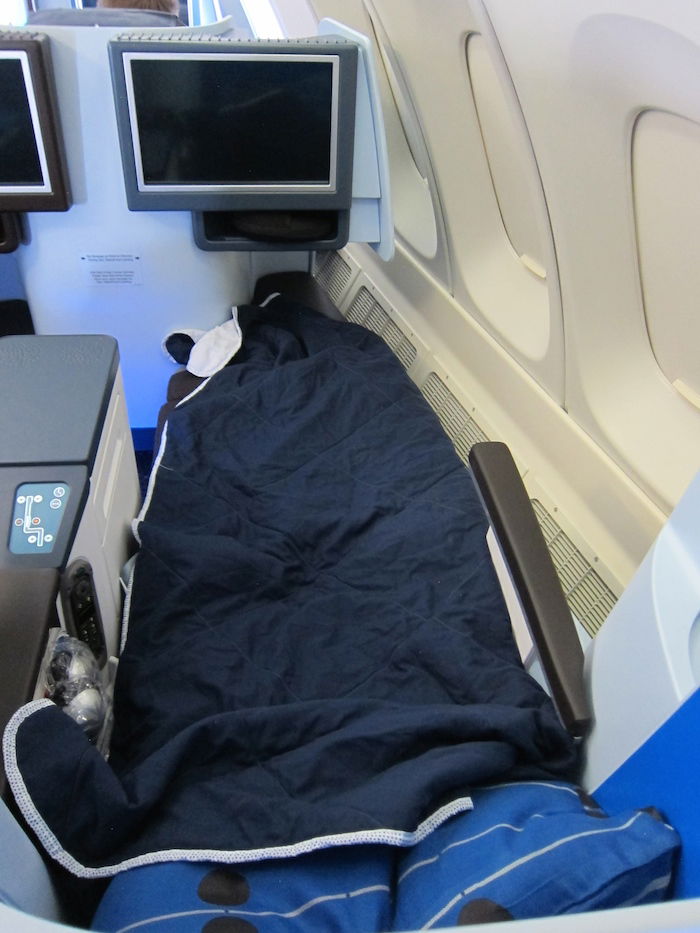 KLM new business class
I absolutely love being on the upper deck, so that's a big plus. KLM's business class cabin on the 747s is quite small, as there's just business class on the upper deck and in the nose, and between the two I'll choose the upper deck every time.
So it's not the best hard product in the world, but it's very solid, in my opinion.
KLM business class food
I was really impressed – KLM's food has both style and substance. The meal was top notch quality and I loved the way it was presented.
To start was smoked salmon tartare and a Thai papaya salad. The presentation was just gorgeous, and I loved the small touches, like that they sprinkled cashews on the salad at your seat.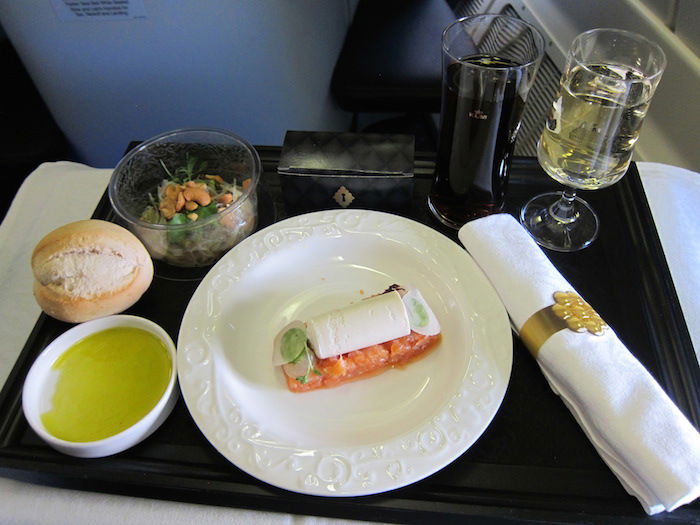 KLM business class appetizer and salad
Each tray had a "box," which contained an hourglass salt and pepper shaker.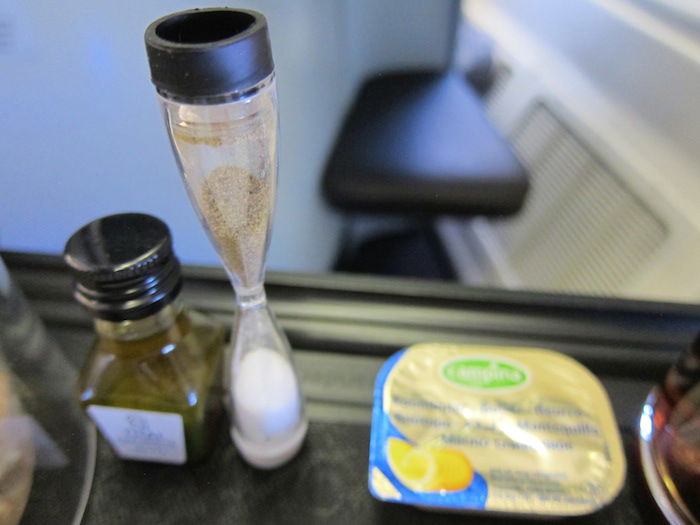 KLM business class hourglass salt & pepper shaker
For the main course I selected the braised beef, which was perfect.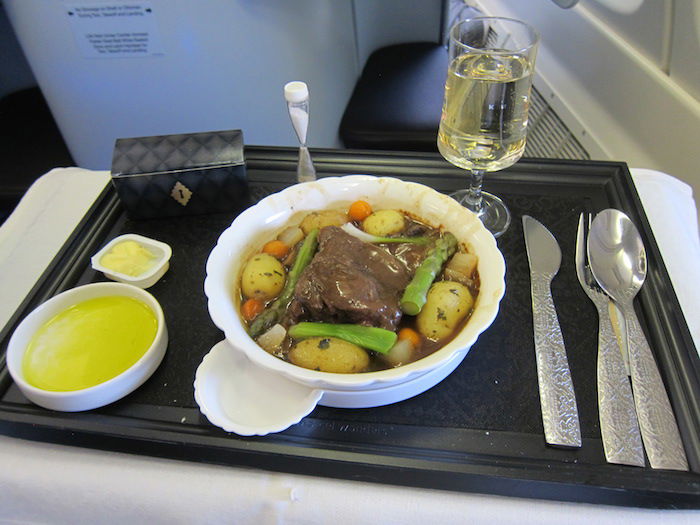 KLM business class main course
Then for dessert I had some cheese (that could have been spruced up a bit) and a chocolate raspberry tart.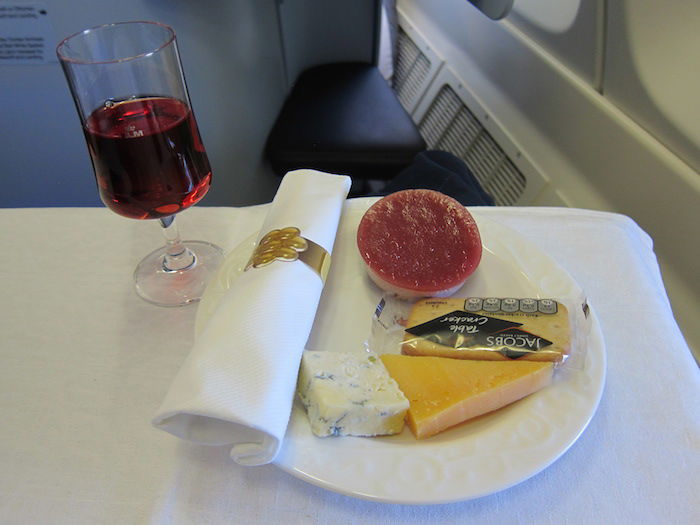 KLM business class dessert
Even the pre-arrival meal was great, which consisted of an Indian vegetarian pie and a chocolate pecan cake with whipped cream (whipped at your seat).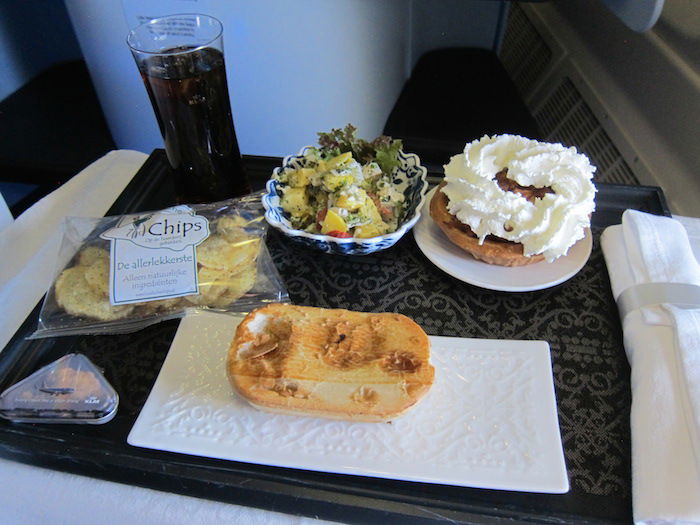 KLM business class pre-arrival meal
So in my opinion the presentation was really unique, and the food quality was top notch.
KLM business class service
The crew was just an absolute delight, from the senior purser to the two flight attendants working the upper deck. They were extremely friendly, engaging, and efficient. If only service in business class were always this good.
KLM business class amenities
There was a problem with the entertainment system, whereby it had to be reset four times, which lasted the first two hours of the flight. My system was working just fine, but it seems it wasn't working at other seats. I couldn't care less, since I had shows loaded on my iPad anyway.
The senior purser came around and was extremely apologetic, and explained that the Chicago ground crew would be handing out compensation on arrival. I received a $100 Delta voucher.
The amenity kit was simple but functional.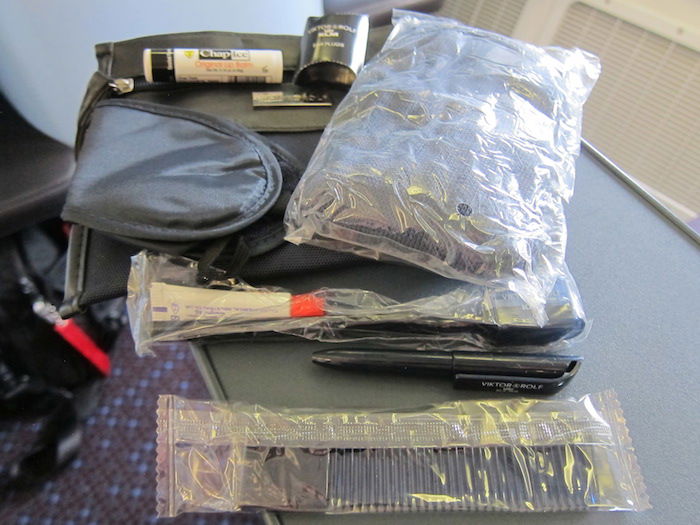 KLM business class amenity kit
And hands down the coolest thing about KLM business class are the porcelain houses they give you before landing. They have over 90 different types of houses, so if you're a frequent KLM flyer you can eventually collect them all. They're filled with gin, though I'll keep them more as a collectors item.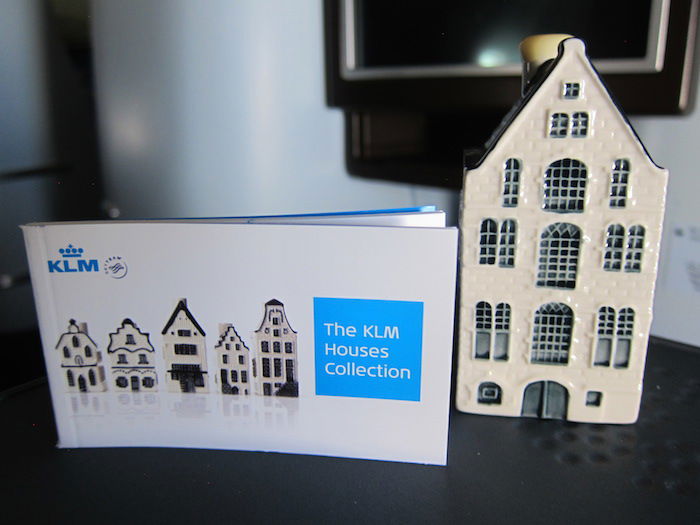 KLM business class house collection
KLM business class bottom line
All things considered, I was really impressed. The seat was above average, and the food, service, and amenities were top notch, in my opinion. Big kudos to KLM, I was never expecting them to have so much style based on their painfully blue uniforms.
I'll have a full trip report next week, once I finish the current US Airways 90K trip report.
Have you flown KLM business class? If so, what was your experience?