As we first (officially) learned about in late September, British Airways will be switching to a buy onboard model for their short-haul flights. This new policy will apply on all short-haul flights out of London Heathrow and London Gatwick as of January 11, 2017, and on all London City and London Stansted flights by summer 2017.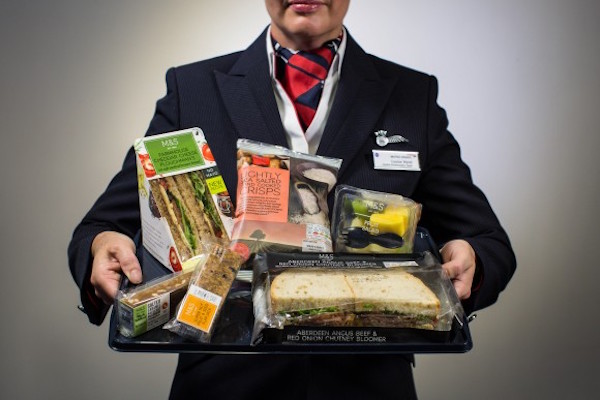 Up until now British Airways has offered complimentary drinks (both alcoholic and non-alcoholic) and snacks in economy. British Airways' current CEO used to be in charge of Spanish low cost carrier Vueling, and it looks like he's trying to run British Airways in a similar manner.
With the new policy, the only thing that will continue to be complimentary on request is potable water. However, it appears that only cold potable water will be complimentary. If you bring your own tea bag and want hot water, you'll still be expected to pay the £2.30 that would usually be charged for tea.
Of course this is totally minor and I guess is logical enough, but there's something about it that I can't help but find hilarious. Per Business Traveller:
British Airways has confirmed that when the new Buy on Board short-haul service begins in January, "the airline will only provide cups for beverages purchased in flight".

The statement is in line with instructions to crew which state that only "potable water" will be available on request. All food and drink, including soft drinks and tea and coffee will be chargeable, and passengers will not be able to avoid paying simply by requesting hot water, then using their own coffee granules or tea bags.

If customers do request a tea cup, then this will be charged "at the retail price regardless of whether a tea bag is required".
So the airline will only provide cups for purchased drinks… except the cups they're providing for potable water… but only cold potable water.
British Airways' CEO said that this policy exists not because they're trying to cut costs, but because they want to offer "choice and quality:"
"We haven't reached this decision because we were going to take a huge amount of cost out of the business. The decision has been taken because of choice and quality."
This is only the second most interesting tea "development" at British Airways in recent times. In late November FlyerTalk member orbitmic was informed that he wasn't allowed to use two tea bags for his tea in BA's Terminal 3 Galleries First Lounge:
Contrary to my coffee dominated diet, I saw BA brought the f tea selection to the gf lounge (a welcome addition) So thought I'd give it a try. Following on from my partner's own habits, when having (typically herbal) tea, I often pick two different flavors and mix them.

I was looking when a staff member who was clearingtables and looked at me insistently. I smiled, she did not move. 'Are you all right sir?' — 'yes, thanks I'm just looking at what teas you have trying to decide'.

Since she was not moving, I took one elderflower Darjeeling, one elderflower apple, and the cup of hot water I had just poured. This did not make her happy: 'sir, just to inform you that it is only one tea bag at a time and for lounge consumption only'.
Bottom line
I don't actually fault British Airways for charging for hot water, but there's still something I found funny about the story. It's sort of like the person who goes to a restaurant and requests water, a bowl of lemons, and sugar packets, so that they don't have to pay for lemonade.
Still, the whole system seems a bit illogical — you have to pay for a cup, unless you get potable water, but only if it's cold and not hot.