A bit over a month ago I wrote about how British Airways was considering leasing some widebody aircraft from Qatar Airways. Qatar Airways owns a stake in IAG, and it wouldn't be the first time they leased some planes to British Airways. Last year Qatar Airways leased them eight of their Airbus A320s due to industrial action on the part of British Airways' cabin crews.
This time around Qatar Airways was apparently considering leasing British Airways some A330s, due to the engine issues that British Airways is having with their 787s (this is a problem impacting many airlines).
This arrangement has now been finalized — Qatar Airways will be operating several flights on behalf of British Airways this summer, as British Airways inspects the engines on some of their 787-9s. What I find especially interesting here is how they're handling this — some passengers will be compensated up to 280,000 Avios for this aircraft change.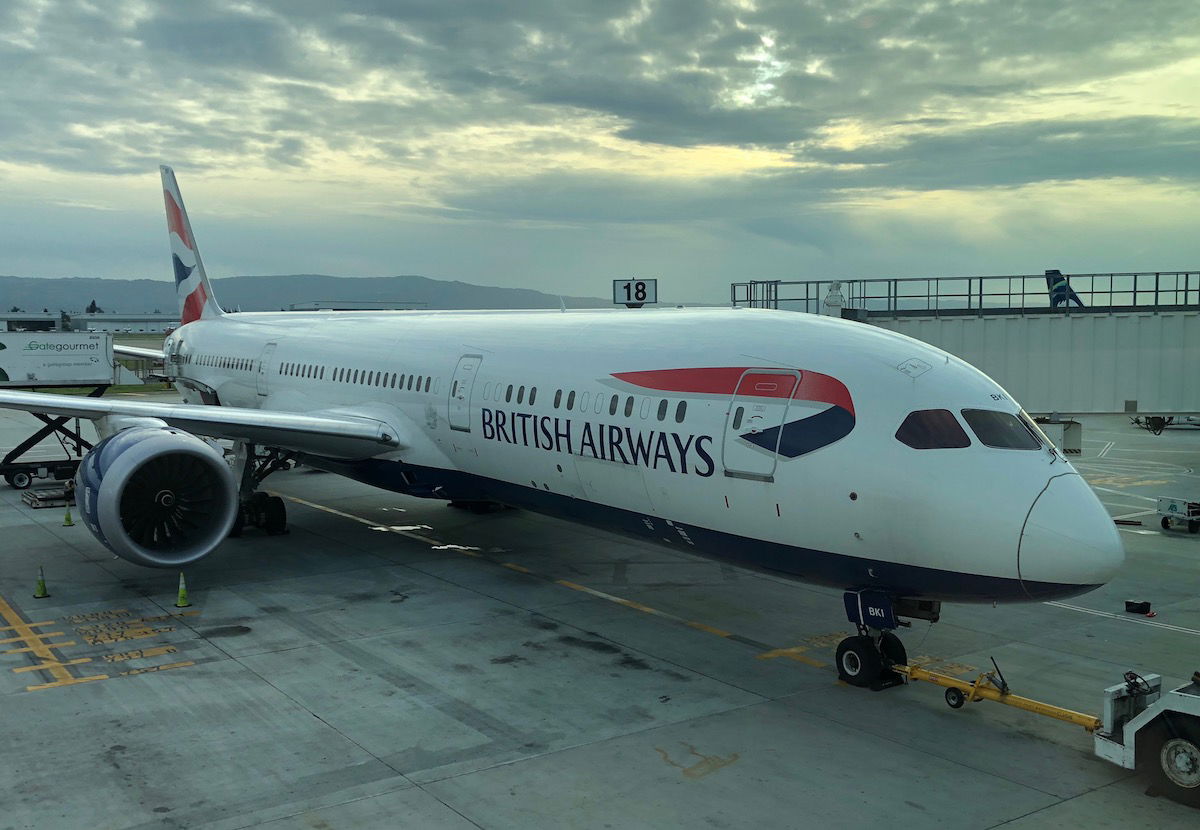 British Airways 787-9
British Airways routes operated by Qatar Airways A330s
Qatar Airways will be operating the following British Airways routes:
BA157/156 London to Kuwait between June 9 and June 30, 2018
BA79/80 London to Muscat between June 9 and August 20, 2018
BA143/142 Delhi to London Heathrow between June 9 and August 20, 2018
What this means for passengers
British Airways' 787-9s are in a four class configuration, with first class, business class, premium economy, and economy. Qatar Airways' A330s are in a two class configuration, and don't have first class or premium economy. Furthermore, they have fewer business class seats.
British Airways will automatically be rebooking passengers who are on these flights:
First class passengers will be rebooked in business class
Premium economy passengers will be rebooked in economy
In the event that business class is oversold, some business class passengers will be rebooked in economy (British Airways has 50 first & business class seats on the 787-9, while Qatar Airways has just 30 business class seats)
Passengers will of course have the option of having their ticket refunded at no cost, or being rebooked on another flight, regardless of whether or not they'd be downgraded. Furthermore, for customers who are downgraded, they'll maintain the original terms associated with their tickets, including lounge access, baggage allowance, and mileage accrual. For example, if someone was booked in first class and gets rebooked in business class, they'd still get first class lounge access.
British Airways' (mostly) generous compensation
British Airways will be offering compensation to passengers who are impacted by these aircraft changes. In addition to the fare difference for any changes in cabins, the following will be offered:
Those downgraded from first class to business class will receive a goodwill gesture of a 700GBP e-voucher or 140,000 Avios per sector
Those downgraded from business class to economy will receive a goodwill gesture of a 400GBP e-voucher or 80,000 Avios per sector (this will only happen in cases where there aren't enough business class seats anymore)
Those downgraded from premium economy to economy will receive a goodwill gesture of 20,000 Avios per sector, though only if they have status with Executive Club
What does this mean for the passenger experience?
Compensation aside, this definitely represents a product upgrade for those in economy, and I'd suggest it represents a mild product upgrade for those in business class as well.
Qatar Airways doesn't have first class on their A330s, so it's definitely a downgrade for first class passengers (however, the 140,000 Avios per direction compensation should take the sting out of it a bit). 😉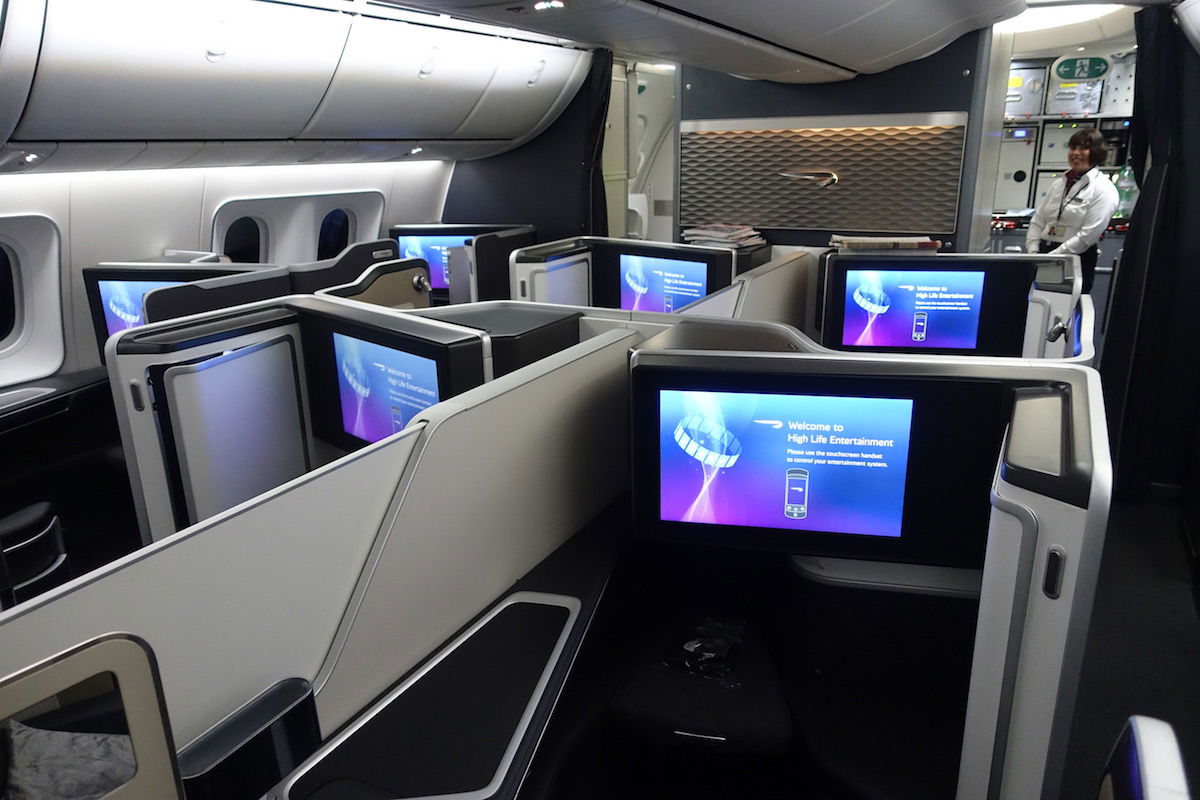 British Airways 787-9 first class
In business class Qatar Airways has flat beds in a 2-2-2 configuration, while British Airways has flat beds in a 2-3-2 configuration. Personally I prefer Qatar's business class, though some may prefer British Airways'.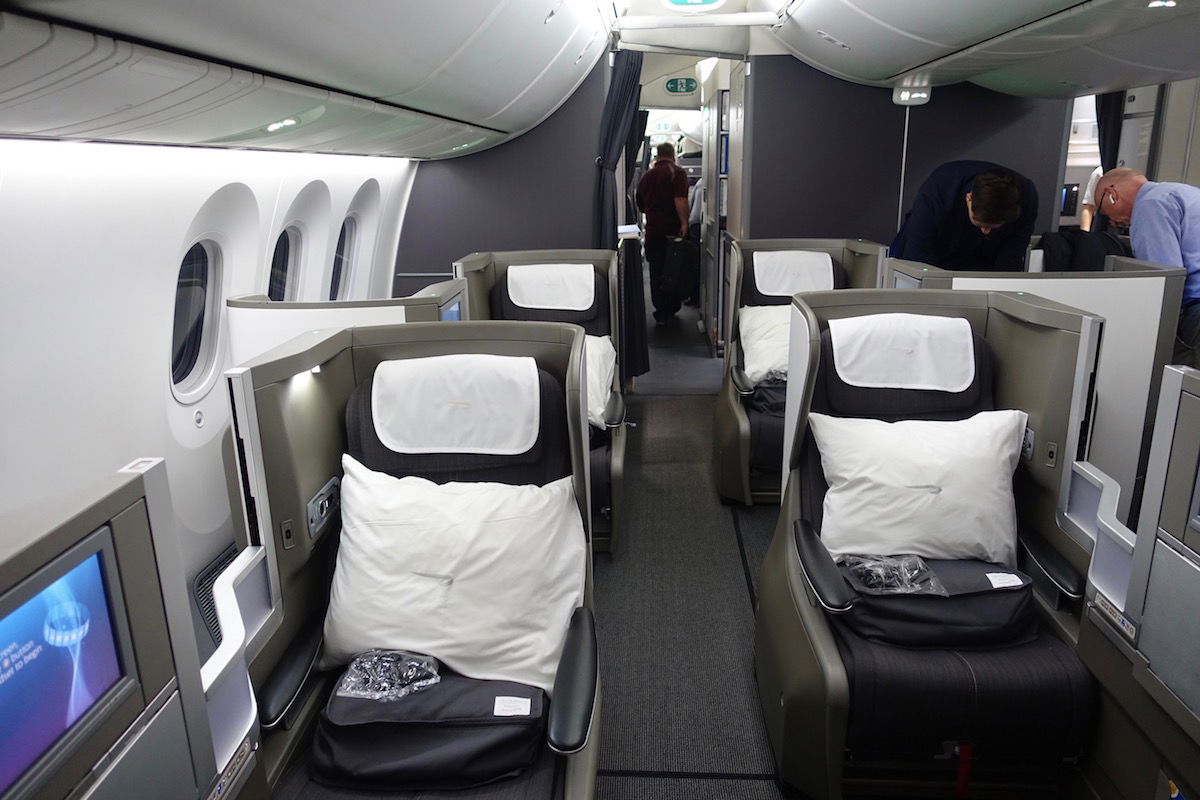 British Airways 787-9 business class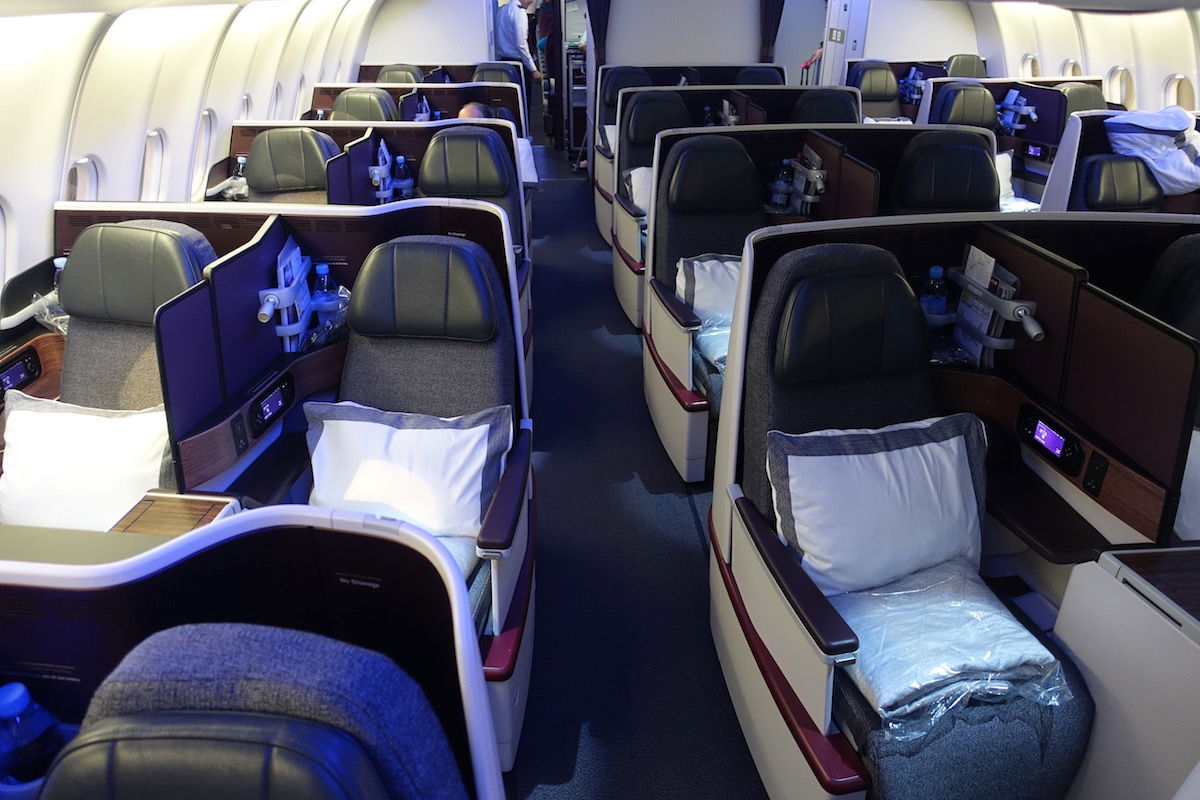 Qatar Airways A330 business class
Then for premium economy passengers it's bad news, since Qatar Airways doesn't have premium economy.
In economy you're going from a tight 3-3-3 layout to a more comfortable 2-4-2 layout, so I'd say this is an upgrade for economy passengers.
On top of that, since Qatar Airways crews will be working this flight, you can expect service to be excellent.
Bottom line
If you're traveling on one of the above routes, you'll potentially get a fair bit of compensation. It seems mostly fair to me how British Airways is handling this.
Those booked in first class are especially lucky, as they're potentially looking at a business class seat, the fare difference, plus 280,000 Avios of compensation. Wow. A roundtrip Avios redemption in first class would have cost 150,000 Avios, and you'd get back 50,000 Avios (the difference between first and business class), plus a further 280,000 Avios. It's not often an airline ends up paying you 180,000 points to take a roundtrip flight in first class (carrier imposed surcharges not included).
Conversely, it's awful that British Airways is only offering compensation to those downgraded from premium economy to economy if they have Executive Club status. That's a huge downgrade, so it's very stingy that they're not offering everyone something.
(Tip of the hat to Head for Points)