British Airways is known for their pesky "carrier imposed surcharges," often referred to as fuel surcharges.
When it comes to revenue tickets there aren't many implications to these. In some cases a majority of the cost of a ticket will be carrier imposed surcharges, but that shouldn't impact the final price, since they'd charge what they're going to charge either way.
The biggest impact of these surcharges is on award tickets. That's because regardless of what frequent flyer program you book through, travel on British Airways will be subjected to the same carrier imposed surcharges that British Airways will charge on a revenue ticket.
In late September, Tiffany wrote about how Lufthansa quietly increased carrier imposed surcharges. Carrier imposed surcharges on a roundtrip Lufthansa first or business class ticket between the US and Europe increased from around $800 to around $1,300. Ouch!
Now British Airways has increased surcharges from the US
In the past week or so, British Airways has increased carrier imposed surcharges for travel originating in the US, and these changes are rough.
Note that there are several factors that impact carrier imposed surcharges:
What country/city you're originating travel in
What cabin you're traveling in
What your final destination is (surcharges are different if traveling to London vs. other points in Europe, for example)
Historically, British Airways has charged around $800 in carrier imposed surcharges for roundtrip first and business class award tickets from the US to Europe. That's an estimate as it did vary, but as a general rule of thumb the surcharges were the same if traveling first or business class.
Note that this doesn't include the UK Air Passenger Duty, which applies if you have any travel originating in the UK (rather than just connecting there).
It looks like British Airways has greatly increased these fees.
For example, in the past a roundtrip business or first class ticket from the US to UK would cost you around $1,200-1,300 in taxes, fees, and carrier imposed surcharges.
In business class those surcharges have increased by about $150 roundtrip, as a roundtrip business class ticket from Boston to London will now cost you $1,433.42 in taxes, fees, and carrier imposed surcharges.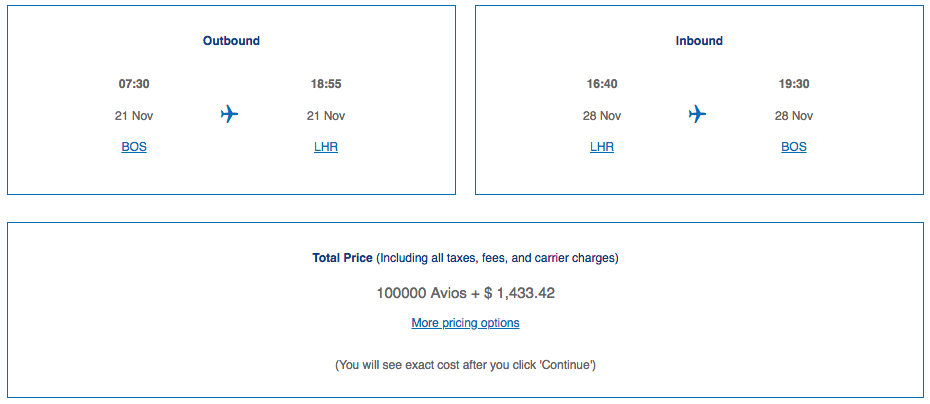 Even worse is that surcharges have been increased for first class, and they're no longer the same as in business class. Want to book the same route in first class? That will set you back an outrageous $1,833.42.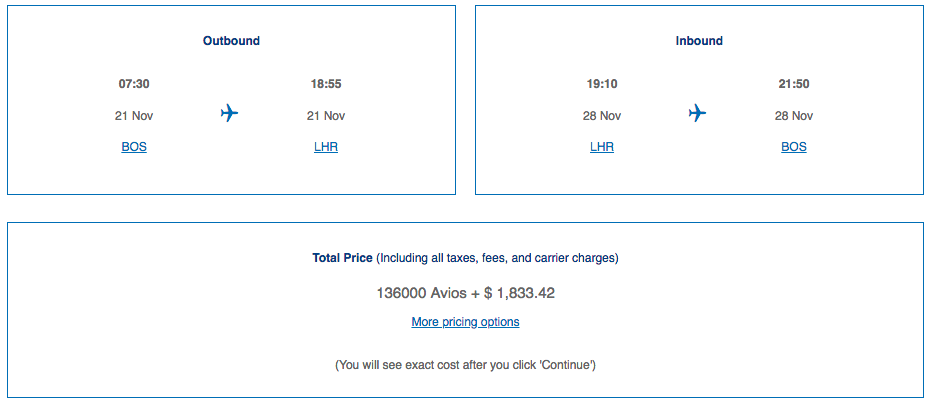 What's going on here? It appears that the carrier imposed surcharges for a roundtrip business class ticket from the US to London are now $1,106.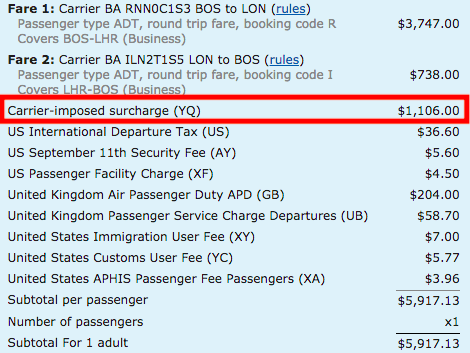 Meanwhile for first class they come out to $1,506, which is an extra $400 roundtrip.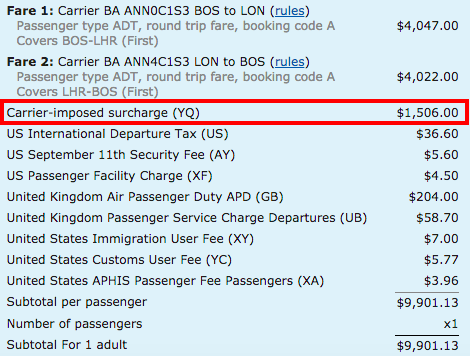 One workaround to avoiding some of these surcharges
It looks like these changes only apply to travel originating in the US, or more accurately, don't apply to travel originating in the UK (there may be other regions where they've increased them as well — I'm not sure). I guess British Airways doesn't want to annoy UK-based flyers anymore, so this is a special treat for us. 😉
There is a way to save some money on these fees, at least. That's by instead booking award tickets as one-ways, since you'll pay half of the higher cost for the eastbound flight, and then you'll pay the UK pricing on the westbound flight.
For example, take the same flight from Boston to London in first class. A one-way first class award will cost $781.40 in taxes, fees, and carrier imposed surcharges.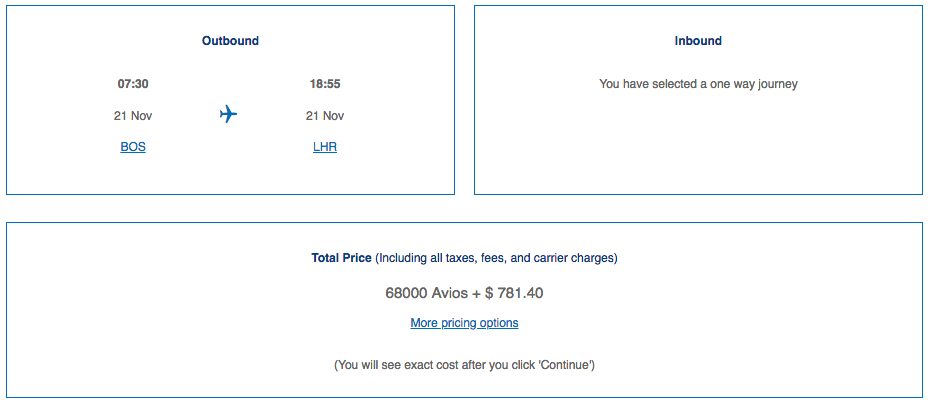 Then the return will cost you "just" $528.31.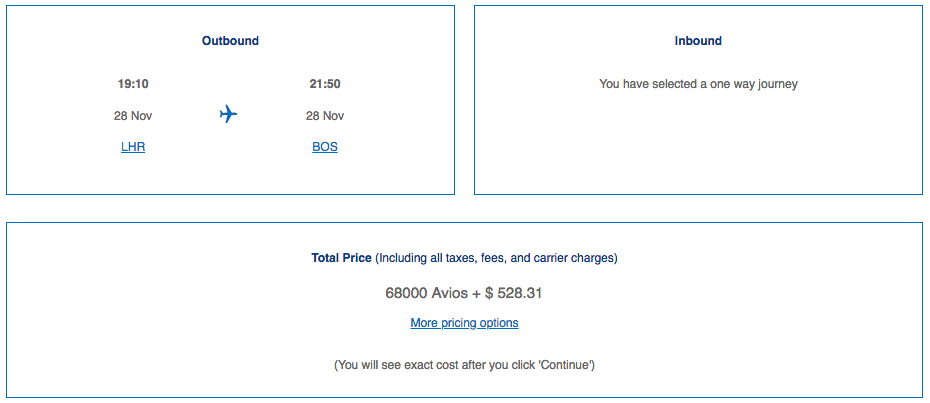 That's a total of $1,309.71, which is over $500 less than the $1833.42 you'd pay if booking those flights as a roundtrip.
Not only are the surcharges generally lower if booking as two one-ways, but they still charge the same surcharges for business and first class when departing the UK, unlike when departing the US.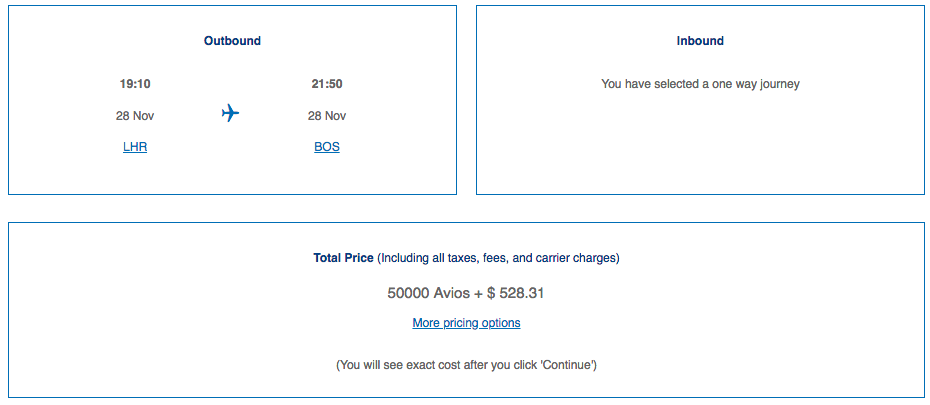 Bottom line
This is of course an awful development, and these surcharges are downright ridiculous. $1,800+ in fees for a short transatlantic flight in first class? That's crazy.
The good news is that there are plenty of great ways to redeem Avios without paying big fees. And the truth is that those are my preferred ways to redeem Avios anyway. So I don't consider this to be that huge of a deal personally, because I rarely redeem for British Airways transatlantic. However, I know others feel differently.
What do you make of these changes in British Airways surcharges?