British Airways currently has approximately 45,000 staff around the globe, including 16,500 cabin crew and 3,900 pilots. Many staff work at British Airways' global hub at Heathrow Terminal 5.
Sid Ouared was hired as a customer service agent to work in Terminal 5, and undertook an initial training session of about three weeks. He claims that on the final day of his training last month, he was dismissed by British Airways for refusing to change or cover up his 'man-bun' hairstyle. For those of you who don't know what this hairstyle looks like, here is a photograph of Sid – the style reminds me of the way many Virgin Atlantic female cabin crew style their hair: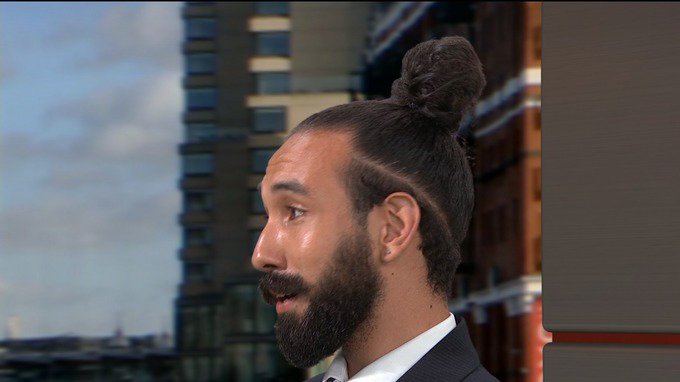 He claims British Airways told him the style did not comply with their uniform policy. He also claims this was a sexist decision, as a female would be allowed to wear such a style at work, also saying:
The fact that they dismissed me for being a man with long hair is ridiculous and sexist. They have discriminated against me. They basically said cut it, put it in a turban like a Sikh, or turn it into dreadlocks like a Rastafarian. I am not any of those things, and I can't believe that they would make me wear my hair like something that I am not.

Right now we live in multicultural Britain. We live in the age of equality and we should be open-minded.I have worked with lots of luxury retailers and never had an issue with my hair. But this stuffy old airline won't allow me to have my hair as I like it.
British Airways has refused to comment on this matter.
Apparently from the image below he got to keep the uniform though?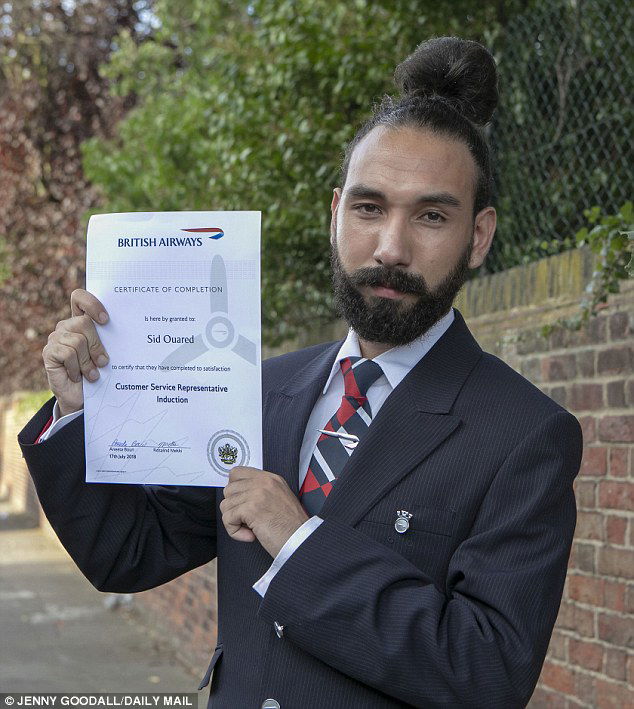 My take on this
I'm mostly with British Airways on this one.
Every airline in the world has very strict uniform and presentation standards. I've seen these policies for some airlines and they are extremely specific with details and even pictures of what dies and does not comply.
That is why cabin crew, especially on the world's top airlines, always look immaculate. Whether you like this hairstyle on a male or female is irrelevant. Sid accepted the role knowing there would be a strict uniform and appearance policy to comply with.
Assuming he had this style in the recruitment process I would be very surprised if British Airways did not either ask him if he was willing to change it if he was hired, or advised him that he would not commence customer facing employment following his training, if his hair did not comply with the uniform policy. He chose to proceed anyway.
I've traveled through Terminal 5 dozens of times, and certainly have never seen any staff with 'dreadlocks like a Rastafarian.' Of course British Airways, having a very diverse workforce, does allow staff to cover their hair, and heads, for religious observance reasons.
However this hairstyle is not related to religion – he simply likes having an unusual hair style. It's no different than if he wanted to dye his hair fluro pink and green.
Why would you take a job with a 'stuffy airline stuck in the 1970s' if you knew what their conditions were, but refused to comply with them?
Bottom line
I remember my first ever Virgin Atlantic flight last year, being very surprised to see the male Flight Service Manager had shoulder length hair, worn down. While it suited the retro brown male uniform Virgin Atlantic has, it struck me that it was the first time I had ever seen a male cabin crew member with long hair not pulled back neatly.
But that is Virgin Atlantic, and they set their own uniform policy. It is their right to set whatever appearance guidelines (that do not discriminate), that they wish to project the right image of their brand, regardless of current (or well, previous) fashion styles.
I can't work out why they allow him to commence and complete his training with a hair style that did not comply with policy. That was definitely wrong of BA and they should apologise to him for that at least.
If you consider this is sexual discrimination then should airlines allow male staff to wear the female uniform even if they are identifying and presenting as male?
I wouldn't take on an office job if they had a compulsory dress or appearance code I did not want to comply with. It's a clear written condition of a contract of employment.
Do you think it was fair for British Airways to dismiss an employee for their hairstyle?