I've been a Bose customer for as long as I can remember. There aren't many material things that I value highly (I'd much rather spend money on experiences), though I've always found Bose products to be worth the money. Yes, there are cheaper products out there, but given how much I use travel technology, it's not an area where I'm looking to save a few bucks and compromise on quality. After all, I use my Bose headphones every single day, so on a per use basis my costs are minimal.
Personally I've always found it useful to have both in-ear and over-ear headphones:
I generally find over-ear headphones to have better sound quality and be more comfortable, and typically use them on planes
I still value having in-ear headphones for the ability to use them when not on a plane, like when in a hotel gym, etc.
Back in the day I had the Bose QuietComfort 25 Headphones
, which are over-ear, and the Bose QuietComfort 20 Headphones
, which are in-ear. They were both fantastic, though unfortunately for me became largely obsolete once I got the iPhone 7, since it no longer has a headphone jack. That means I now need wireless headphones.

My Bose QuietComfort 20 in-ear headphones, which become obsolete when I got an iPhone 7
So last year I picked up the Bose QuietComfort 35 Wireless Headphones
, which are over-ear. They're awesome. While I don't notice a difference in the sound quality compared to the QuietComfort 25 Headphones, the ability to use them wirelessly is great.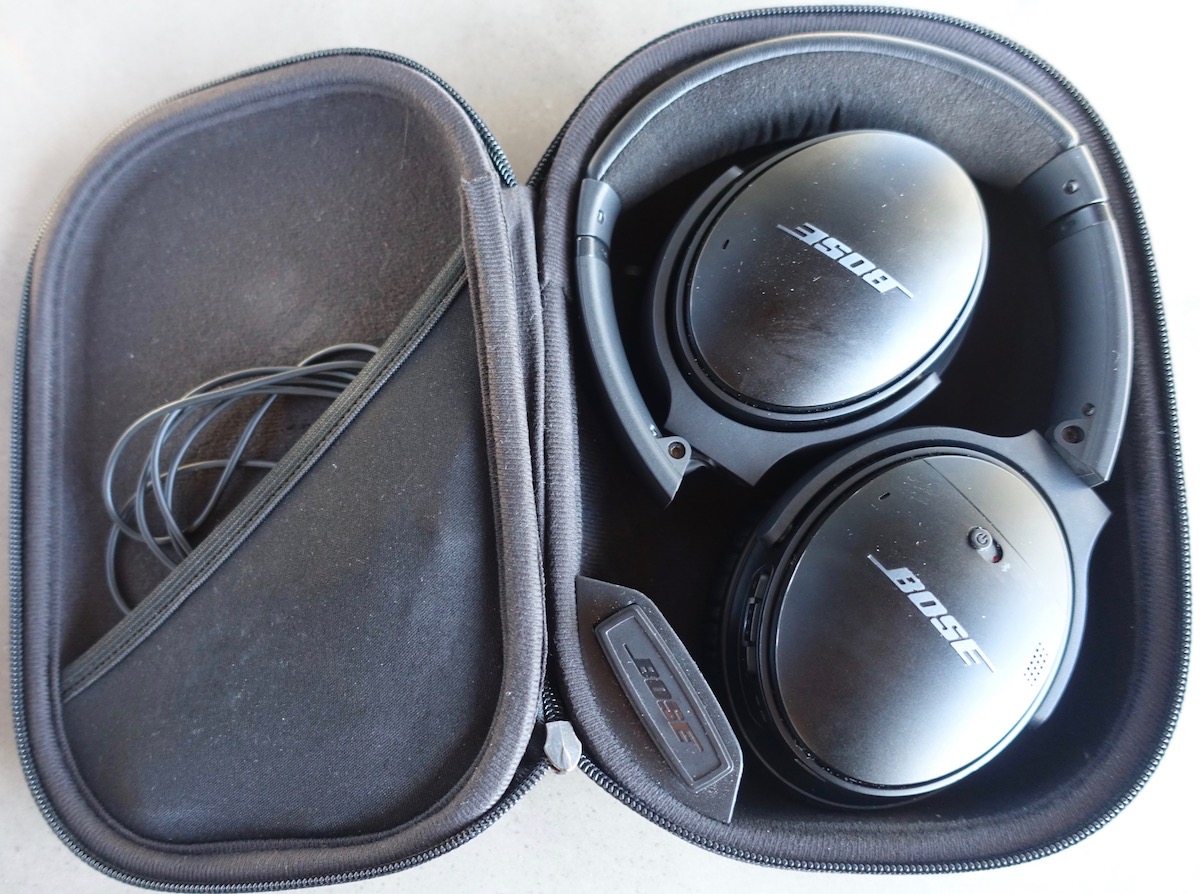 My Bose QuietComfort wireless over-ear headphones, which I love
However, up until now I haven't actually purchased any wireless in-ear headphones, so that has been long overdue.
My wireless in-ear headphones decision making process
Since I'm a Bose fan and needed new wireless in-ear headphones, I narrowed it down to the following two options:
I ended up going with the cheaper SoundSport option for three reasons:
My main reason for wanting these is for when I'm out and about or at a hotel gym, and in those situations I don't value noise cancelation
They seem more mobile and easy to put in your pocket, since they don't have the "collar"
This might sound weird, but I hate feeling "restrained," and I feel like the collar would have made me uncomfortable; I don't like watches, jewelry, etc., for that reason
So between those factors, that made the decision easy for me.

The Bose QuietControl 30 Headphones, which I didn't get
My thoughts on the Bose SoundSport Wireless Headphones
Last week I got the Bose SoundSport Wireless Headphones
, and I love them.
You can buy them with or without a charging base. The charging case is an extra $49, and I decided not to buy it, since the headphones can be charged with the same micro-USB that I charge my other headphones and camera with.
The headphones couldn't be easier to use, even for someone as technology challenged as me, and they're easy to pair.
The headphones never fall out of my ears, and you barely feel the cord around the back of your neck, as it's loose. Bose claims the battery life on these is about 10 hours, and that matches my experience. I've had to charge them twice so far, and I've been using them a lot. The micro-USB plugs directly into one of the earbuds.
Bottom line
I'm sure there are cheaper and decent quality in-ear headphones, but for me I just always go with Bose since I know they have great quality products, and I'll be using it every single day for years. I had also considered getting a pair of Apple AirPods, but they're just so small that I feel like I would lose them.
The Bose SoundSport Wireless Headphones
 offer exactly what I was looking for — they're comfortable, stay in my ears even when running, are compact, easy to charge, and easy to pair. While I wouldn't want to use these as my primary headphones on airplanes (where I value noise cancelation), for other purposes while traveling, these are great.
Do you have favorite in-ear wireless headphones that I should have otherwise considered?