Update: See the "update" section below the "bottom line" for some info that's new to me.
In mid-April we learned the full details of Marriott's new loyalty program, which will be debuting in August. This is a huge undertaking on Marriott's part, and members have had a lot of questions and concerns. While there are some areas where we have answers, there are other areas where we don't.
In this post I wanted to share my thought process out loud regarding possibly booking a couple of Marriott Hotel + Air Packages before August, when Marriott's program changes kick in. This has the potential to be by far the best use of Starpoints ever.
Hotel + Air Packages are the best use of Marriott points
I've written a guide in the past about Marriott's Hotel + Air Packages, which I consider to be the best use of Marriott points. This essentially allows you to redeem points for a set number of nights in a certain category of hotel, plus a certain number of miles in select frequent flyer programs.
The cost of such a redemption varies based on what category of hotel you want to use your free nights at, how many miles you want, and which program you want those miles with.
See the previous post for the full details (I won't repost all the charts here just to keep this post clean), but to give one example you can redeem 270,000 Marriott Rewards points for 120,000 Alaska miles (I just mention Alaska miles because I consider them to be among the most valuable) plus a seven night stay at a Category 1-5 Marriott Rewards property.
270,000 Marriott Rewards points is equivalent to 90,000 Starpoints. One popular use of Starpoints is that you can convert them into airline miles at a 1:1 ratio, with a 5,000 point bonus for every 20,000 points transferred. So assuming you value one Starpoint at 1.25 airline miles, that means 90,000 Starpoints is worth 112,500 Alaska miles. In other words, booking a Marriott Hotel + Air Package is a better value for getting miles, not even factoring in the seven nights of hotel stays you get.
Now let's talk a bit about the logic of booking one of these packages soon.
Marriott Hotel + Air Packages are changing under the new program
Marriott has revealed that Hotel + Air Packages are here to stay, though they have said we should expect updated pricing. That updated pricing hasn't yet been revealed, though I think it goes without saying that this redemption offer will be devalued.
That's because we know they're keeping Starwood's old mileage transfer ratios, and it would be silly of them to offer a better ratio when booking one of these packages while offering a seven night free hotel stay.
So if you do want to book one of these packages, you should do so in the next couple of months, in my opinion.
How will Marriott's hotel categories map over?
When booking one of these Hotel + Air Packages, you receive a certificate good at specific categories (the cost of the package varies based on which one of these you want):
Category 1-5
Category 6
Category 7
Category 8
Category 9
Ritz Tier 1-3
Ritz Tier 4-5
As we know, Marriott will be adjusting their award chart come August, and it will look as follows (as you can see, off-peak and peak pricing, as well as Category 8 redemptions, will only be introduced starting in 2019):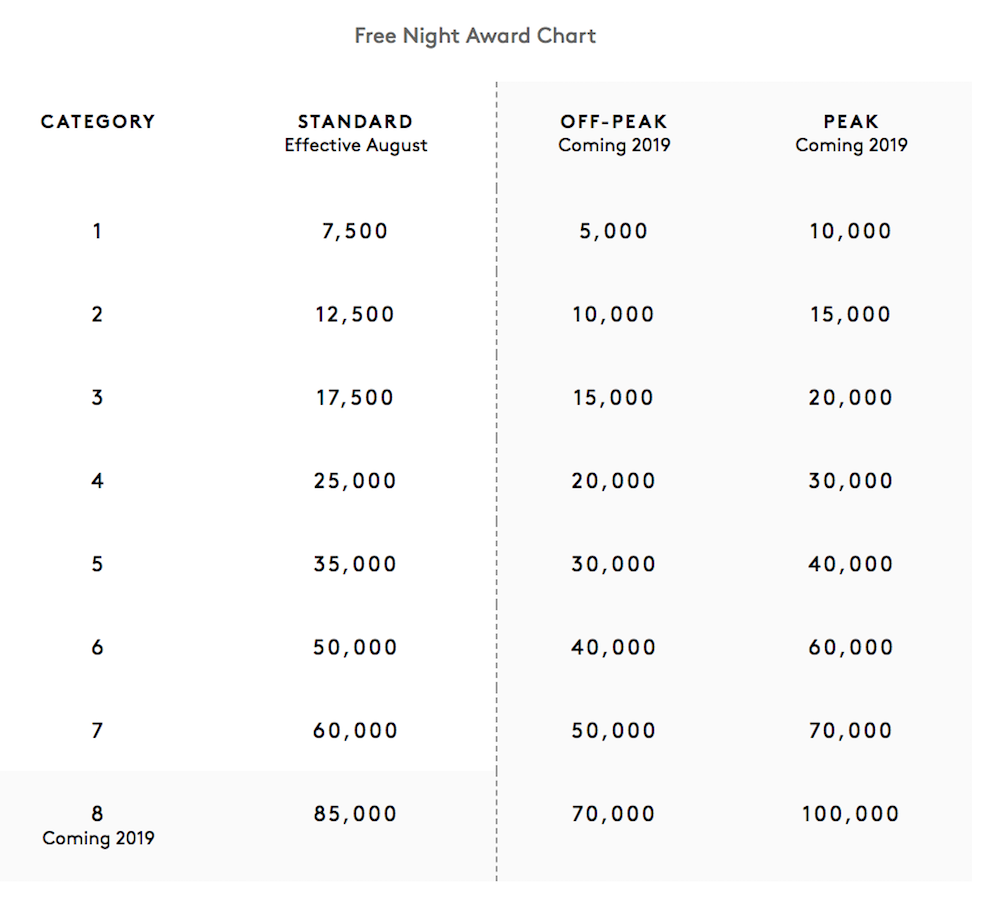 This presents an interesting situation. When you redeem for a Hotel + Air Package you're given a certificate that you can redeem for a hotel stay within a year. If you're given a Category 1-5 certificate, how will that map over in the new Marriott program, given that the categories will be changing slightly?
The simple answer is that we don't yet know. My general expectation would be that Marriott will be generous here, given the mid-year transition. I think in most ways they've been quite generous.
This is purely speculation on my part, but my guess is that even though we're going from nine categories to eight categories, these certificates will maintain the same category restrictions. That's to say that I think a Category 1-5 certificate is likely to still be valid at Category 1-5 properties, even though that now (theoretically) includes better hotels than before.
So I actually see this as an additional advantage. I can't imagine they'd adjust the Category 1-5 certificates to only be valid at Category 1-4 properties, for example.
Why I'm so excited about this
On the most basic level I'm thinking of redeeming 270,000 Marriott Rewards points (90,000 Starpoints) for a Category 1-5 seven night stay plus 120,000 Alaska miles. That's a killer deal for the miles alone, and any hotel stay is just icing on the cake.
But then I'm also incrementally thinking it could make sense to go for a more premium booking. For example, Category 7 will be the highest hotel category for bookings made between August 1 and the end of the year.
For 330,000 Marriott Rewards points (110,000 Starpoints) you could get 120,000 Alaska miles plus seven nights at a Category 1-8 property. So if we're going to say that one Starpoint is worth 1.25 Alaska miles, that means that you're paying 94,000 Starpoints for 120,000 Alaska miles, and 16,000 Starpoints for seven free nights at a Category 1-7 property.
That theoretically means you could book seven nights at the St. Regis Aspen, St. Regis Deer Valley, St. Regis New York, etc. That would be an insane value.
Let's just put this into context for a moment. Right now Starwood charges 35,000 Starpoints per night at the St. Regis Aspen or Deer Valley in peak season, so a five night redemption (since the fifth night is free) would cost 140,000 Starpoints.
Now I could redeem 110,000 Starpoints and get an extra two nights free, plus 120,000 Alaska miles. YES PLEASE.
Let me once again caution that I could be wrong about how the categories will map over. Alternatively you could book a Category 8 package for 360,000 Marriott Rewards points (120,000 Starpoints), or a Category 9 package for 390,000 Marriott Rewards points (130,000 Starpoints). That would still represent an excellent deal and it would 100% ensure you could redeem at these properties, though it may not even be necessary.
Historically Marriott has also let you "buy up" to a higher category package, though personally I wouldn't fully rely on that as of August, since the prices of these redemptions may change.
An update
While Marriott hasn't officially addressed this on their website or when I reached out to them, Starwood representative Starwood Lurker on FlyerTalk said the following:
Floater certificates, including outstanding Marriott Travel Packages, will be cancelled and converted to equivalent points, credited to the member's account for future redemption.
It remains to be seen at what rate these certificates will be converted into points, though I hope it's a generous ratio, given that they're quite literally doing a "bait and switch" here.
Acquiring Marriott points
If you want to boost your points balance, there are many cards you can use to acquire Marriott points:
Best for Marriott perks
Get gold status for being a cardholder and a $300 Marriott statement credit every year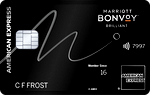 Marriott Bonvoy Brilliant® American Express® Card
Best for business travelers
Earn up to 2 free night awards every year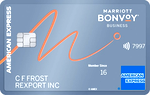 Marriott Bonvoy Business® American Express® Card
Bottom line
In general there are some great short-term opportunities to look forward to as of August, given how much cheaper redemptions at Starwood's top properties will be when booking by the end of the year (even if you're staying on a subsequent date). While that's generally something to be excited about, booking a Marriott Hotel + Air Package has the potential to be even more valuable.
What we do know is that these redemption rates will eventually change, though what we don't know is how these certificates will map over under the new program. I expect they'll be generous here (or at least won't screw over members), so I'd expect a Category 7 certificate should continue to be redeemable at a Category 7 property. If that's the case, this will be the redemption of a lifetime.
So I guess in the next few weeks I should redeem for a few Marriott Hotel + Air Packages as a way of building up my Alaska Mileage Plan balance while scoring a killer deal on some great hotel stays.
Anyone else tempted to book some Marriott Hotel + Air Packages before August?