In the interest of full disclosure, One Mile At A Time earns a referral bonus for anyone that's approved through some of the below links. These are the best publicly available offers that we have found for each card. Opinions expressed here are the author's alone, not those of the bank, credit card issuer, airlines or hotel chain, and have not been reviewed, approved or otherwise endorsed by any of these entities. Please check out my advertiser policy for further details about our partners, including American Express, Capital One, Chase, and Citi, and thanks for your support!
Yesterday Tiffany wrote an excellent post about redeeming hotel points in London. The timing was especially useful for me, because I've been trying to decide which hotel to book for my trip to London over Thanksgiving, which I booked thanks to the great British Airways business class fare sale.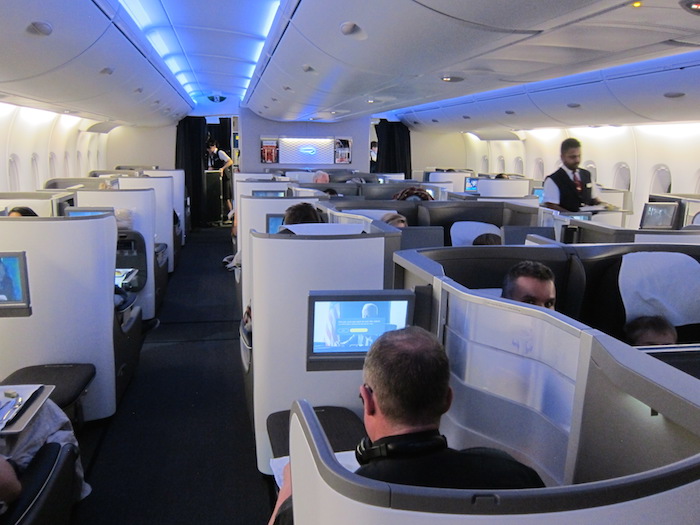 British Airways A380 business class
While I've transited London more times than I can count, Tiffany has actually visited the city exponentially more times than I have, so I went to her for advice when it came time to book. I figured I'd walk through my thought process, as someone who over analyzes everything when it comes to using miles & points.
London drives me crazy (as a hotel market)
As a points addict, there are some cities in the world which drive me crazy when it comes to hotels. In 2013 I wrote a post entitled "Is Singapore The Most Frustrating Hotel Market For The Points Obsessed?"
In general, what frustrates me most in hotel markets is when there's not a clear "best" value. In other words, when hotels are expensive without any "stand out" options, but the points requirements are high as well, and you just become indecisive. To be clear, there are some markets where I don't really struggle, despite the fact that they're quite pricey:
But for someone who likes to look at pros and cons and go off data, London is a bit more challenging:
As noted by Tiffany yesterday, London is spread out and there's not a single "best" neighborhood
As far as the major chain hotels go, most options aren't amazing, and the costs are quite high (both in terms of points and cash)
Traveling over Thanksgiving seems better in theory, since paid rates aren't actually that bad; as a result, it can often make more sense to pay cash than use points
My hotel choice thought process
My two preferred hotel chains are Hyatt and Starwood, so when I started the search, I looked up those options first. Before I get too deep into this, I should note that we're staying in London for four nights, which sort of shifts my approach towards hotels a bit:
Starwood offers a fifth night free benefit on free night redemptions, so in general I hate redeeming for four nights; it just feels wasteful
The Citi Prestige® Card offers a fourth night free hotel benefit, which generally shifts my thinking towards paying rather than using points
Here's what Starwood prices looked like:
And then here's what Hyatt prices looked like: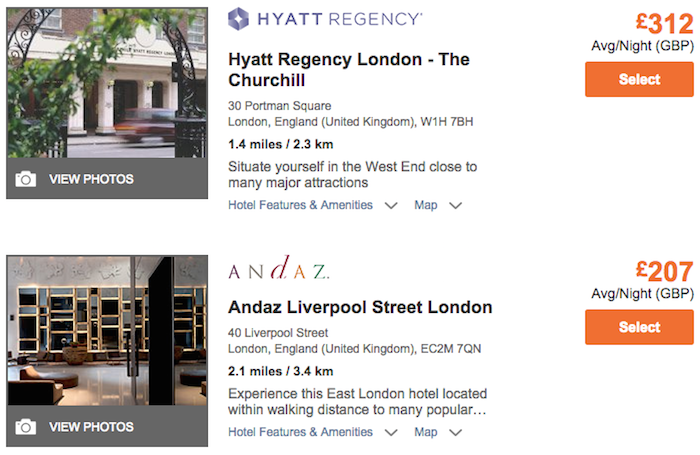 To sum up my general thoughts looking at these prices:
In theory I'm tempted by the W London, but I'd ideally like to avoid being directly in Leicester Square
I've heard not-so-great thanks about the Le Meridien and The Park Lane Hotel, so wanted to avoid them in general
The Park Tower Knightsbridge has a fantastic location, but at the same time was recently converted from a Sheraton, and does look a bit past its prime
While I'd like to try the Tribute Portfolio Hotel, I don't feel like I know enough about the property to decide to stay there
The Hyatt Regency Churchill has a great location, but at the same time the price was kind of high, and 25,000 Hyatt points per night didn't seem like a good value given the alternatives
I really enjoyed my last stay at the Andaz Liverpool Street, and the price is unbeatable; that being said, most of our plans are in West London, so being in East London doesn't seem especially convenient

The beautiful Andaz Liverpool Street — too bad it's in East London
For what it's worth, I also looked at some other options:
Hilton has tons of options, though none jumped out at me as especially good deals either paying with cash or points, certainly not good enough to "cheat" on Hyatt or Starwood
I would have loved to book the InterContinental Park Lane, but it only had availability for two nights, and was "capacity controlled" for the other two nights
What I ended up choosing
As I ended up going through the thought process, I was leaning towards the W for most of the time. But from one second to the next I had a change of heart and chose The Park Tower Knightsbridge instead. Why?
It's further west than the W Hotel, so will save us quite a bit of time for most that we have planned
It's close to the Park, which in general I love for the views
It's located directly on the Piccadilly Line, so we can take the tube directly from Heathrow to the hotel, which is convenient
Looking at Suite Night Award options, the hotel lets Platinum members use Suite Night Awards for Executive Suites, while at the W you're limited to their Studio Suites

Suite Night Award option at The Park Tower Hotel London
So I saw the "Hot Escapes" rate was 263GBP (~$400) per night, and wanted to see if the Citi Prestige® Card concierge could book that in conjunction with the fourth night free benefit. As you can see, that's significantly cheaper than the flexible rate of 394GBP.
I phoned them up and gave the concierge my information. She said she'd forward the request to the Carslon Wagonlit department which is responsible for these bookings, and that I should get a quote same day (in the past I've asked to be connected directly, but I figured I'd give this a try).
I did indeed get the quote I requested same day, for exactly the rate I was looking for. It's awesome that the fourth night free benefit can even be used on the promotional "Hot Escapes" rate.
So in the end I'm paying $1,628.89 up front, but then I'm being refunded $407.22, making my total out of pocket for the three nights $1,221.66. That's ~$305 per night, including London's ~20% VAT. For that stay I'll be earning:
Over 10,000 Starpoints (or 30,000 Marriott points – I ordinarily earn four Starpoints per dollar spent as a 75 night SPG Platinum member, plus double base Starpoints and 500 bonus Starpoints through SPG's "Stay For More" promotion); I earn these points for the entire cost of the four nights, since the reimbursement of the fourth night is directly to my Citi Prestige® Card
~4,000 Citi ThankYou points, for the triple points I earn on hotel purchases with the Citi Prestige® Card on the ~$1,200 of spend
So that's ~$1,220 out of pocket, and by my valuation I'll be earning ~$300 worth of points. ~$920 for four nights — or ~$230 per night — in a London hotel with a great location, free wifi, free breakfast (as a Platinum member), etc. is tough to beat. And as far as I'm concerned it's better than any of the options for redeeming points.
Now here's to hoping the Suite Night Award clears, and then I'll be especially happy.

The Park Tower Knightsbridge Executive Suite
Bottom line
London is a hotel market I'm not especially fond of, and I spent way too long trying to make a decision here, as I waffled back and forth. That being said, once I thought about it rationally I think I made the right decision:
Location is important, and it's tough to beat the location of The Park Lane Knightsbridge for what we have planned
Using the Citi Prestige® Card fourth night free benefit, I got a deal which I consider to be better than virtually anything I could have booked on points; after all, points aren't "free"
"Luxury" hotels are much less important to me in cities than at resort destinations, given that I don't spend much time in the room; so while the rooms might not be the most modern in the world, it still looks perfectly nice
This seems like a "safe" option; I probably won't be blown away by the hotel, but at the W I've read reports of noise issues, and the street outside the hotel is apparently closed and under construction through the end of November, so I'd rather not risk that
Anyway, while I'm far from an expert on London hotels, the above is sort of the conclusion I came to based on Tiffany's post yesterday, and applying it to my particular circumstances.
What would you have done in the above situation? Did I fall into the "chain hotel trap," and could I have gotten an all around better value elsewhere?
I'm curious to hear what you guys would have done differently!