I don't usually get too excited about hotel room TVs. In fact, it's pretty rare for my family to ever turn them on. Maybe if we're in a foreign country, we'll watch a cartoon so the kids can have a cultural experience, but that's about it.
I suppose some will say that the hotel room TV is going to go the way of the desk because millennials just don't use them. Call me old school, but I still prefer to watch TV on a big screen. And I also like to listen to it. Like really listen with real speakers, not uncomfortable earbuds or tinny laptop speakers.
The problem is that flat screen TVs are notorious for having awful sound. There just isn't space to fit a proper speaker. So you end up with undersized cones that are typically pointed to the side, or worse, out the back. I remember being at a Hyatt Place where my wife — who was trying to sleep in the bedroom area — could hear the TV better than I could even though I was sitting right in front of it.
There are solutions to this of course. We don't have a fancy entertainment system at home or anything, but even our modest HDTV, Dish DVR, and surround sound stereo from my college days can blow away virtually any hotel room setup.
It's honestly to the point that I don't want to watch new movies at hotels because I end up feeling cheated.
Grand Hyatt Denver Executive Suite home theater
So you can understand my surprise when I walked into our executive suite at the Grand Hyatt Denver last weekend. The LG TV was maybe a bit bigger than usual at 55″, but there was something in front of it…. a soundbar!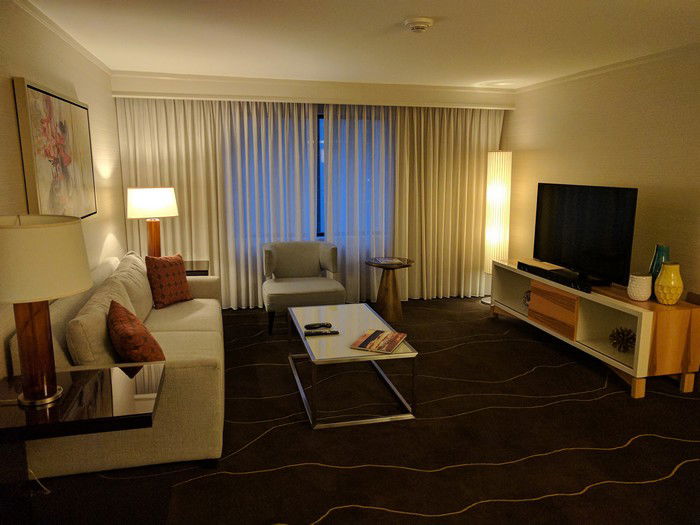 Grand Hyatt Denver Executive Suite living room
I think that was the first time I had ever seen a soundbar in a hotel room.
But that wasn't all. After looking around some more, I spied a wireless subwoofer under the end table. I mean, it wasn't plugged in, but it was there.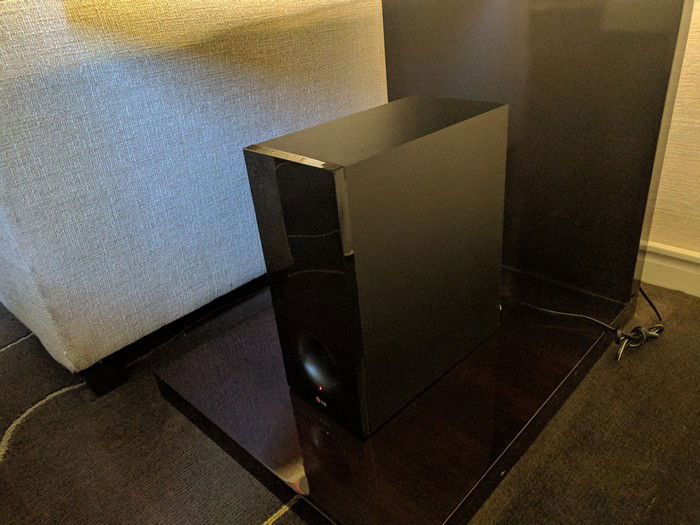 Grand Hyatt Denver Executive Suite subwoofer
Cranking it up
I'm not sure if they disconnect the subwoofer to save power, or if it's because nobody uses it, but whatever. I plugged it in. Then I turned on the TV and the soundbar, which had its own remote control.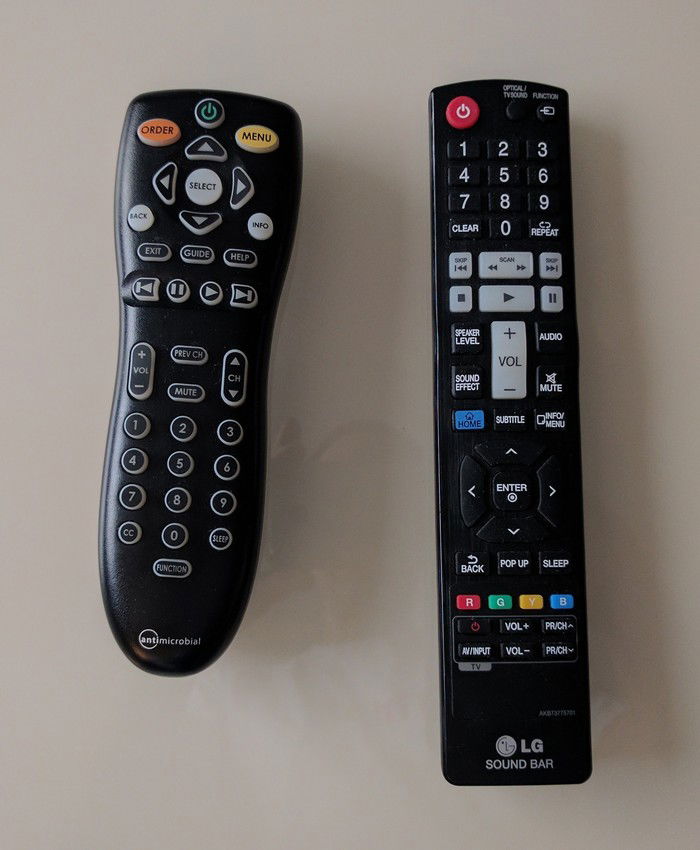 Grand Hyatt Denver Executive Suite remote controls
And wow, it was awesome. There was real bass. I was impressed.
What would the neighbors think?
The executive suites at the Grand Hyatt Denver seem to all be in the corners of the building. But the living rooms still share a wall with an adjacent guest room, and of course there are other suites above and below. So I do wonder how much of the bass bleeds through to the nearby rooms. I mean, the pot smoke certainly did. Sorry, stay on topic.
Anyway, I didn't have it on for more than a few minutes, so there wasn't time for anyone to come yell at me to keep it down. But it would certainly be a consideration.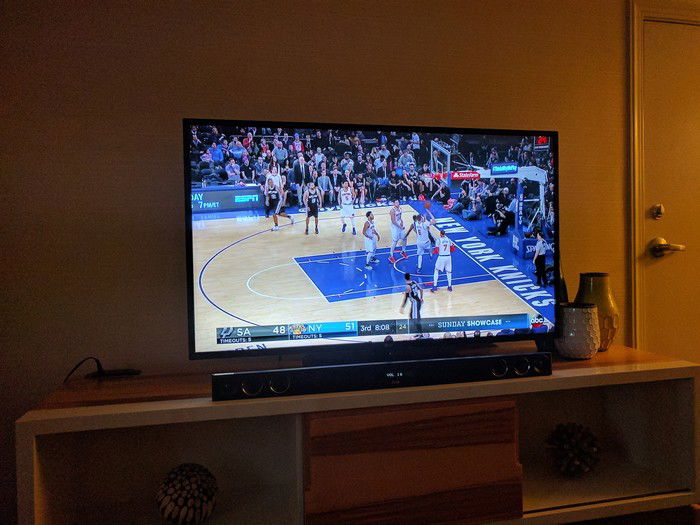 Grand Hyatt Denver Executive Suite home theater
Bottom line
Flat panel HDTVs have dramatically improved the video quality of our TV experience, both at home and in hotels. But most hotels won't spring for a soundbar so we're stuck listening to the audio from the pathetic built-in speakers. And that's too bad, because soundbars aren't all that expensive, and make a big difference.
As for subwoofer? I like the concept in theory, at least if I'm the one using it, but think they might just lead to more trouble than they're worth.
Have you ever stayed in (or near) a hotel room that had a subwoofer?