Earlier I shared some of my favorite first and business class redemptions originating in the US, and now I figured I'd make a similar post with what I consider to be the best economy class redemptions originating in the US.
As I prefaced the post with yesterday, it goes without saying that a good value for your points is one that gets you to a place you want to go, so there are no "absolute" best redemptions. But I figured I'd share some really, really good deals.
With that out of the way, here are my thoughts as to the best economy class award redemptions for those originating in the US, in no particular order:
60,000 US Airways Dividend Miles for roundtrip economy class between the US and North Asia
This is the economy class version of what I consider to be the single best business class redemption out there — you can fly from the US to North Asia via Europe for just 60,000 miles in economy, and have a stopover in Europe en-route. The stopover does have to be at either a Star Alliance hub or US Airways transoceanic gateway city. US Airways usually charges 60,000 miles for a coach award to Europe, so you can basically continue to Asia after a stopover at no additional cost.
40,000 American AAdvantage miles for roundtrip off-peak economy class award to Europe
American charges just 40,000 AAdvantage miles for a roundtrip off peak award between the US and Europe. The best part about this award is how liberal American's interpretation of "off peak" is. It's not just a period of a month or two, but rather between October 15 and May 15, so a whole seven months.
You're also not restricted to flying American on one of these awards — you can book any of their partner airlines, though do keep in mind they impose hefty fuel surcharges for British Airways redemptions. For example, you can fly roundtrip economy class between Los Angeles and London for just 40,000 miles roundtrip: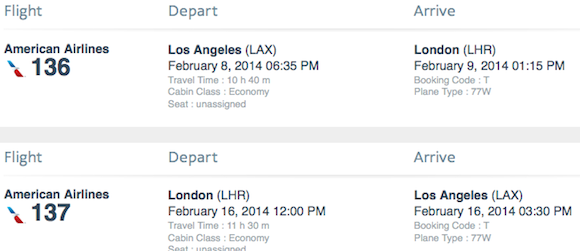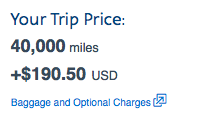 But you can do even better than that. American allows a free stopover at your North American transoceanic gateway city. What that means is that for the same price you could book something like Honolulu > Los Angeles, then have a stopover for however long you'd like (since Los Angeles is your transoceanic gateway city), then fly your roundtrip Los Angeles > London > Los Angeles, and then tack on a return back to Hawaii for whenever you'd like to go.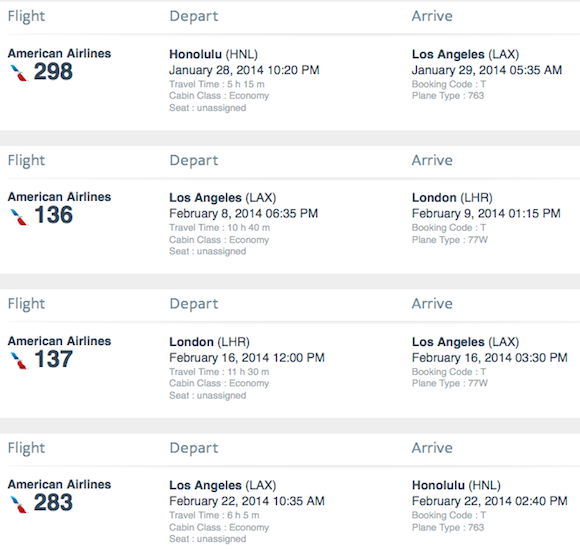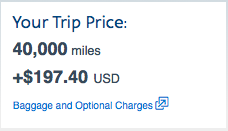 You can change dates for free as long as the origin and destination stay the same, so it's a great way to tack on a one-way to Hawaii and a one-way from Hawaii at no extra cost. It is worth remembering the entire ticket has to be used within a year of the date it was issued, though.
Lastly keep in mind that if you have a co-branded American AAdvantage Citi Visa Card you get a 10% refund on award bookings, up to 10,000 miles per year. So that can potentially lower the cost of this award even further.
40,000 American AAdvantage miles for roundtrip off-peak economy class award to South America
Similar to off peak awards to Europe, American also has very lucrative off peak awards to South America. Their date range is generous, given that they consider off peak to be March 1 – May 31 and August 16 – November 30.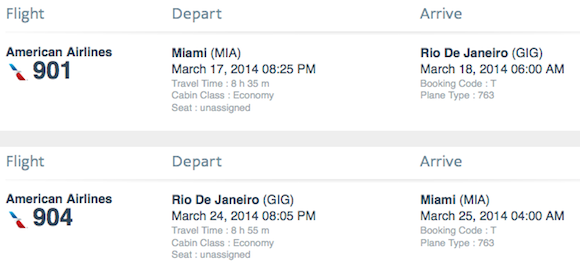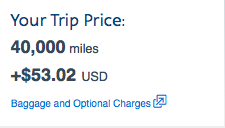 You can also add on a "free one-way" to Hawaii at no extra cost, similar to the above award. This also qualifies for the 10% rebate on award tickets through the Citi AAdvantage Card, potentially bringing down the cost of this redemption to 36,000 miles.
35,000 US Airways Dividend Miles for roundtrip off-peak economy class award to Europe
US Airways has an off-peak award chart that isn't nearly as generous as American's, though is still potentially useful. The most tempting offering on there is for travel between North America (including Hawaii) and Europe. They charge just 35,000 miles roundtrip in economy, and if you have a US Airways Mastercard you get a further 5,000 mile discount, for a total of 30,000 miles.
For Europe the off peak travel dates are January 15 – February 28, which admittedly is a fairly small travel window.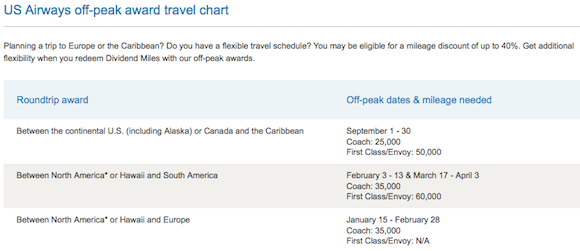 It's worth noting that you have to fly US Airways flights to take advantage of this — Star Alliance partner airlines don't qualify for this pricing.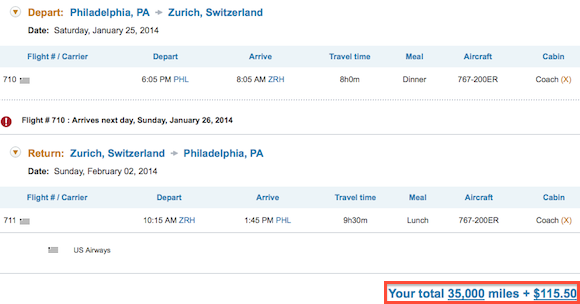 If you're looking for a cheap getaway to Europe this is about as good as it gets, especially if you have US Airways' co-branded credit card.
25,000 British Airways Avios for Aer Lingus roundtrip economy class award between Boston and Dublin
British Airways Avios are extremely valuable for short-haul redemptions given their distance based award chart. The downside to transatlantic travel using Avios is that British Airways imposes hefty fuel surcharges for travel on British Airways.
That being said, if you fly Aer Lingus transatlantic you benefit not only from their lack of fuel surcharges, but also from the distance between Boston and Dublin, which is just under 3,000 miles.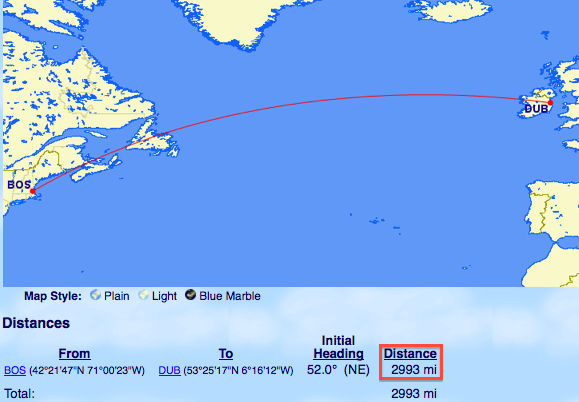 As a result, a one-way economy class redemption between the two cities would cost you just 12,500 Avios — that's the same number of points you'd usually pay for a coast-to-coast flight within the US. Unfortunately British Airways doesn't display Aer Lingus award availability online, so you'll have to call British Airways Executive Club in order to inquire about availability and make your booking.
25,000 British Airways Avios for a roundtrip economy class award from the west coast to Hawaii
Similar to the Aer Lingus award above, British Airways charges just 12,500 Avios for a one-way flight of under 3,000 miles. This means you can fly from most west coast cities to Hawaii for just 25,000 Avios roundtrip. British Airways partners with both Alaska and American, and both have fairly good award space to Hawaii.
Add in the frequent transfer bonuses from American Express to British Airways and you're possibly looking at even fewer points than that.
9,000 British Airways Avios for a roundtrip economy class award of up to 650 miles each way
Airline pricing is rarely rational, and airfare rarely reflects the distance flown. That's why a short-haul flight can often be more expensive than a longhaul flight. One of the nice things about British Airways' distance based award chart is that short-haul travel is a really good deal. Travel under 650 miles one-way costs just 4,500 Avios.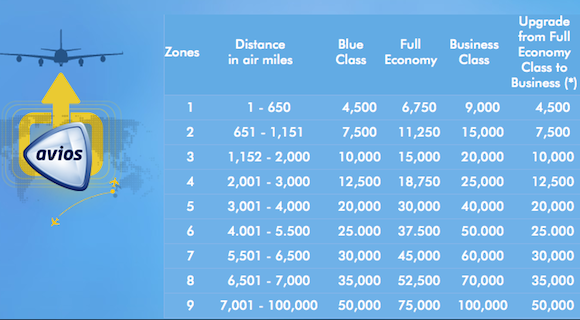 For example, a one-way flight from Los Angeles to Monterey would run you just 4,500 Avios.


Meanwhile a paid ticket would be over $200.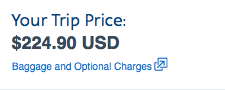 British Airways doesn't impose any close-in ticketing fees, which makes them even more lucrative for last minute short-haul redemptions.
25,000 Delta SkyMiles for a domestic economy class award with a stopover
Admittedly Delta's domestic award availability leaves a bit to be desired, though I still find this to be a pretty cool "trick." Basically, Delta is the only major US airline that lets you have a "free" stopover on a domestic award. Take the below itinerary, for example — you can fly from Tampa to Atlanta, have a stopover for a week, then Atlanta to Los Angeles a week later, and then fly from Los Angeles back to Tampa a week after that. And that's all for just 25,000 Delta SkyMiles.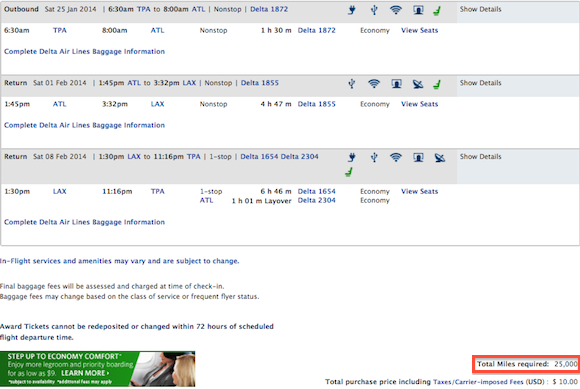 60,000 American AAdvantage miles for a zone 3 economy class distance based OneWorld Explorer Award
Last week I wrote about the amazing value which are American's distance based awards, where you get charged based on the number of miles you fly, regardless of the routing. The sweet spot on these charts is really for business class travel. For example, on a zone 6 (for travel of up to 20,000 miles) you'd pay 100,000 miles for first class or 130,000 miles for business class, which is a really modest premium.
However, one zone where I consider coach to be a good value is zone 3, which is for travel of up to 9,000 miles. If you're starting on the east coast this will get you to Europe with a bunch of connections. The key benefit of a distance based award is that you're allowed up to 16 segments, and you can have a stopover at each of them if you'd like.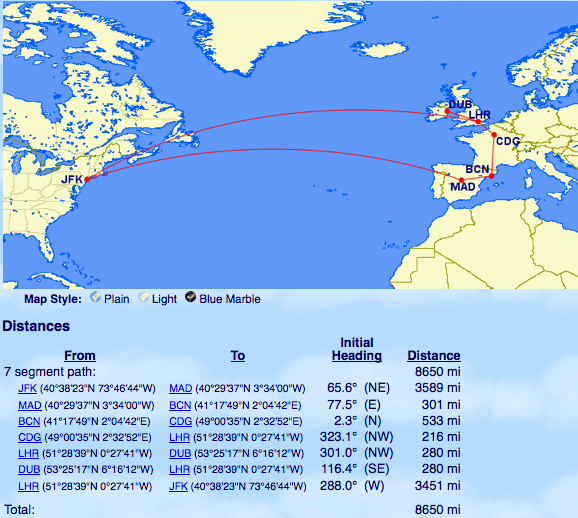 What are some of your favorite economy class award redemptions?