It's not often that I learn something new about award tickets, though my friend Chris pointed this out to me not too long ago and it came as a surprise. I was about to make a bet with him since I was convinced he was wrong, though I learned from my last mistake.
Anyway, what I hadn't realized was that Delta actually allows stopovers on domestic award tickets, which no other major US frequent flyer program allows to the best of my knowledge. Admittedly even after learning this information I really don't care, since finding domestic Delta award space at the "low" level is virtually impossible. Hell, it took me nearly half an hour to put together a totally arbitrary example that would work, simply because there isn't any domestic "low" level award space.
That being said, as long as the city you're stopping over in is a legal connecting point between your origin and destination and has the desired level of award space, it should be fairly easy to incorporate the stopover.
For example, I looked at a flight from Tampa to Los Angeles with a stopover in Detroit on the way. After finding low level award space on each individual segment, I typed them all into the award search tool using the "Multi-city" function.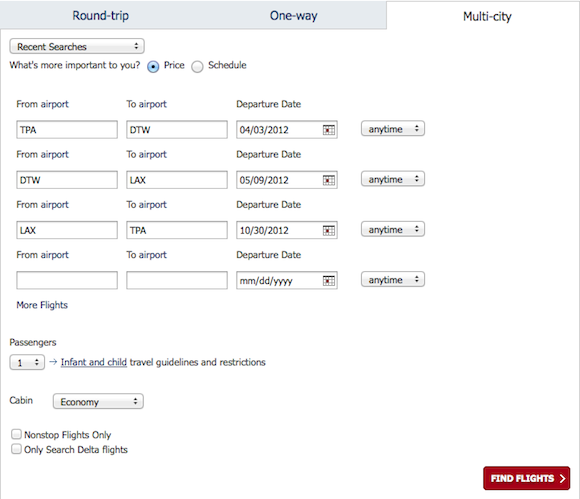 Sure enough when I selected all the flights, the entire trip cost only 25,000 miles.
Again, for 90% of us this is more valuable in theory than in practice. Still, it's something to keep in mind…