Last week I wrote about how SAS no longer offers business class on flights within Europe, but instead offers SAS Plus. Intra-Europe business class is pretty watered down to begin with, since it's simply an economy seat with a blocked middle, and better food, drinks, and service.
SAS took it down a notch with their SAS Plus product, which doesn't offer a blocked middle seat and also doesn't offer a dedicated meal service. Instead you just get whatever you'd like from the economy menu for free.
I've flown two segments within Europe on SAS in the past couple of days (Brussels to Oslo and Oslo to Reykjavik) in SAS Plus, and figured I'd share my general thoughts.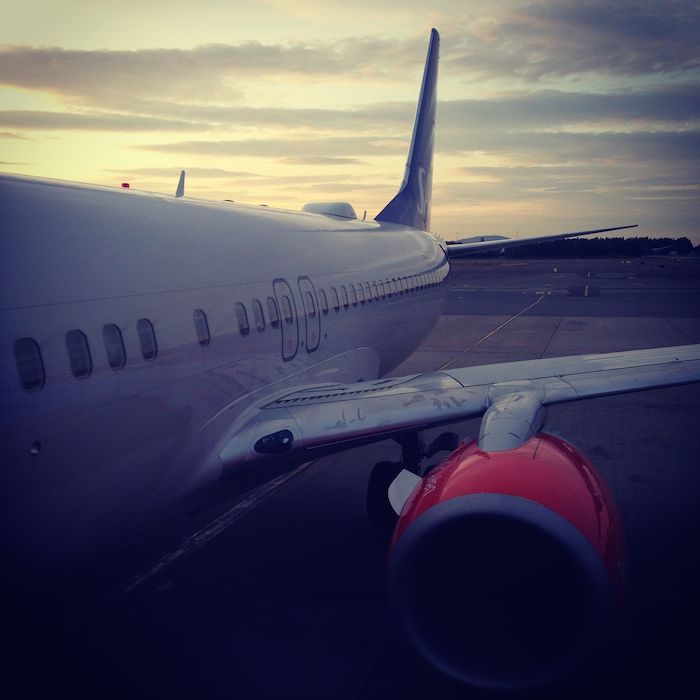 SAS Plus lounge access
As an SAS Plus passenger you're entitled to lounge access. The SAS lounge in Oslo was quite nice. The lounge did feel very IKEAish, but then again I kind of expect that in Northern Europe. The breakfast spread was fairly good as well, with cereal, toast, oatmeal, fruit, etc.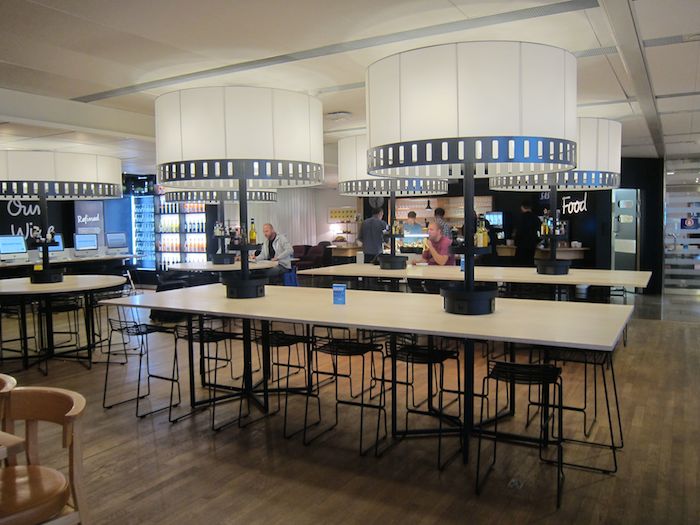 SAS Plus seats
SAS economy seats aren't the most comfortable in the world, but also aren't horrible. Fortunately they're not slimline seats, so you didn't feel like you were sitting on a plank of wood.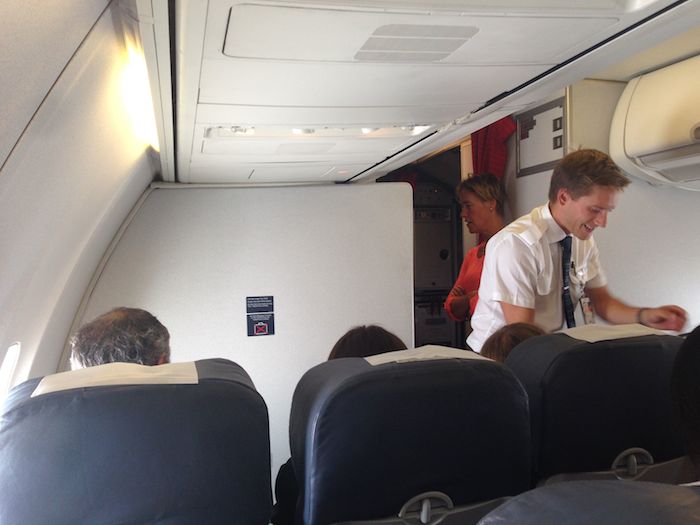 Usually I avoid bulkheads, but I should note that on both 737s I was on, the bulkhead had tons of room, so I'd highly recommend sitting in row one if available.
SAS Plus service
The flight attendants were probably the highlight. On both flights the purser wore a pin which said "My Smile Is My Make-Up," and it was sorta true. The crews let off a great vibe and were extremely friendly.
It's worth noting that there isn't a dedicated SAS Plus flight attendant. Instead service just begins in SAS Plus, and if you're seated there you don't get charged for anything. However, they then continue with the service in SAS Go.
SAS Plus food
SAS ordinarily charges for everything except tea and coffee on intra-Europe flights. Here's their buy on board menu: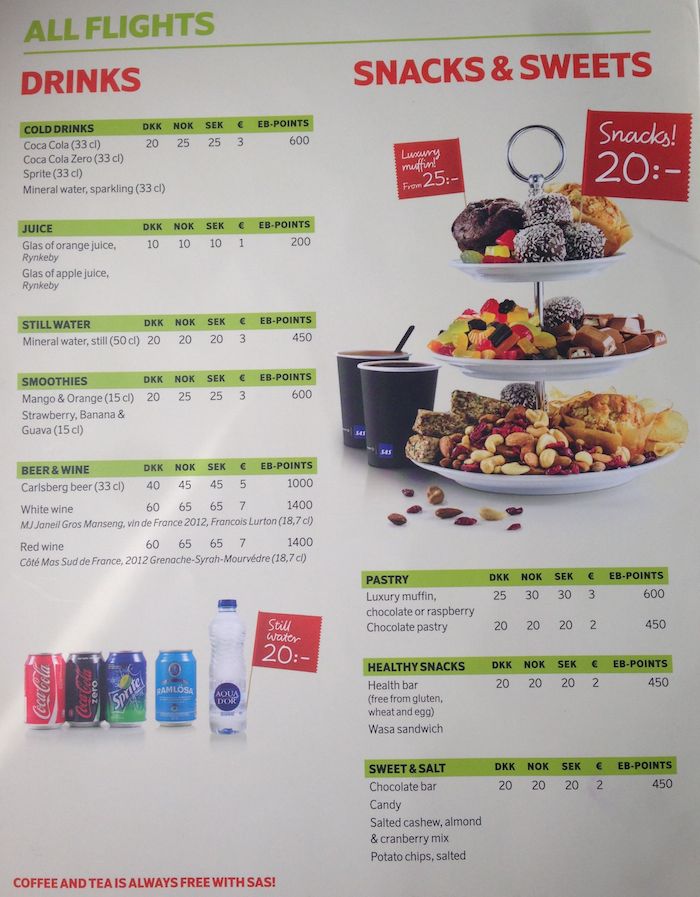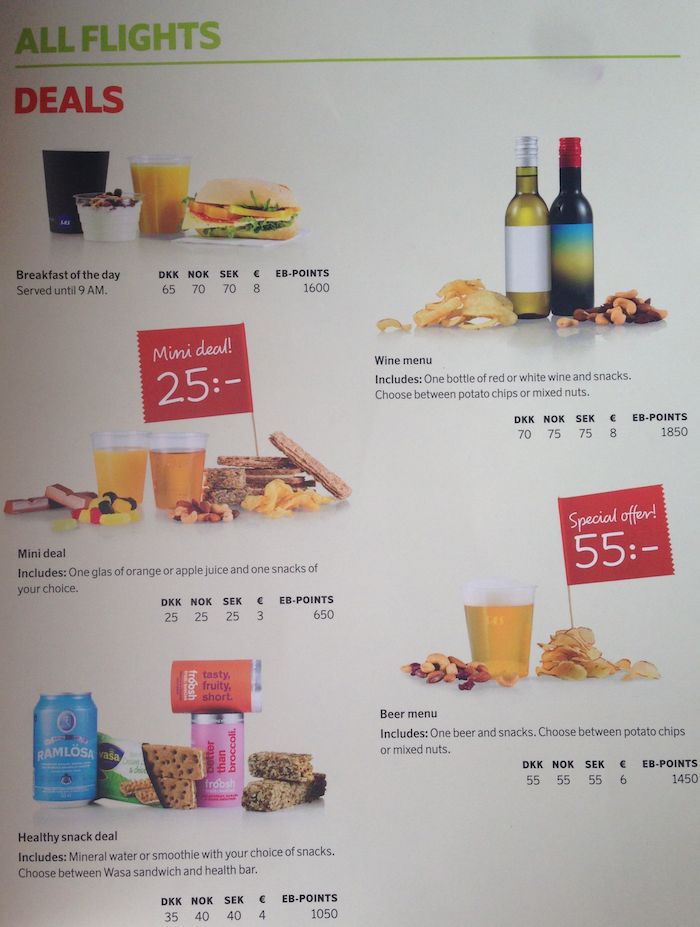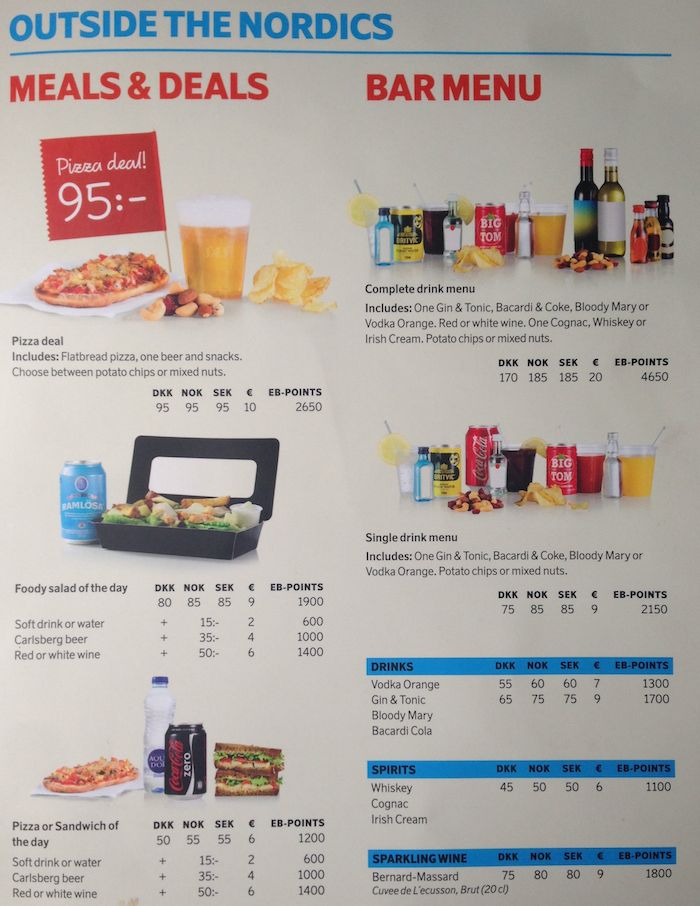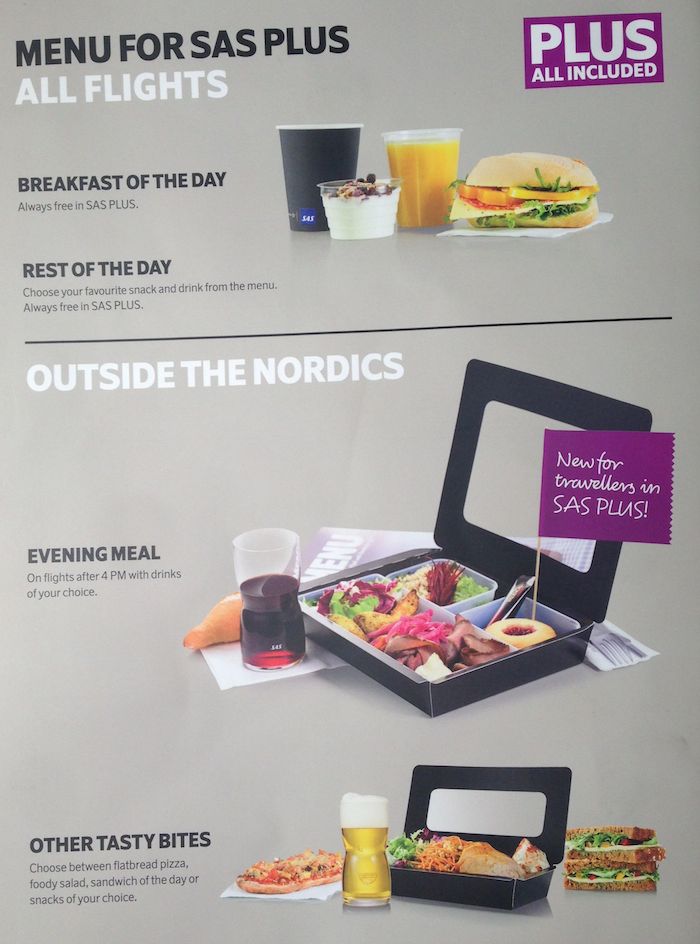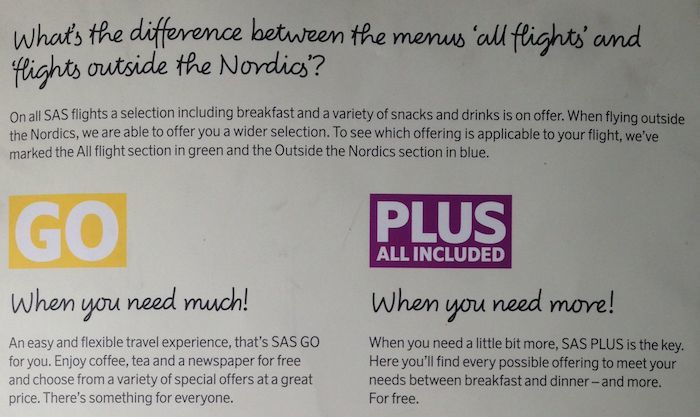 So when you're in SAS Plus you just tell the flight attendant what you want.
On my flight I had a pasta salad with tuna, which was served with a warm roll. I've gotta say, it was surprisingly delicious.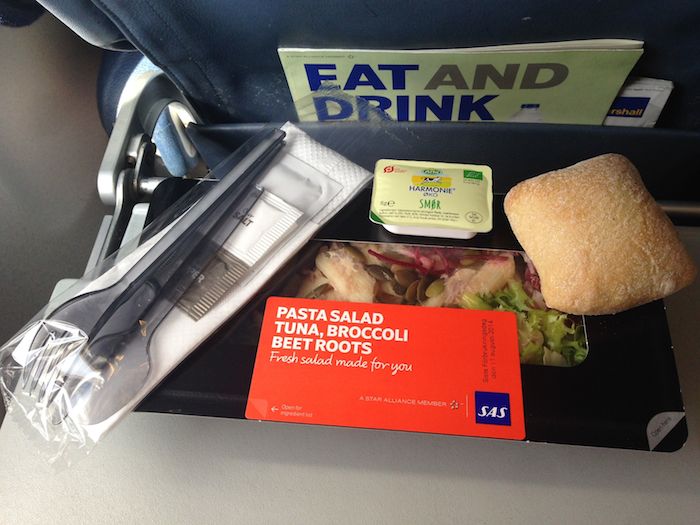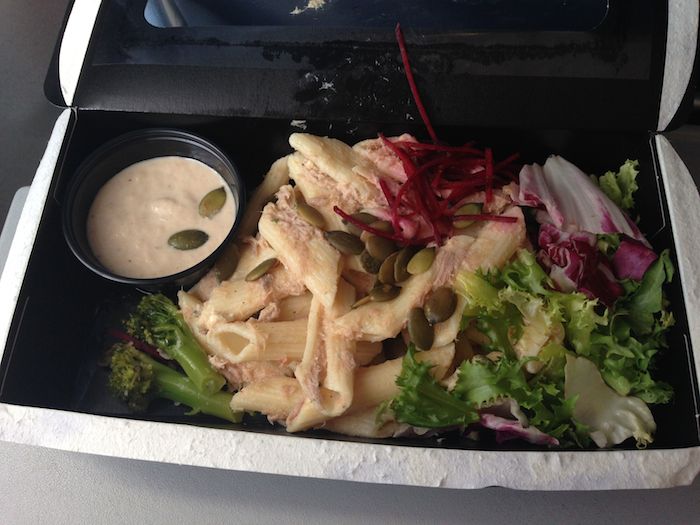 I also had a water and some coffee, and then later in the flight had a Coke Zero. I guess one benefit of everything usually being for sale is that it comes in the bottle and can.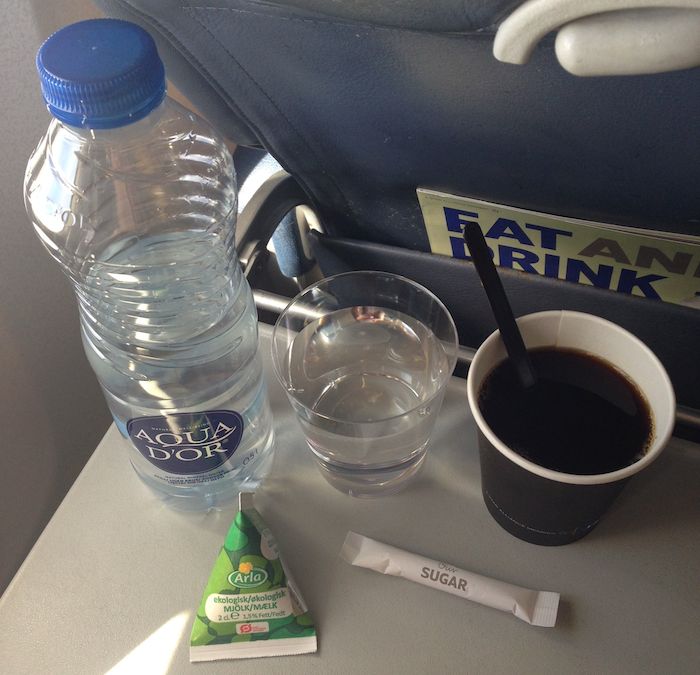 For what it's worth they don't seem to proactively offer more food or drinks after the service, though if you ask they'll gladly get you whatever. I just requested an extra drink, though I saw others order chips and nuts. I'm not sure if you could get a second "meal," though (I would guess you could). In terms of other food options, they had flatbread, sandwiches, etc.
SAS Plus Wi-Fi
The coolest thing about SAS had to be that they offered Wi-Fi. I've never before had Wi-Fi on an intra-Europe flight, so that was pretty awesome. Well, at least awesome in theory.
The log-in page said that it's free for Eurobonus members and SAS Plus passengers, though when I tried to log in I couldn't figure out how to get it for free. I'm a Eurobonus member though didn't know my number, so tried signing up for an account. After every attempt to sign up I got an error message. So I couldn't actually connect to the internet, which was kind of frustrating.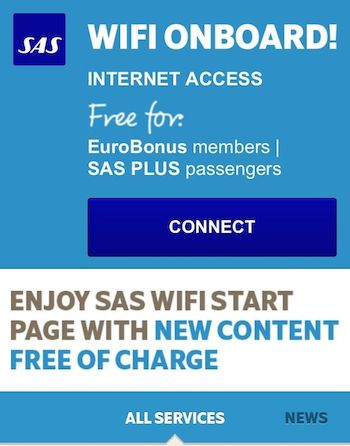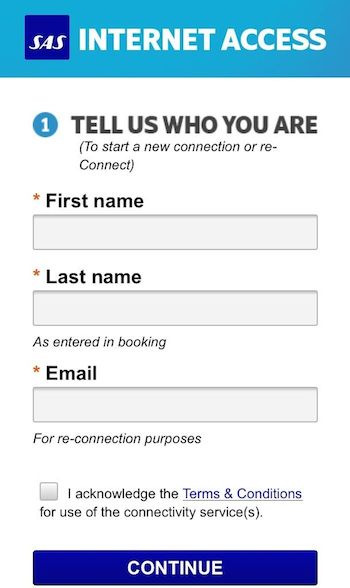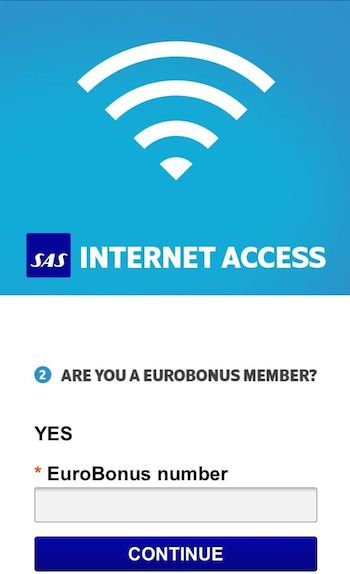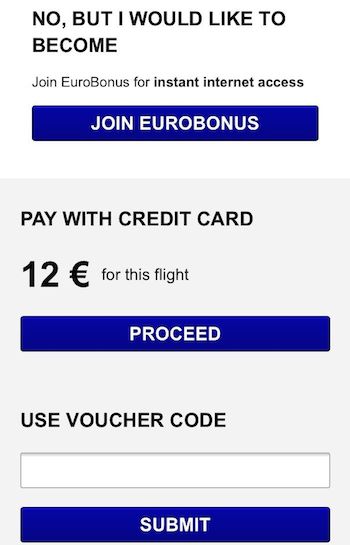 Go figure when I got on the ground and checked my email, I had apparently joined Eurobonus 12 times during the flight. Whoops.
The lesson to learn here is that you'll want to sign up for a Eurobonus account (and know your account number) before the flight!
SAS Plus bottom line
I think SAS is onto something with SAS Plus. The price premium is actually reasonable (often about 50% more than the lowest cost ticket), given that it gets you lounge access, priority boarding, free food and drinks, bonus miles, etc.
Service was friendly across the board, their onboard food selection was actually edible, and the fact that they have Wi-Fi was awesome.
They run a solid operation, and I look forward to flying them longhaul once they have their new business class.