Update: Read my full SAS Plus Oslo To London Heathrow On A 737 review.
I'm in Lisbon right now and planning to head to Northern Europe shortly, which makes SAS a natural choice for my flight. Last minute airfare within Europe tends to be pretty expensive, especially in summer, so I'm pondering using miles.
Last year SAS eliminated intra-Europe business class entirely, as part of their overhaul plans. It's not something I put much thought into, given that I've never flown with SAS.
One thing I've found rather odd is that they've continued to sell business class award tickets for travel within Europe.


When you select business class for an award on SAS, you'll still see "I" class listed, which is the business class award ticket fare code.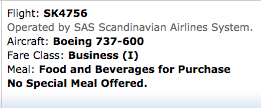 The only problem is that SAS doesn't actually have a business class cabin — they only have SAS Plus, which is what you get if you book a business class ticket. For example, take a look at the below ticket. You can pay $171.97 for an SAS Go (economy) ticket from Frankfurt to Oslo, or pay about 50% extra for an SAS Plus ticket.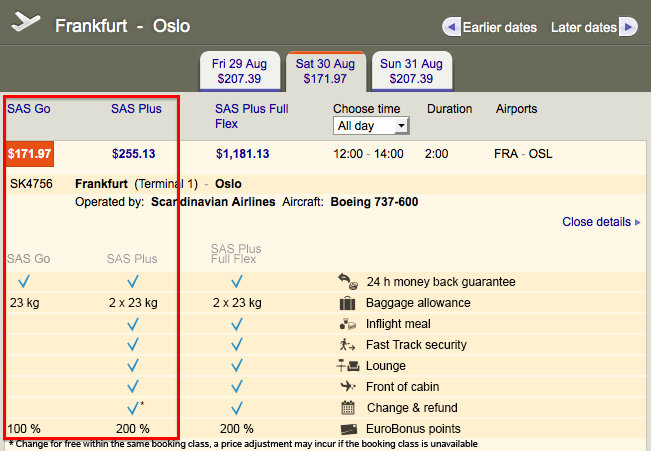 As you can see, an SAS Plus ticket includes a few extra things, including:
Extra baggage allowance
Inflight meal
Fast track security
Lounge access
You'll notice one thing missing, which I consider to be the biggest feature of intra-Europe business class — an empty middle seat. Nope, you don't get an empty middle seat if you book an SAS Plus ticket.
Intra-Europe business class is disappointing to begin with, given that you don't typically get a bigger seat, but the empty middle seat is at least some consolation.
Anyway, the above is just something to be aware of. Ultimately I think the premium on a revenue ticket from SAS Plus over SAS Go is actually quite reasonable — ~$80 for lounge access, a free meal, fast track security, etc. seems like a good value in many cases. Compare that to revenue tickets in intra-Europe business class, which are often exponentially more expensive than economy tickets (which I can't even begin to justify).
But I do find it deceiving that they sell "business class" award tickets in that cabin. I guess ultimately that system is better than not offering it at all, but if you're like me and looking to just book an intra-Europe award ticket (as opposed to connecting off a longhaul flight), I sure would be disappointed if I didn't know about ended up in a standard economy configuration without an empty middle seat.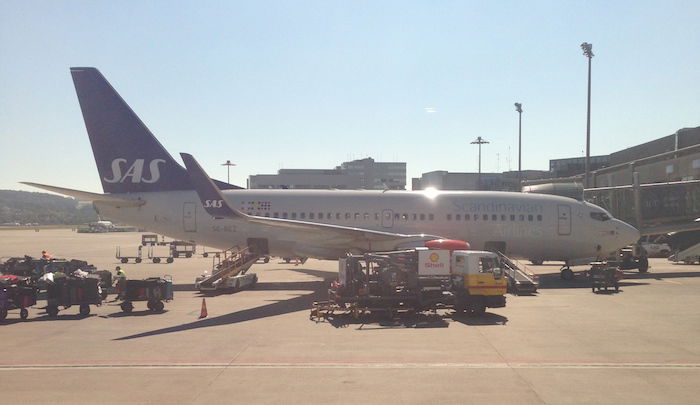 Does anyone else find it somewhat deceiving that they sell these award tickets as business class?