I love to see credit card companies get creative, and at the moment Barclaycard is piloting a program that I consider to be incredibly innovative. Unfortunately in my case it's not actually lucrative, but I appreciate the idea behind it.
Barclaycard issues the $95 annual fee AAdvantage Aviator Red World Elite Mastercard, which even has an increased 60,000 mile sign-up bonus after the first purchase at the moment. That's a heck of a sign-up bonus.
In terms of their American portfolio, they also issue the $195 annual fee AAdvantage Aviator Silver Card, which is what I have. You can't apply for the card directly, but rather can only upgrade from the Aviator Red Card after you've had it for at least 12 months. The advantage of the Silver Card is that you can earn more elite qualifying dollars as well as elite qualifying miles for spend.
View from the Wing reports on a new Barclaycard pilot program called "Flight Cents," that's showing up when people log into their Aviator Card account. However, there seem to be different versions of the offer. When I log into my account there's a pop-up about this offer.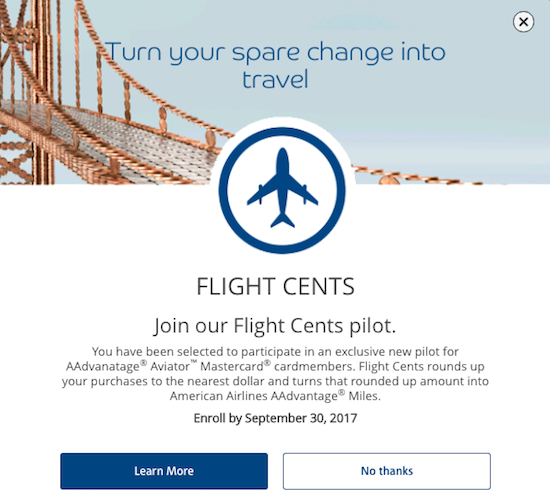 Flight Cents rounds up purchases to the nearest dollar, and turns the rounded cents into AAdvantage miles.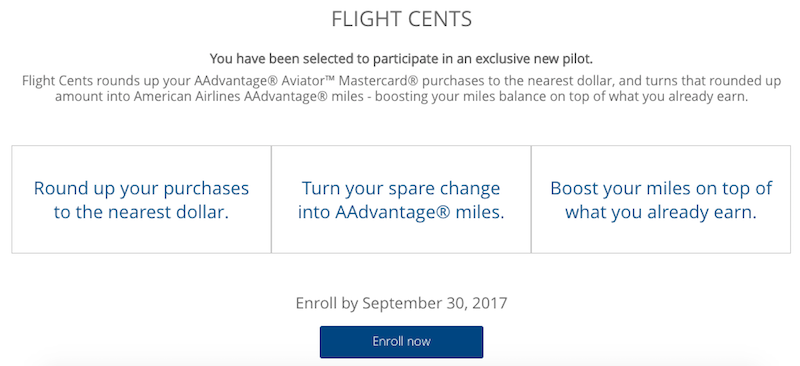 Here's how Barclaycard describes this:
Flight Cents turns rounded up cents into AAdvantage® miles on top of the miles you already earn on purchases. So at the end of every month, we'll take the total rounded up amount and multiply that number by 50% to determine the total number of miles acquired. You'll see that total rounded up amount charged to your account each month. See how far your cents can take you.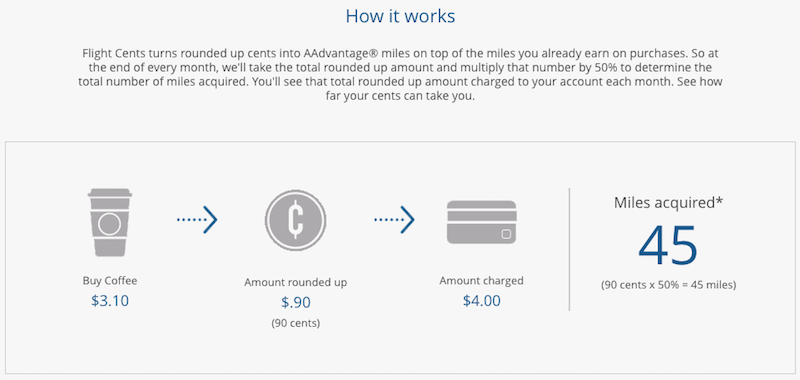 In other words, for me this is an opportunity to buy American miles at two cents each. For the time being this is a pilot program, and registration is required by September 30, 2017, while the program runs between October 1, 2017, and March 31, 2018. You're also limited to having a "monthly round up threshold" of $500, meaning in my case I'd be limited to earning 25,000 miles per month.

At two cents per mile, I'm not a buyer of American miles. However, many people report a different offer — some accounts can buy rounded up miles at a penny each. In other words, the same $3.10 purchase in the above example would be rounded up to $4, and you'd receive 90 miles.
While American miles are most definitely worth less than they once were, I'd still pick them up for a penny each. But of course the math isn't that straightforward, since the math varies based on how big most of your purchases are, and which categories you spend most in.
When deciding whether or not this is worth it, we can't just look at whether it's worth picking up American miles at one or two cents each, but also at the opportunity cost of the actual base spend. The Aviator Cards don't offer great category bonuses, so you're potentially forgoing quite a few points by using the card, especially if we're not talking about small purchases.
In other words, if you got the one cent offer, it could absolutely make sense if you always made $1.01 purchases. However, if you often spend $30+ on dining and have a card that offers triple points in that category otherwise, the math doesn't work out as favorably.
This is an innovative program and I might feel better about it if I got the offer for acquiring miles at a penny each. But at two pennies each I won't even bother registering.
Did you get this offer on your Aviator Card, and what do you make of it?