---
Unlike Ben, I don't have a "sixth sense" when it comes to pricing fuel surcharges. Nine times out of ten he can guess the taxes and fees on a given award within $15, which is a pretty cool party trick.
I do, however, have a good "general sense" of how much things should cost, particularly when dealing with an airline that doesn't impose fuel surcharges. When you eliminate fuel surcharges, you're mainly dealing with the government-imposed taxes, which are pretty consistent.
Beyond that, most airlines have a computer that prices award tickets. The computer validates the routing against the published rules, calculates the taxes and fees from the published fare, and totals the final price for the agent.
Barring that, airlines have a rates desk, which is typically the powerhouse of the airline when it comes to pricing. This is a powerful component of the operation, and you generally find the best and brightest agents staffing the rates desk. What they say pretty much goes, and front line agents seem to be taught to treat their word as law.
And then there's US Airways
Bless their hearts, they don't have computers that can auto-price routes. They don't even seem to have computers calculating taxes and fees.
And rather than a celebrated cadre of computational wizards, their rates desk seems to be more like this: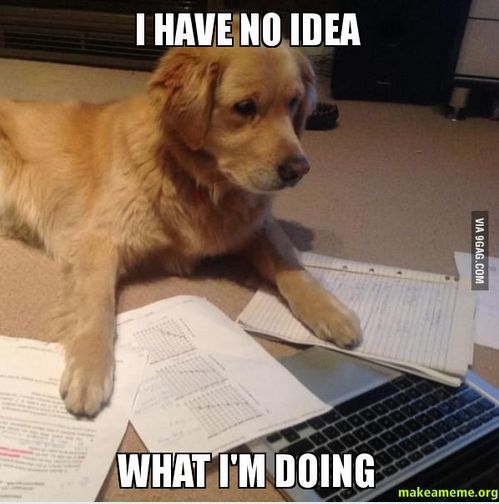 As an example, our awesome colleague Mac was recently booking an award for a client using US Airways miles. The routing was pretty straightforward on Cathay Pacific and JAL, and was something like:
Cathay Pacific Chicago to Hong Kong [Business]
DragonAir Hong Kong to Beijing [Business]
JAL Shanghai to Tokyo [Business]
JAL Tokyo to Chicago [Business]
The award was held, and when we went back to ticket the agent quoted the taxes at $531.00 per person.
Say what?
Mac: Ma'am, I'm sorry but that seems ridiculously high. Would it be possible to have your rates desk double check that before we ticket?
Agent: I can try, but these awards have taxes, you know.
**15 minutes later**
Agent: That's correct, you have $475 worth of US taxes on the base fare.
Mac: US taxes like US Airways-imposed fees? That just seems really high.
Agent: Nope, those are government taxes.
Mac: Ah, I see. Well, let's just leave it on hold and I'll double-check that's okay.
Now, even if you're not an award guru, something should tell you that "$475 worth of US taxes" sounds a bit fishy. US Airways only levies fuel surcharges on British Airways and Iberia, and there's no other reason why the fees would be so high.
So we called back.
Mac: Hi, I have an award I need to ticket, but I just need to double-check the taxes and fees before doing so.
Agent: Looks like $531 per person, plus $50 each as the Dividend Miles processing fee.
Mac: Hmm, that seems rather high. Would it be possible to have your rates desk double check that before we ticket?
Agent: Sure, please hold.
**90 seconds later**
Agent: They said they just told you what the taxes were.
Mac: Ah, yes. Can you please give me the breakdown just so I can pass that information on?
Agent: It's illegal for us to divulge what each of the fees is.
Mac: Really? Very interesting.
Agent: Yes, there are lots of legal restrictions nowadays.
What the…?
The hold was about to expire, so we moved on to Plan C: ticket the award, research, and get it fixed within 24 hours.
How can you determine what the taxes should be on an award?
This isn't an exact science, but a pretty reliable method is to simply price the fare on ITA, and do some math.
To price the outbound between Chicago and Beijing, enter the route details on the search screen: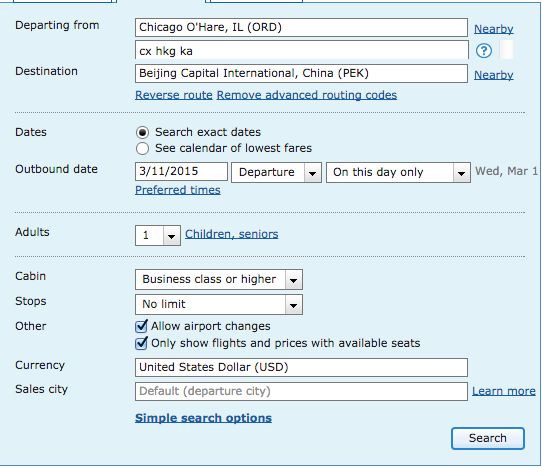 We obviously aren't paying the base fare, and US Airways should only be levying fuel surcharges on British Airways and Iberia, so we can ignore those numbers and add up the rest of the fare breakdown: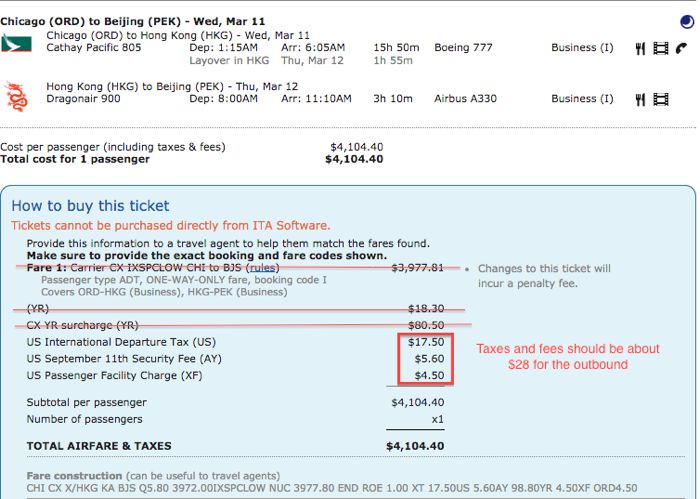 So the outbound should be ~$28.00, which isn't bad at all.
Then we do the same thing for the return: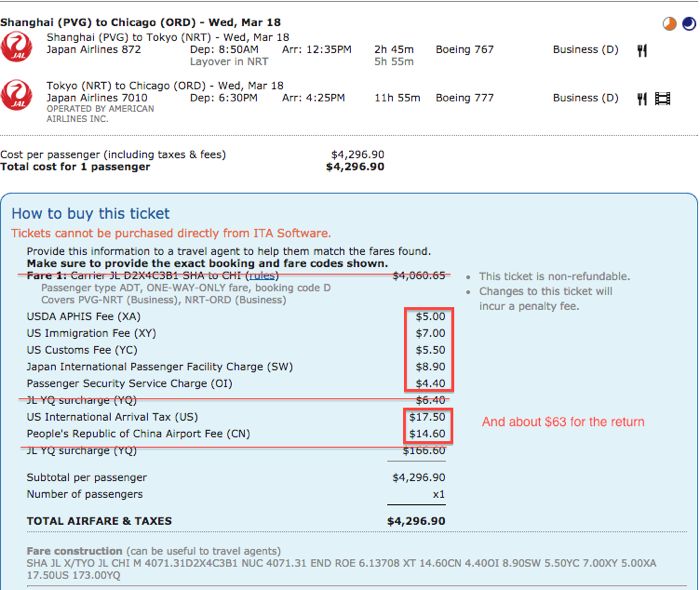 Adding both numbers together, we should be looking at ~$91, plus the $50 Dividend Miles processing fee. That would put us in the $300 range for both tickets combined. This still isn't exact, but gives you a ballpark of what you should expect to pay. Much, much, less than the ~$1,165 we were originally quoted.
Concrete information in hand, we called again.
How to have an award repriced
As Ben has gone over repeatedly, knowing how to talk to phone agents makes a huge difference here. You can't just call back and insist you were overcharged and demand a refund.
I mean, you can, but I don't think it's going to be successful.
Mac: Hi, I'm calling because I ticketed an award earlier, and in looking over the taxes they seem really high compared to what I was expecting.
Agent: Well, some airlines have higher fees now, but let me look at the PNR.
Mac: It's ______
Agent: Hmmmm, I know British Airways and LAN [n.b. I think she meant Iberia] levy fuel surcharges, which is more expensive, but I don't know about these Asian airlines. Let me check though — they keep changing things on me.
Mac: Thanks, appreciate it.
**25 minutes later**
Agent: Sure enough, looks like you were overcharged. You'll be getting $445 back to your card.
Mac: Wow! Thanks for checking on that! Did they happen to say if that was per person, or total?
Agent: Oh, probably total, but let me check.
**15 minutes later**
Agent: Thanks for holding, and looks like you'll be getting back $475 each.
Mac: Oh my, that's quite a difference!
Agent: Yep, good thing you called!
At the end of the day, this means our couple paid ~$215 all-in for the taxes and fees on their award. Given the math we did earlier, this is actually too low, but is a great example of how manual the process is over at US Airways.
Bottom line
This makes me so sad, because there is no way the average consumer would have known they were overpaying by nearly a thousand dollars.
None.
US Airways doesn't go back and audit award fees as far as I know, so this couple would have happily taken their trip (and probably been thrilled with their redemption), but would have spent ~$950 more than they needed to.
So the moral of the story is to have a ballpark idea of what you should be paying on an award ticket, and to not be afraid to (kindly) push back if the amount seems ridiculously high.
What about you? Have you ever been quoted too much for award taxes and fees? How did you handle it?