No, of course they aren't, but they are sometimes incorrectly calculated by the airlines.
I've booked hundreds and hundreds of award tickets, and if there's one thing that I've learned (other than how to be really, really patient), it's the taxes and fees associated with various airline tickets. I'd like to think that my sixth sense is being able to guess the taxes on just about any award ticket within about $10. I know, that's a real wasted sixth sense, but when you book enough awards around the globe you start to memorize the various departure taxes, fuel surcharges, fees, etc.
Which brings me to yesterday. A colleague was putting on hold a business class OneWorld distance based award ticket through American, which included travel on Cathay Pacific, Malaysia Airlines, and British Airways. The only segment on British Airways was between London and Los Angeles after stopping there for a few days. So we were expecting the taxes, fees, and fuel surcharges to be high.
For example, doing an award search on aa.com I see a date between London and Los Angeles which has business class award space on both American and British Airways.

If you price them out separately you'll see that the American ticket would cost $276.70. That makes sense, as that's almost entirely made up of the UK Air Passenger Duty, which is ~$250USD.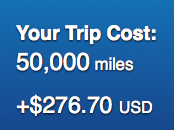 Meanwhile the British Airways flight would cost $561.60, which also makes sense, since American imposes fuel surcharges for travel on British Airways though not for travel on American.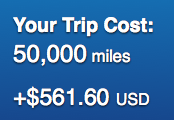 So doing the math you'll see that the difference between the taxes/fees is $284.90, so it's safe to assume that's the extent of the fuel surcharges.
Just to be certain American wasn't pricing it incorrectly I went to ITA to search the fuel surcharges on a revenue ticket on the same British Airways flight.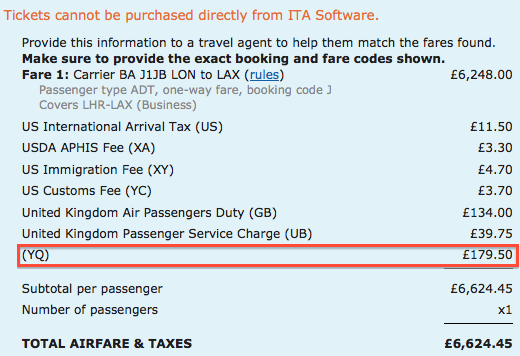 As you can see above the fuel surcharge is £179.50, which converts to ~$268. That's ~$17 lower than what American is charging, though that's not something worth arguing over.
Anyway, back to the actual award. Like I said it included travel on Cathay Pacific, Malaysia Airlines, and the above segment on British Airways. American said the total cost would be $850 per person, which seemed high to me. Europe tends to have high taxes though the above segment was the only one departing Europe, so other than the $561 I was expecting there to be no more than an additional $100 in taxes, given how low the taxes are for most Asian airports.
I assumed we just weren't doing the math right, so after my colleague told me the amount we called back American and asked for a breakdown of the taxes. Now, understandably most agents think you're crazy when you ask for a breakdown given that they assume the computer calculates them correctly, and also assume you have no clue what you're talking about, which is probably true in 99% of cases.
She went to her supervisor and gave us a breakdown in the taxes. And as it turns out there was a discrepancy in the fuel surcharges. She said they were $460, while we thought they should have been no more than ~$285, given that no fuel surcharges are imposed on any of the other carriers.
While she thought I was crazy she forwarded the request to the rates desk. I was sure to describe exactly where I thought the discrepancy was and explained that only British Airways is supposed to impose fuel surcharges, and that for London to Los Angeles they should be no more than $285.
Anyway, the rates desk should update the record with their findings within 24 hours, and I'm curious what they have to say. My suspicion is that they accidentally imposed fuel surcharges for some of the Malaysia Airlines segments, given that they're a new partner so they may still be working out some glitches.
Or it's entirely possible I'm wrong in this case, though in the past I've had luck getting taxes revised on award tickets when they're clearly wrong. So if you're ever in a situation where the taxes don't add up, ask rates to review them!
I'll post an update in the comments section once I hear more.