It's an interesting time for global aviation. You have some airlines doing really well, and at the same time we're seeing more airlines liquidate than we've seen in a really long time.
Even within regions we're seeing huge variance in terms of airline performance. While British Airways is reporting record profits, Virgin Atlantic continues to lose money. In Asia, Cathay Pacific has returned to profitability, while Asiana and Korean Air are struggling to stay alive.
At the moment Asiana Airlines is in a bind. The carrier's parent company, Kumho Asiana Group, is seeking financial support from its biggest creditor, following an accounting fiasco that caused their credit rating to be downgraded.
Asiana's co-CEO resigned a few weeks ago, and the airline is now trying to cut routes and is even considering getting rid of some planes.
"I am desperate to create a stable management environment. We need to restore trust through bold innovation."
We've known for a while that Asiana plans to cut routes, and one of those long haul cuts has just been revealed (with more to follow, I'm sure).
Asiana Airlines will be discontinuing their flight between Seoul Incheon and Chicago as of October 27, 2019. The airline has removed all inventory from their system for the route as of that date.
The airline currently operates the route 5x weekly using a Boeing 777-200, with the following schedule:
OZ236 Incheon to Chicago departing 7:10PM arriving 6:25PM
OZ235 Chicago to Incheon departing 11:55PM arriving 4:00AM (+2 days)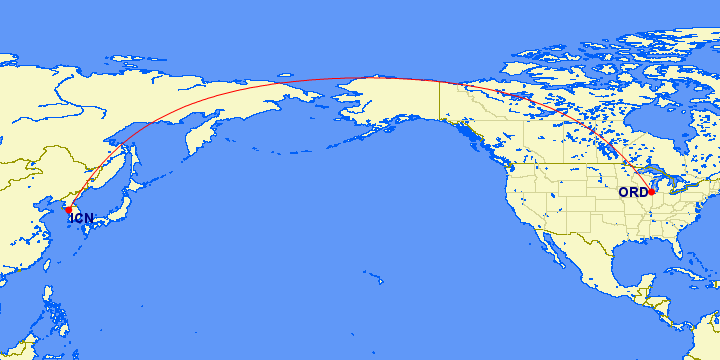 At 6,538 miles and about 14 hours in each direction, this is one of Asiana's longest routes. The carrier's other US destinations include Los Angeles, New York, San Francisco, and Seattle.
I guess Chicago being a Star Alliance hub (thanks to United's presence there) wasn't enough to make this route profitable.
Rumor has it that Asiana is either looking to get rid of some of the planes that they're leasing, or is looking to sell some of the planes that they own. So I'm not sure if this route cut specifically is because they're looking to get rid of some 777s, or if this is purely because the route is performing especially poorly.
Given the dire financial situation that Asiana is in, I'm a bit surprised that they're not cutting the route sooner. I guess maybe the route does pretty well seasonally, so it makes sense just to cancel it ahead of the winter season.
Are you surprised to see Asiana cutting their Incheon to Chicago route?
(Tip of the hat to @hb_sson)