Hello from Chengdu! After flying Asiana's A380 business class from Los Angeles to Seoul Incheon, it was time to connect to Asiana's A321 business class to Chengdu. My layover was fairly short so I didn't even visit an Asiana lounge.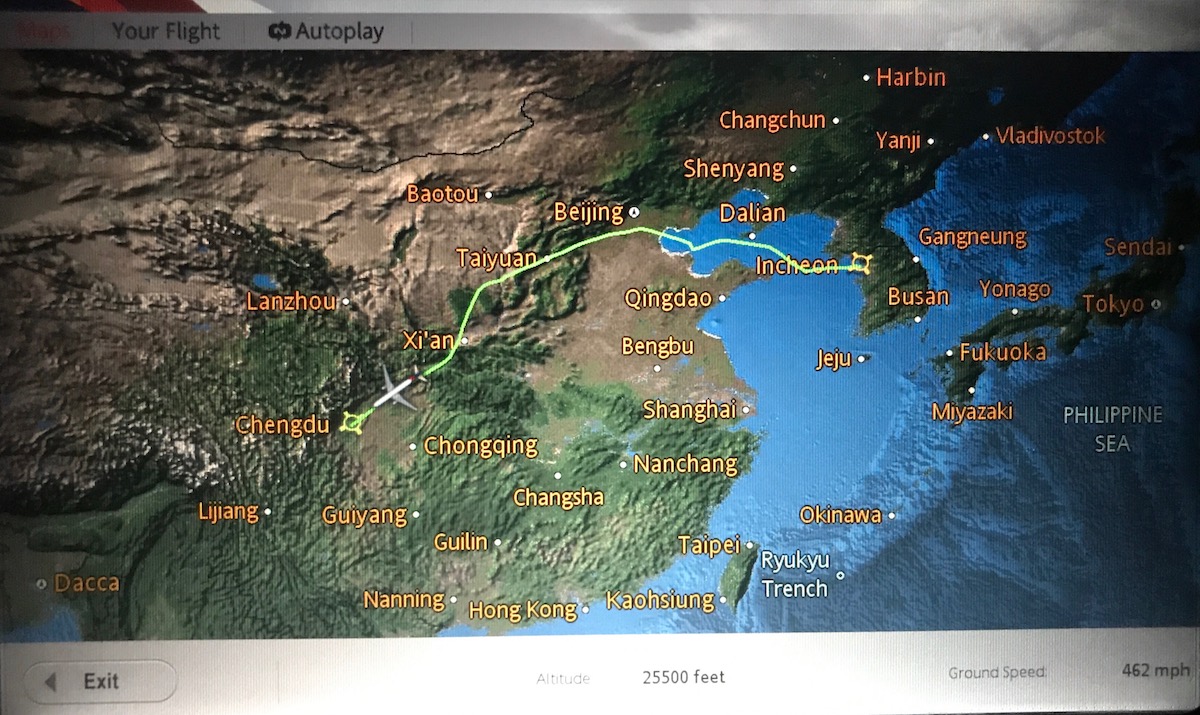 For me any flight after a longhaul flight is going to be less enjoyable, given that I was exhausted at this point in the journey. It's also a bit less enjoyable when the flight is operated by an aircraft in a regional configuration, rather than one of the many longhaul configured aircraft that Asiana flies around Asia. But in this case I looked forward to trying Asiana's least spacious business class product.
Asiana's A321 business class has 12 seats, in a 2-2 configuration. As before, I can't really get too excited about their color scheme.
The legroom was fairly good, for sure a bit better than you'll find in the US. While it's clear the cabin finishes haven't been updated in a while, otherwise the seat had good technology — there was built in IFE, a 110v outlet, a USB outlet, a handheld controller for the entertainment, etc.
Amenities for the 3hr30min flight included a pillow and blanket, headphones, and slippers. I found the pillow offered on this flight to be more substantial than the one on the previous flight (though the same can't be said for the blanket).
The headphones were the same fairly high quality ones I was offered on the longhaul flight.
The slippers were also the same flimsy ones as on the previous flight.
On this flight they offered pre-departure champagne, which they don't offer on flights departing the US. That's because they're not willing to pay the US taxes on alcohol opened on the ground in the US (which seems cheap).
There were full menus and drink lists on this flight.
However, the entire meal was served on one tray. I assume this is standard, though on top of that this was a fairly late night departure, as it left at 8PM. For the main course I selected the beef bulgogi, and the sides included mixed greens with black forest ham, as well as tiramisu for dessert.
After the meal there was a fruit and cheese plate.
After the meal I dozed off a bit, and then finished my 20 hours of binge watching Hawaii Five-0.
As before, what impressed me the most was the service. For the 12-person business class cabin, Asiana has two dedicated flight attendants, in addition to the cabin manager, who drifted between cabins. Service was professional, attentive, and most of all, kind. The flight attendants constantly offered drink refills, cleared plates as soon as dishes were done, and offered four sets of hot towel services on the flight.
This might not be the most spacious product flying around Asia, but Asiana flight attendants make the experience something special.